Clarissa Beyah has been teaching, in one way or another, for most of her life. "Ever since I was a young girl, I was torturing my friends to play school in the summer," she said of her childhood in New Jersey "At the end of the year, I would collect worksheets from my teachers and hand them out at summer camp. When no kids would listen, I'd teach my dolls."
While earning a BA in English from Rowan University and an MBA in strategic management from the University of New Haven, she also launched a successful a career in corporate public relations with such firms as Pfizer, General Electric and Northwestern Mutual. But she also continued to explore her drive to teach: An active slam poet, she founded Writer's Block Ink, a nonprofit dedicated to cultivating diverse young leaders using the arts, in the early 2000s. "I've always been really engaged with helping young people reach their potential through writing and creativity," she said.
In 2020, Beyah was able to push those parallel PR and educational tracks of her life even further, simultaneously joining Union Pacific Railroad as chief communications officer, while becoming a professor of professional practice in USC Annenberg's public relations programs. "There's a real value in me having a foot in everyday business challenges in public relations, and the other foot in teaching students who want careers in this field one day," she said.
Still working remotely from Omaha, Nebraska in both positions, Beyah spoke about her journey as a storyteller in both the corporate and nonprofit worlds, and what that experience brings to her teaching both graduate and undergraduate PR courses at USC Annenberg.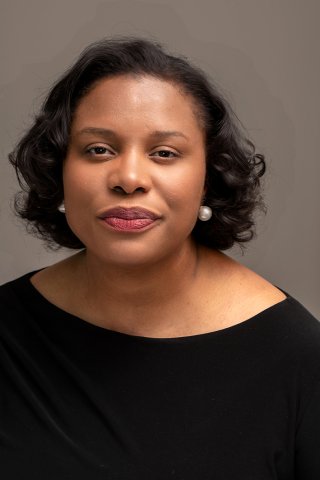 Photo courtesy of Clarissa Beyah
Have you always been on these parallel tracks of corporate PR and artistic expression?
I was an undergraduate when I first heard about slam poetry. Shortly after graduation, I went to my first slam, and they didn't have enough poets. I competed, and even though I'd never slammed in my life, I won. And then I started to really get super-engaged in competitive slam poetry — and I did all of that while still having a full career in corporate.
How does that poetry experience connect with Writer's Block?
Slam poetry is about moving people with words and being able to get a crowd to connect with you, no matter what walk of life they come from. I wanted to help young people get engaged in using language and words to move people in that same way. Everything Writer's Block puts out is created by young people. We're coaching them to use writing and art to deal with real issues and social change.
Did those parallel lives ever intersect?
For the first decade or so of my career, they were two separate things. Then one day there was a World AIDS Day event at Pfizer. I had to introduce an HIV-positive patient, but I couldn't find the right words. So, I wrote a poem called "The Patient is Waiting." I used that poem to introduce this patient, and before you knew it, the video production team put the poem to video. And after that, it became a platform for conversation, both from an internal communications perspective and a PR perspective.
That's when I realized that what I thought of as a duality of having a foot in creative performance and another in corporate PR wasn't really a duality at all. They're both about moving people with words and being able to get a crowd to connect with you.
How does this perspective inform your teaching?
I'm able to bring a dynamism of real-world, in-house corporate PR into the classroom, leveraging both technology and the relevant experience I have from my job at Union Pacific, the largest railroad in the country. I'm never at a loss about, "How do I correlate this lecture, this chapter and this material into real world," because it's always happening.
USC Annenberg's PR curriculum is so strong on the agency side, but there's an absence of a full understanding of corporate. I hope that my being full-time faculty with my corporate PR background will start to shift the DNA of the curriculum to be more balanced.
What can you share with students about how the corporate world has responded to the movement for racial justice over the past two years?
It's an exciting time to be a Black woman in corporate America. There is greater sensitivity, awareness, listening and empathy, to what it means to be a person of color. Some of these challenges often went unspoken and unheard — we just kind of put our head down and did our jobs — but now there is a spotlight on these issues. What is justice? What does it mean to have a voice? People are genuinely trying to do the work to better understand, and I think that's a blessing.
At Annenberg, we've also been working with the Black faculty and staff who are focused on improving the Black student experience and creating a center of Black excellence in media. I feel privileged to be a small part of these coordinated efforts, made possible by leaders who have been at USC way longer than me.