Jenisty Colón grew up in a vibrant community where she was one of "maybe 10,000 Puerto Ricans" in her hometown of Perth Amboy, New Jersey. When her close-knit family threw parties, she could expect "50 cousins" to show up on either her mom or her dad's side. So, when she moved across the country to attend Chapman University, it was quite a culture shock — especially adjusting to the small, predominantly white suburb of Orange, California.
"That was my first out-of-state, out-of-culture experience," Colón said. "There was no one that looked like me, spoke like me or acted like me. There wasn't someone I could relate to. It was definitely hard that first semester, making friends, finding my niche."
The lack of diversity and the feeling of being unheard inspired Colón's passion for diversity, equity and inclusion (DEI) — especially in film. Now, as an incoming student in USC Annenberg's Master of Communication Management program, Colón has already landed a research assistant position with the Annenberg Inclusion Initiative. She plans to continue researching DEI at USC Annenberg to ultimately pursue her dream of bringing more diversity to film and television productions.
Where does your passion for film and diversity originally come from?
Ooh, that started as a child. My dad had like 400 DVDs and he actually labeled them by number in this notebook. So, whenever I was bored, I would pick out that notebook and just pick a movie to watch. In terms of DEI, I always saw that there were no characters like me. Entering college at Chapman University, I realized that I wanted to get into film to advocate for people who aren't shown on screen.
Tell us a little more about the DEI and film research you did as an undergrad?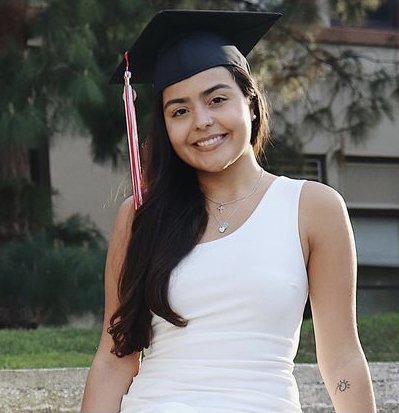 Photo by Madeleen Sabatier
For my thesis, I researched cultural misrepresentation in film and how that affects people of color and their self-identity. That project was only open to people of color. We showed them clips from movies that were stereotypes of their ethnicity versus non-stereotypes. We saw how they viewed those movies, how it affected them and how they felt about themselves. We showed one clip from Modern Family of Sophía Vergara. In that show, she is depicted as this spicy Latina with this strong accent and she's dating an older white man. So, that was the stereotype. The other film we used was Frida — obviously an icon. People felt kind of ashamed to be Latinx when they saw Modern Family versus the Frida Kahlo movie.
What drew you to USC Annenberg?
The Annenberg Inclusion Initiative, honestly, is why I wanted to go to USC! I found out about the initiative through one of my professors at Chapman and she was like, "You're going to love USC and this program they have." Before applying, I was emailing everyone to try to get a research assistant position with AII. A few months ago, I started and I love it so much!
Given your passion for movies, what made you decide to study communication instead of film?
I chose to work within communication management rather than film directly because I believe many of the decisions made for film, TV, and media lie within the hands of studio executives and stakeholders. As a result, communication is a rather useful skill in speaking with executives on strategies and decisions revolving around diversity, equity and inclusion. Any company, film-related or not, that values diversity and developing effective communication strategies is an asset within the advocacy of DEI. I will say, however, I would love to work on productions themselves in the near future!
That's great! What are your career aspirations?
If I can work at a major film studio, like Warner Brothers, in a DEI department that focuses on not just the people onscreen, but even behind the scenes — those people also need to be diverse. I know how hard it is to be in a place where you don't feel heard or seen. So, if I can work at a studio, being that person that can create that change, then that's the way to go.
At USC Annenberg, you will be across the country again. How does your family feel about you becoming a Trojan in the Fall?
It's easier since I went to Chapman and I was gone for three years, but they're excited! They know USC because of football, but they're excited that it's a really good school and the program and research I am doing is what I want.