Kait Devir's path to becoming a Division I lacrosse goalkeeper began with overcoming a major psychological hurdle as a fourth-grader in her native Ridgewood, New Jersey.
"I played attack when I was first starting out, but one day a goalie coach came to our program, and with our goalie out that day, I was thrown in to go work with the goalie coach," she recalled. "But I was terrified of the ball! The coach was like, 'It's OK, we'll start out with just tennis balls.' Then I just got more and more comfortable, and slowly but surely, I really wanted to play this position."
Her talent in the net has shaped her college experience, bringing her first to Boston College, where she was a member of the 2021 national championship women's lacrosse team, and then on to the USC team, which she joined in Spring 2022 as a transfer. Devir is also an accomplished photographer and visual storyteller, a skillset she hopes to develop further as a communication major at USC Annenberg.
"I'm really focused on lacrosse right now — but I do want to be a factor in the school's content team," she said. "It would be great for my portfolio, but it's also a way to connect with other athletes and help them build their brands."
Devir spoke with USC Annenberg about how coming to USC is the next step in her development both as an athlete, and as a chronicler of athletes' stories.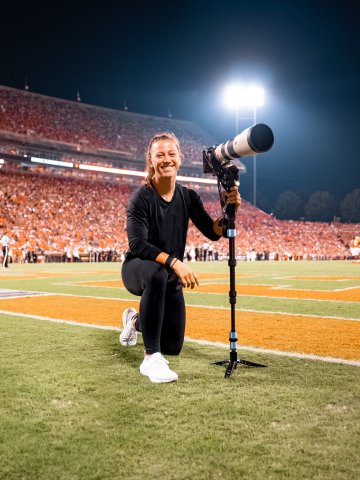 Photo by Brent Greenberg
Coming from Boston to Los Angeles is a big change. Why did you want to make that move?
My dream school when I was a kid was USC. But when you're a goalie, it can be tough because if a school has a player a year older than you in that position, they're not going to be looking at you. A couple of years ago, that was the situation at USC: They already had a goalie, so they didn't need me. I ended up committing to Boston College, and I was beyond excited about that opportunity. I played there my first two years. Our first season came to an end because of COVID, but my sophomore year we won the national championship. It was phenomenal.
While I was there, I really got into photography, and discovered it was what I wanted to do career-wise so I went into the NCAA transfer portal looking for a school that would be the best fit for my athletic and my academic career. And eighth grade me was really excited that I got the chance to come to USC.
How did you get started as a visual storyteller?
I bought my first camera when I came to college. As a freshman, I joined the school newspaper — being able to see my photos in print got me excited, and I knew this was a career that I really wanted to chase. Moving into my sophomore year, I worked more with the athletic programs at Boston College as a student intern, shooting and editing photos for their social channels.
Last year, the NCAA began allowing student-athletes to earn money from their own name, image and likeness (NIL). How has that affected your experience both as an athlete and as a content creator?
Helping athletes get photos for their personal pages in the era of the NIL has been really exciting. Back at Boston College, I ran my own YouTube channel, and through my videos, I would connect with other athletes at other schools for collaborations. Before the NIL rules came into effect, these other student athletes and I were making these videos for fun: You couldn't get paid for them.
After the NIL, I would get messages from other student athletes saying, 'Hey, I'm working with this company, and they need a photo of me with their brand. Could you meet me somewhere to take photos?' It opened a whole other world of networking for my photography work.
And you don't just take photos for other athletes, you've been able to sign your own NIL agreements, correct?
Yes, I've been working with the brand Super Coffee. When they first brought me on, it was just as a photographer and a content creator. Once the NIL came into effect, they were like, 'Hey, now we can actually have you as a brand ambassador.' It was really great to see a company know your quality as an athlete and a storyteller and take you on as part of their team.
How has the semester started out for you academically?
It's been so amazing. In one of my classes, "Sports and Society," we're talking about how sports have really effected social changes. These are concepts that I've always been interested in — and that I've wanted to explore in my photos — but I've never really talked about it before.
What are some of your immediate goals as a sports content creator?
I aim to continue my passion for creating content here at USC by capturing the individual and team aspects of lacrosse, which is a growing sport on the West Coast. This past summer, I was the lead photographer for Athletes Unlimited, the women's professional lacrosse league. They played six weeks of games in Gaithersburg, Maryland, and I was the head photographer for media day and photo shoots. It was cool for me to know that, at 19 years old, I was making an impact on the sport and helping it grow. Now, I'm just so excited to be part of the USC team and being able to help raise the profile of lacrosse in California, whether I'm playing or taking photos.