Even after growing up in Milan, Italy, one of the world's fashion capitals and home to famous luxury brands, global media and communication student Maria Vittoria Borghi is mostly interested in health technology communication.
"Health tech is a booming industry and has the potential to change a lot of lives for the better, but also for worse if left unchecked," Borghi said. "I like to think that I have a very strong moral compass, I would really like to have an impact on how brands sell and market the sector."
She was first introduced to the field while interning at a digital health startup, where she found the mix between dealing with health concerns and technology to be especially challenging and memorable.
"It is a very interesting sector to be in, especially now with AI," she said. "COVID also gave a lot of people a clearer view of how technology can help us mitigate health crises or health concerns."
Borghi is fluent in English, German and Italian and completed her undergraduate studies in corporate communication at Hochschule für Technik und Wirtschaft Berlin. She enjoyed her three and a half years in Germany but wanted to continue her education in a diverse environment that had a more international focus. When she found out about the joint master's degree program at USC Annenberg and The London School of Economics and Political Science (LSE), Borghi was confident it was the right choice for her.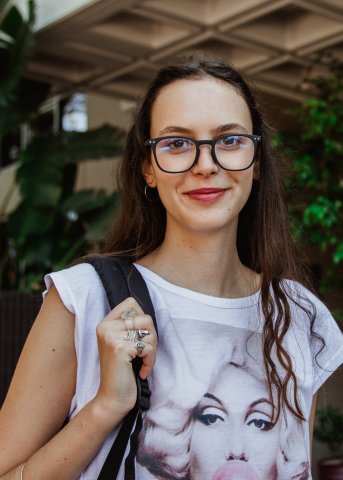 Photo by Areon Mobasher
The MA in Global Media and Communication/MSc in Global Media and Communication is a first-of-its-kind. Students study the impact of globalization on communication, society, culture, politics and media practices in two of the world's most important media capitals: Los Angeles and London. The unique international experience also teaches cross-cultural communication and the exchange of ideas for the purpose of shaping global communication.
"USC is very different from the schools I've been to before because it's very connected," Borghi said. "There are a lot of opportunities like career fairs, art exhibitions and lunches to connect with leaders. In Berlin and London, I met experts who spoke highly about USC and gave me a little bit of inspiration on how to move forward and make the most of my time in L.A."
Borghi is inspired by her mother, who is a multilingual communication professional, and a similarly gifted dad who is an engineer.
"I'm used to seeing my parents travel a lot, but also be very present for their family," she said. "My mom might work late in the night, but still showed up for recitals and showed me that this can all be done. She really enjoys what she does and has been working in the communication industry for over 30 years. As a child, she taught me to be very interested in how other places work and how to make them work together."
Some of Borghi's favorite travel destinations are cities in her home country Italy, but, she admits, Paris is a close second. She wants to learn French and Japanese and hopes to travel throughout Asia after graduation.
"My family shaped me a lot and I think it was a privilege to be with parents who've been so curious themselves," she said. "I have album pictures full of my parents in Russia, Africa, India and just doing fun things together."
During her year at USC, Borghi and the other students from her London cohort will complete an internship/practicum or produce a final research project on global communication that will be the product of work done both at the LSE and USC Annenberg.
"The program is very fast-paced," she said. "I've been here for over a month and while classes are a priority, I really hope I get to go to the beach. I love museums, so I'm museum hopping already, but I would like to go to San Francisco because I have never been and it is very tech-oriented. Hopefully, professionally, I'll be able to check it out too."
When considering whether to apply to the dual program, Borghi was convinced after hearing how people talked about USC.
"One of my colleagues at the consulting firm was here for a semester and he was like, 'You should totally try to apply,'" she explained. "I was unsure because of the lengthy process and as an international student, there are a lot of things to factor in. But, he said if I get in, it is worth it because of the people, connections and sheer experience of being in L.A. at one of the top communication schools. I can say he was definitely right."
Her advice to other international students is: "If you can, just do it. Moving abroad is something that gives you value that cannot be quantified."