Coming of age in Pasadena, Calif., Kaleef Starks became passionate about media and social change. As a Black transgendered woman, Starks is inspired by actress Laverne Cox as well as writers Janet Mock and Raquel Willis, all of whom advocate for LGBTQ rights and create a pathway of acceptance and healing.
"My goal is to mirror the work that they do," Starks said. "I want to elevate these conversations and contribute to the work that we already see. I hope that I can also have that same ability to contribute and be an agent of change."
Starks earned a bachelor of art in gender studies from UCLA and is excited to begin the MS in journalism program at USC Annenberg as a GRoW@ Annenberg scholar.
"It feels surreal, to be honest with you," she said. "I am extremely grateful and very humbled to be a GRoW@ Annenberg scholarship recipient because I know that the donors definitely believe in me. For me, it's about the work, and the fact that they saw my work ethic and passion really warms my heart."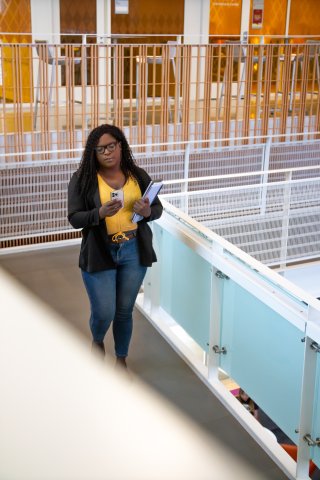 Photo by Areon Mobasher
Why are you excited to be at USC Annenberg and what do you hope to do with your degree?
I've always wanted to be an Annenberg student. In high school, I started my undergraduate application to USC but didn't complete it because I didn't believe in myself at the time. So, this is definitely a full-circle moment for me. I'm someone who had a lot of roadblocks in my career. But, after working odd jobs and volunteering in the community, I've found my way and can finally see clearly now.
I always promised myself that I would not return to higher education unless it put me in the right direction to elevate my career. I was already an independent multimedia journalist and I have a small and growing audience. My podcast is on nine platforms, so people see me putting stuff out. Ultimately, I realized the difference between blogging and journalism, and being a journalist is having the proper training. I want to challenge myself to get better at my craft and I think that Annenberg will help elevate my career in regards to helping me fine-tune my writing and my investigative skillset.
After I graduate I hope I'll be able to work with the mainstream platforms, have multiple bylines and have a career in which I can host events throughout Los Angeles. I have a passion for emceeing music, fashion and advocacy-related events. I love to interview people. I think sitting down and having a conversation is something that really keeps me inspired. Whenever people pass along gems of information I get excited. So ultimately, if I could walk out of Annenberg with some writing under my belt and the ability to write more for publications and also have the opportunity to interview people at events and across other spaces as well, I will have accomplished my goals and more.
You mentioned that you have a podcast. What does it cover and do you have other passions?
I started my first podcast in 2016, and it failed. I started The Perfect Blend podcast three years later in 2019 because I wanted to figure out how to be a better storyteller and a professional in media. After constantly studying interviews, blogs and celebrity news coverage from journalists who I admire, I just thought to myself, this is something that I would like to do for my career.
I'm now on season five and I'm still turning out episodes. The "Yass Queen Awards" is a highlight of my show. I spotlight women and fems – individuals who are femme-identifying. We also have the "Yass King Award" for individuals who identify as male. They qualify if they are doing excellent work. It doesn't even always have to be community-based work. It could be something they said in an interview or something positive.
I've always had a passion for media. I really enjoy watching people get interviewed. I literally scour YouTube, social media and TV to watch individuals who I admire get interviewed and talk about their upcoming projects and lives. I also have a passion for music and advocacy.
What advocacy work have you been involved with?
As a teenager, I volunteered a lot. I started volunteering with Day One Pasadena, a nonprofit organization that advocates for high school youth by advancing public health, empowering youth and igniting change. I would help advocate for public policies around youth substance abuse and figure out strategic ways to ignite community engagement and behavioral change in Pasadena. I definitely learned how to address social issues such as health equity, teen pregnancy, underserved communities, vulnerable communities and communities of color. I also had the ability to attend the state capital and participate in policy advocacy for specific bills that would affect Pasadena in that region of California. I was doing this at 15 years old and it was an amazing opportunity for me.
How do you overcome adversity when facing challenges in life?
The secret to overcoming adversity is to stay grounded during the challenging times. In a moment of adversity, it's important to find friends and mentors who are supportive. However, there were many times when there weren't really people around who understood the challenges that I had. During these instances, I learned how to take care of my mental health and honor my own boundaries. I believe in going to therapy. I've been bullied and had a difficult time period before all of the LGBTQ progress that we see now. I honestly believe that staying grounded and having a good support system is the only thing that you could do in times of adversity.