Even though he's about to graduate with a master's degree in journalism, Frank Rojas came late to storytelling.
Born and raised in the South Bay, Rojas went to high school in San Pedro before earning his bachelor's degree in business from California State University, Dominguez Hills. "I discovered journalism about halfway into my stay at Dominguez Hills," he said.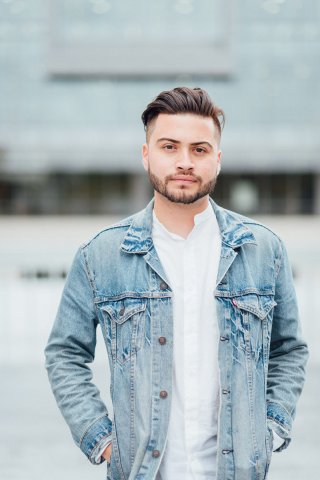 "I became really intrigued with
Humans of New York
," he said of the popular photoblog built on individual portraits and profiles. At the time, he was also president of the Male Success Alliance, an organization focused on increasing men of color in higher education through mentoring of high school students. "I thought, 'What if I could bring something like that to the Male Success Alliance?'"
Rojas documented the stories of some 25 of his fellow members of the group, posting them to Instagram. "I would interview them about anything from the culture shock of being first-generation to what masculinity looks like to them as men of color to anything and everything in between," he said.
After graduating from CSUDH, Rojas knew that, as a gay Latinx man, he wanted to continue to do work that was supportive of underrepresented communities. He began working as what he calls a "backpack journalist," covering news and events relevant to Latinx and people of color through his personal blog. He also began looking for professional opportunities in L.A. media. A friend he met through Dominguez Hills journalism club, who had worked as an editorial assistant at the Los Angeles Times, encouraged him to apply to work at the newspaper.
When Rojas joined the Times as an editorial assistant in early 2020, he was also in the process of applying to the master's in journalism program at USC Annenberg, which he entered in Summer 2020. "As someone who was born and raised in Los Angeles, studying journalism at USC important to me," he said. "I feel very protective of L.A. as a writer — I just get it on a different level. I know where the richer L.A. stories are at, and they're not in, like, the trendy parts of Santa Monica."
While earning his master's, Rojas served as an editor of Dímelo, the Latinx desk at Annenberg Media, where continued to tackle stories relevant to him and his community, on topics from gentrification to observing the Día de los Muertos holiday during a pandemic.
"I also did a story for one of my other classes on the mental health of gay Latinx men during this pandemic," he said. "In some circumstances, people had to move back to their homophobic households. Also, the closure of gay bars really removed an important gathering place for that community. That one was really powerful."
Working as an editor for the first time, he was able to bring together his journalism experience with his background in mentoring. "Editing is one of those things you have to learn by doing," he said. "Also, being an editor and shaping other people's stories has helped my own writing — it's influenced my eye for structure."
Though he's proud of the work he's done in his classes — including writing stories for the L.A. TACO zine project in the magazine class taught by Amara Aguilar, professor of professional practice — he said he truly appreciated all of the opportunities for practical work available at USC Annenberg. "In classes, you can only learn so much," he said. "It's not until you do these things hands-on — working in the media center, helping students, doing your own stories — that you really start to understand what's involved."
And although he emphasized that his Times position "wasn't a writing gig," he did successfully pitch two stories to the California section: one on a summer literacy program for Black and Latino youth in low-income housing, and another one on how the L.A. poetry scene moved to social media during the pandemic.
As he looks for post-graduation job opportunities, Rojas says he will continue looking to his mentors for support. "Between USC Annenberg and the L.A. Times, I've been able to build a really good network of people," he said.
That network, he says, has been essential in keeping him grounded, especially during the pandemic. "It was a lot of work, especially just being connected on Zoom, but my mentors at both the Times and USC Annenberg were really there to help me keep from burning out," he said. "USC especially really helped me in navigating different realms of journalism. I've done podcasting, I've done broadcast. At Dímelo, we even did a Snapchat edition on the vaccines. I've had amazing opportunities here."