Ever since he was in the seventh grade, Fernando Esquivel knew where he wanted to go to college: USC Annenberg.
"I always had an interest in television and entertainment news," he said. "It might have been a little farfetched, but I always imagined that as a career path for me. I started doing research into great journalism schools and discovered Annenberg. When I saw pictures of USC, I fell in love with the campus, and I knew that was the place for me."
An exceptional student at small-town Lindsay High School in California's Central Valley, Esquivel pushed himself hard, both in the classroom and in his extracurricular activities, to achieve his college goal of being a first-generation college student at USC.
He served in student government for all four years of his high school career, becoming student body president his senior year. "Also, I am part of the LGBTQ+ community, and I had a cabinet position with the LGBTQ+ club at my high school," said Esquivel, who uses he/they pronouns. "I also took college courses through our local community college, which I really enjoyed. I did some acting, and also played tennis and did cheerleading. I was actually the first male cheerleader ever at my high school!"
As part of our series on outstanding incoming students, we spoke with Esquivel about their journey to USC Annenberg, and where they want to go from here.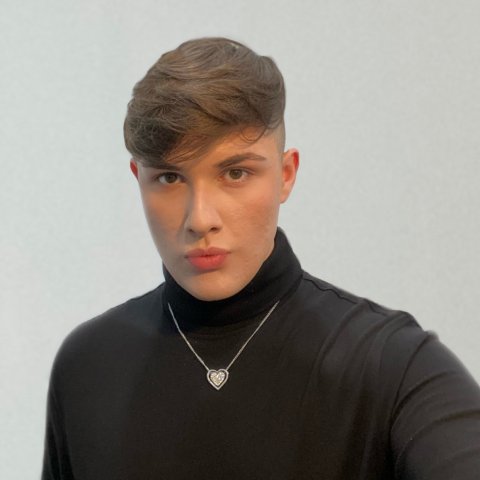 Photo by Fernando Esquivel
What first drew you to journalism as a possible career?
I grew up watching E! News and Fashion Police, seeing the glamor of Hollywood. I have a big interest in fashion and entertainment. I watched the reporters and I was like, "This is so fun! They get to work on the red carpet. They get to talk about something that is different from your typical news." It really captivated me. At first, I was scared to go into that because I thought it was probably going to be really difficult to go to school to learn how to do that, but this was my dream, and I just wanted to work for it.
What drove you to put in all that effort?
My goal was to receive as many scholarships as possible, because I knew that it would be difficult for my family to afford to send me to USC. I'm so honored and happy to be the first in my family to go to a university. Being first generation also means that the process of applying to college, and applying for financial aid, and navigating through that, you don't have much of a support system. My dad went to high school in Mexico before emigrating here. My mom grew up in California, but she only did a little bit of community college. It's been a stressful journey trying to navigate everything.
The financial-aid piece was what allowed you to come to USC Annenberg, right?
Absolutely. This was always my dream school, especially after we came to visit campus right before the pandemic started. It was so beautiful, and that just pushed me even harder to work to make it here.
But when I first got accepted to the Bachelor of Arts in Journalism program, there was a little bit of fear that was instilled within us because, obviously, we didn't know about the financial aid yet. We were excited, but we kind of wanted to proceed with caution. First, I interviewed for the USC Directors Scholarship, and then heard that we got that, and also the Jacki and Gilbert Wells Cisneros Scholarship, plus some other financial aid from other sources. At that point we were like, OK, this is really happening. It was such a surreal moment for us of working so hard, and then actually reaping the rewards of that hard work. My parents could just be excited for me. They're really proud of me — I see it when they talk to other family members about how proud they are.