Cecil Hannibal '20 has always seen sports in his future. As a kid watching ESPN, especially long-form feature pieces, he thought, "That was something I could do," he said. "Those stories capture you whether you love sports or not. My grandma would sit and watch those with me, and she doesn't care who scored 30 points last night."
Growing up in New Jersey, Robert Aronson '21 loved soccer, both as a player and a fan. "Then my senior year in high school, I noticed my little brother was going to start ahead of me on the soccer team," he said with a wry grin. "I thought I'd have more fun commentating on the games as opposed to watching them from the bench."
These two USC Annenberg journalism majors are well on their way to turning their love of sports into their livelihood. In addition to their achievements both in and out of the classroom during their time at USC Annenberg, Aronson and Hannibal have both earned the 2019 Chick Hearn Memorial Scholarship.
At halftime of the Nov. 19 NBA game between the Los Angeles Lakers and the Oklahoma City Thunder at Staples Center in downtown Los Angeles, Aronson and Hannibal were honored in an on-court ceremony, joined by members of the Hearn family and Gordon Stables, director of the School of Journalism.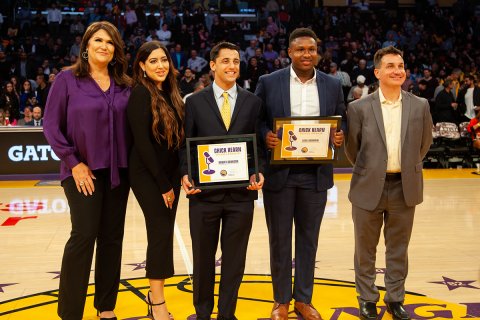 Photo by: Olivia Mowry
The endowed scholarship was established at USC Annenberg in 2003 in honor of legendary Los Angeles sportscaster Francis Dale "Chick" Hearn, who broadcast more than 3,000 Lakers basketball games over 40 years until his death in 2002.
"It's an honor to even be associated with Chick Hearn's legacy," said Aronson, "It was a bit surreal, honestly," Aronson said of the experience. "Usually I'm the one doing the interviews. It was really, really cool, just a really proud moment that makes me take a step back and think of my parents and all my teachers — without them, I wouldn't be here."
"Getting this scholarship pushed me over the hump of being able to finish school and start my career," Hannibal said. "It's a blessing."
Prior to the ceremony, Aronson and Hannibal were interviewed by Spectrum broadcasters Stu Lantz and Bill MacDonald. The students also did an on-air interview with the ESPN Radio crew of former Lakers star Mychal Thompson and Travis Rodgers.
"Stepping on that court gave me chills," Hannibal said. "It's the Lakers — it's Magic, Kobe, Shaq, Kareem, LeBron and AD [Anthony Davis] now — and I'm standing on this court I've seen my whole life. I was at a loss for words."
Hannibal, who transferred to USC Annenberg from Georgia State University for his junior year, has anchored Annenberg TV News and has covered both sports and hard news, including live coverage of last year's Borderline shooting in Thousand Oaks. He says he wants to go beyond what happens on the field of play. "I'm not a stats guy," he said. "I want to be storyteller."
"In an ideal world, I'd head in a sports direction," Aronson said. "I'm doing some news right now with Annenberg Media, and I love politics, but long-term, I love sports, I find it fun and entertaining, and a life covering sports would be amazing."
---