"Advances in digital media and mobile devices are changing the way we engage not only with the world around us, but also with the people who are the closest with us. These shifts are happening faster and more dramatically than any change in recent history."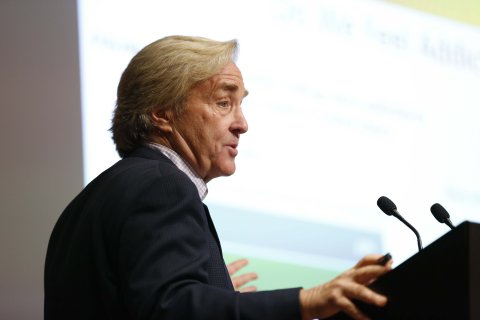 Photo: Daiki Suzuki
USC Annenberg Dean
Willow Bay
revealed the result of a new study titled
The New Normal: Parents, Teens and Digital Devices
to a standing-room-only audience of more than 200 guests at the
USC Global Conference
in Tokyo. The panel discussion included 25 high-school students from the American School in Japan (ASIJ).
The first study to examine the effects of digital media on teen-parent relationships, it found that many Japanese teens and parents feel digital devices are a source of concern, anxiety and conflict.
The new report is based on a recent poll of 1200 teens and parents in Japan and compared to existing U.S. data from Common Sense Media, a leading independent non-profit dedicated to helping kids thrive in a world of media and technology. "This is a really big deal," said James P. Steyer, Common Sense Founder and CEO. "Just think about it, ten years ago we didn't even have smart phones."
In addition to tracking ubiquity and use — 90% of Japanese parents and teens own smart phones and spend hours a day on them — the study examined teens' and parents' feelings of addiction, distraction and conflict. "You pick up the phone and you're not even aware," said Ryu Kamibayashi, an 11th grader. "I think it's kinda like a subconscious," agreed his classmate Alissa Caldwell.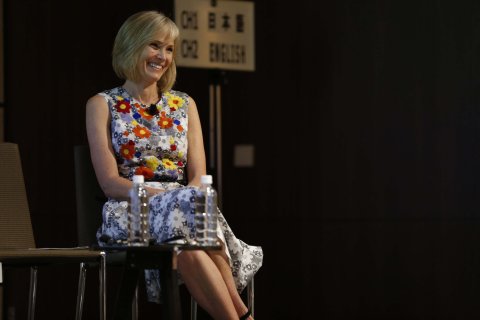 Photo: Daiki Suzuki
The study asked teens how they might feel if they had to go without their phones for a day and in the live discussion with the ASIJ teens, Bay asked them the same questions. The audience was captivated by the teens' youth and candor. "Nowadays, one of the worst things that can happen to us is, like, oh, I left my phone at home," said Alissa Caldwell.
Steyer also asked the students to reflect on their feelings of anxiety and addictions. "Some of us think it's really annoying to have to deal with [social media] but it's part of a being a teenager," said Koa Kellenberger of ASIJ.
"This is a conversation we need to be having," noted Bay as the event came to an end, "and it's clearly a global one. We hope the data and the discussion with help families integrate technology into their lives in more thoughtful and productive ways."
---
View the full study here.