Mobile devices are rewiring the way parents and teens connect with one another in countries across the globe. How is the near-universal presence of these devices affecting parent-teen relationships in the United Kingdom?
These were the key questions at a London event today where USC Annenberg and Common Sense Media announced the release of a new study titled The New Normal: Parents, Teens and Mobile Devices in the United Kingdom. Based on a survey conducted in June 2018 of more than 1,200 teens and parents across the U.K., the report explores mobile device use and media engagement among parents and teens in the U.K. The report also compares responses with research data gathered over the past two years from teens and adults in both Japan and the United States.
USC Annenberg Dean Willow Bay and Common Sense founder and CEO James P. Steyer traveled to London for the event, where they shared findings of the report and held a conversation with U.K. teens. (You can watch video from the event on YouTube.)
Photo by: Graham Brooks/G-Graphic
The results indicate U.K. teens and parents feel mobile devices are daily distractions in family life and, for some, an emerging source of conflict. Parents and teens both said they "feel addicted" to their devices, with 27 percent of parents and 48 percent of teens reporting that they check their devices within five minutes of waking up each day.
"Having a phone is instant — we live online, and if you receive an email you're expected to reply instantly," said Sophia Hodgson, a student at Guildford High School who attended the London event.
Those concerns sit alongside feelings of optimism about the benefits of mobile technology, including helping teens learn technological skills. "For school, you need to have Facebook — we connect on Facebook for clubs," said Libby Reagan, a student at the American School in London.
"At this moment, when so many of our personal interactions involve a mobile device, we need to dig deeper into the media habits and attitudes of parents and teens," Bay said. "With this latest report, we hope to offer timely and thoughtful analysis that will spark a new wave of global interest, research and conversation."
Common Sense, a global nonprofit organization focused on kids' use of media and technology, surveyed U.S. parents and teens about mobile device use in 2016. Common Sense and USC Annenberg jointly conducted the Japan study in 2017.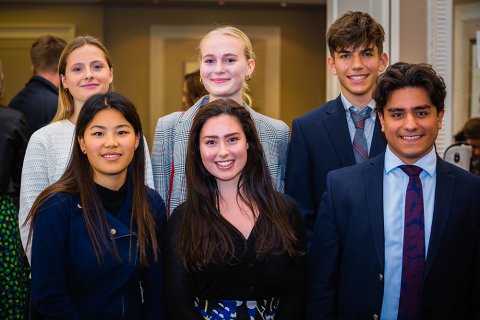 Photo by: Graham Brooks/G-Graphic
"We know that parents, caregivers, healthcare practitioners and educators are increasingly concerned about the impact device use has on children's social, emotional and cognitive well-being," Steyer said. "This research contributes invaluably to our understanding of how to maximize the positive aspects of technology at home and in school and minimize the downsides."
A comparison of the results from the three countries shows that more U.K. parents felt addicted to their devices than parents in the U.S. (46 percent vs. 27 percent). In addition, teens in the U.K. were much less concerned than their American counterparts about spending too much time on their devices. More American parents and teens reported arguing daily about mobile device use than did families in the U.K. and Japan. Yet, the majority of parents and teens in the U.K., the U.S. and Japan felt that teens' use of mobile devices has had no effect on parent-teen relationships.
"As we continue our study across new countries and continents, we hope to advance the conversation by grounding it in new data and by continuing to compare it across countries and cultures," Bay said. "As we have done with this latest work, we will adapt our questions to reflect our growing understanding of the impact of these new technologies and add new ones as we expose additional lines of inquiry."
"Phones allow you to stay connected," said Alessia Ascolani, a student at Queen's College. "Nobody wants to be disconnected."
---
To read the full study, click here, and watch the event below.