The telenovela-style comedy Jane the Virgin, which airs on the CW, centered several of their fourth-season storylines around immigration — specifically, the undocumented status of Jane's grandmother. According to USC Annenberg researchers, that show's nuanced, accurate handling of immigration is the exception, not the rule in Hollywood. Far more common are stories that perpetuate false, negative stereotypes about immigrants.
The Media Impact Project, a part of the Norman Lear Center, worked in conjunction with Define American to produce the study titled "Immigration Nation: Exploring Immigration Portrayals on Television." The study, released on Oct. 17, analyzed 143 episodes from 47 television shows that aired between 2017 and 2018, with researchers examining at 476 sub-variables, such as clothing, character, likability and crime association. USC undergraduate and graduate students handled the viewing and coding efforts.
"Immigration has become an era-defining issue in the U.S. and around the world," said Johanna Blakley, managing director of the Norman Lear Center. "Understanding the role that media depictions play in people's understanding of immigrants and immigration is a crucial piece of the puzzle for activists and policymakers, so we knew that this research would be valuable to many constituencies."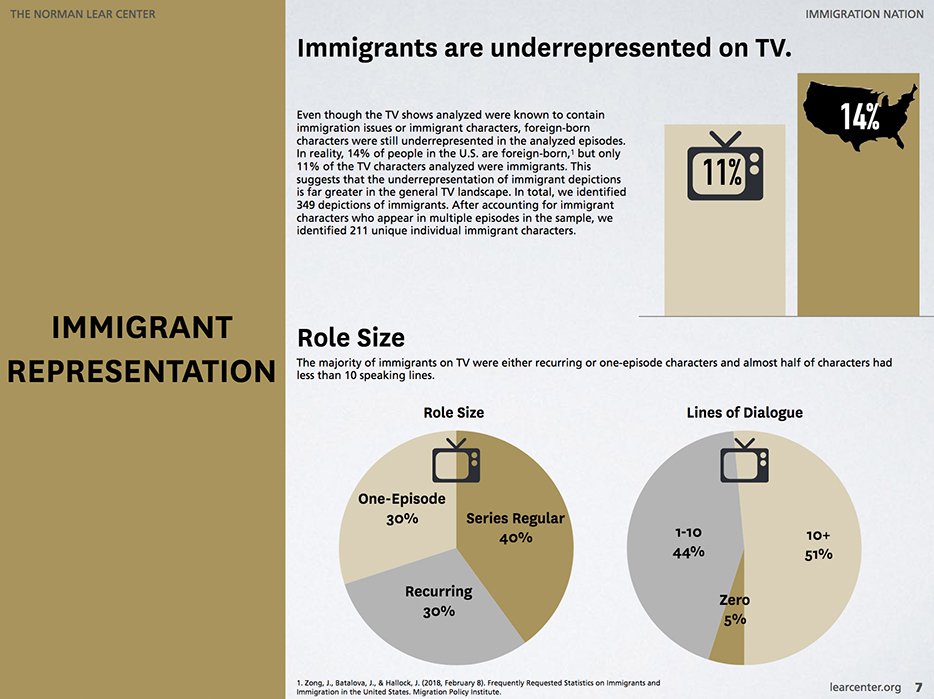 The study looked at how shows such as The Big Bang Theory, Superstore, Criminal Minds, One Day at a Time, The Fosters, and Modern Family, among many others, approached immigration storylines and immigrant characters. They then compared the fictional portrayals with real-world statistics.
"Decades of media and communication research have demonstrated that people learn from television," said Adam Rogers, the project manager, at an Oct. 2 Writer's Guild of America event. "Even fictional depictions inform attitudes and behavior. We wanted to take an in-depth look at how immigrants are depicted."
"The main findings were that immigrant characters are less educated on TV than in reality," Rogers said. "Seven percent of the immigrants on TV had a stated college degree, as opposed to 17 percent of immigrants who actually do have a college degree."
The report also found that one-third of immigrant characters on television were associated with crime in some way; according to government data, immigrants commit less crime than native-born Americans. In addition, 11 percent of immigrant characters were associated with incarceration on television, while less than one percent of immigrants are actually incarcerated.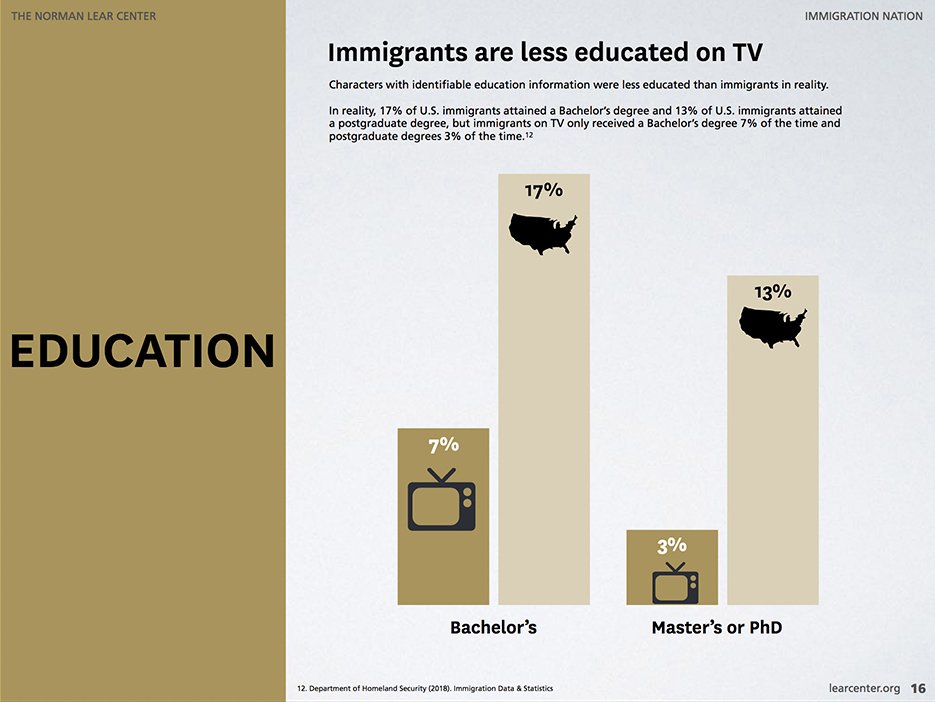 "Our discovery that immigrants are disproportionately associated with crime and incarceration on TV should raise alarm bells for anyone working on issues, policies or legislation related to immigrants," Blakley said. "This was a robust baseline study, but we see it as just the first step in understanding how television storytelling affects public opinion, and ultimately legislation, about immigrants. We look forward to working with Define American on the next phase of this research, which will connect the dots between what people see and what they believe."