"We are students. We don't have [guns]," a group of Black African college students chanted at a Ukrainian side of the Poland border as the Russo-Ukrainian War escalated in the spring of 2022. Their cries were heard around the world because they had a more powerful weapon.
Using their cellphones, the students, mostly Nigerians, documented how they were being denied safe passage out of Ukraine because of their skin color. They posted their harrowing accounts on Twitter, Instagram, Telegram and WhatsApp with the hashtag #AfricansInUkraine in an effort to communicate with a global audience and mobilize action.
Iliya Kure was a student in the Specialized Journalism (MA) Program at the time and recalls discussing the events in the summer of 2022 with classmates in his JOUR 506: Introduction to International Reporting class.
"I came to the United States from Nigeria to study in a different culture," Kure said. "My classmates saw that #AfricansInUkraine was trending and we all felt compelled to do something about it. I was able to suggest resources that I was familiar with as an international student."
As one of the inaugural fellows with the USC Charlotta Bass Journalism & Justice Lab, Kure decided to devote his thesis research to examining how these citizen journalists were able to create effective counternarratives and challenge mainstream media reporting through the #AfricansInUkraine campaign.
"I wanted to know what inspired African students to use smartphones to broadcast their issues," Kure said. "The report also looks at how effectively they disseminated their stories and how they used Twitter and WhatsApp to spread the news. I discovered so much more as I learned about their hardships."
Fieldwork for his thesis was funded by the Bass Lab under the year-long student research fellowship program. The lab provided travel support to Nigeria, recording equipment and copyediting services. Kure interviewed five officials in Nigeria who worked to provide assistance from afar and 10 affected students who were studying abroad in Ukraine.
Catherine Kirpu, age 22, was a third-year Nigerian medical student at V. N. Karazin Kharkiv National University. She struggled along with other Black peers to gain bus or train passage into Poland while other white passengers were let through. Kirpu recounted a white man blocking her and others until a "huge Black guy" came. "I was pushed. I even fell down, and so, he [the Black guy] noticed me and he dragged me [into the train]," she told Kure.
"The story behind the #AfricansinUkraine campaign brought home the fact that even in a war situation, discrimination would still be seen," Kure said. "People matter, still have influence, and can make a difference."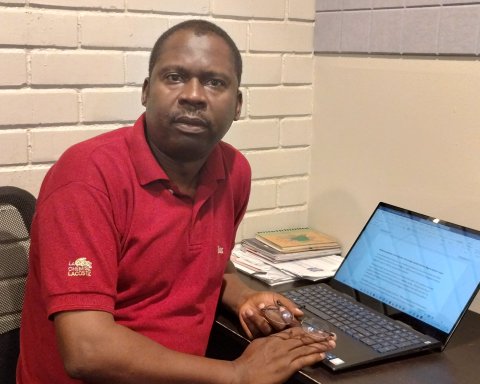 Photo courtesy of Iliya Kure
Kure found that key drivers of the #AfricansInUkraine campaign were Nigerians in the global diaspora. They used text, pictures, and videos to disseminate information across various social media platforms, which assisted in reaching different target audiences and amplifying their message to millions across the globe.
For example, Chibuzor Rosemary Onwugbonu, a U.K.-based product manager in technology and current welfare officer of Nigerians in Diaspora Organization (NIDO) Europe, told Kure in the interview that she got involved when she heard the cries for help.
"The [NIDO] chapter in Poland, the Hungary chapter, we all got on Twitter Space to speak to people," Onwugbonu said. "And then, in the end, we just had to create Telegram groups … because there was really so much that we could do on the Twitter Space. But the great thing was there was a sense of community that came together just by us being able to have these conversations. . . . It was a rescue mission in the end."
Kure determined that consistent and robust posting of #AfricansinUkraine messages by students, activists and the mainstream media was also integral to forcing Ukrainian authorities and their security agents to open the borders for Black students to leave the country. It also sped up the clearing process at borders where Black students were being delayed unnecessarily.
The evolution of "hashtag activism" and other global social media movements are covered extensively in the report. Kure charts the trajectory and impact of popular African hashtag campaigns such as #RhodesMustFall, #FixTheCountry, #ThisFlag, #BringBackMutharika, #ShutItAllDown, #EndSARS, and #CongoIsBleeding. These movements resulted in positive changes across Africa, from the Democratic Republic of the Congo to Namibia.
Kure's research is inspired by USC Bass Lab founding director Allissa V. Richardson's groundbreaking body of work, which examines how Black Americans have leveraged the latest news production technology to document human rights injustices against them.
"The report comes at a pivotal moment as the war between Russia and Ukraine continues," said Richardson, author of Bearing Witness While Black. "Iliya's work demonstrates that without those individuals brave enough to bear witness to their experiences firsthand, and those from afar who mobilized social media to amplify these stories, the world may never have known the extent to which anti-Blackness persists on a global scale."
Kure earned his master's degree from USC Annenberg in 2022 and has been a journalist for more than 17 years before he moved to the United States. He was a reporter for Africa Prime News, Voice of America, Federal Radio Corporation of Nigeria and a freelance reporter for The New York Times. A passionate writer and media relations specialist, he strives to tell compelling stories that engage, inspire and inform diverse audiences.
His extensive professional experience helped Kure feel confident about returning to school.
"I came to USC Annenberg because I was looking for a school that offered a very strong journalism program," Kure said. "USC is one of the top schools, not just in the U.S., the program is robust and known worldwide."
He plans to use his degree to continue advocating for others. Many of the Nigerian students who returned from Ukraine were unable to finish their studies and lost valuable certification time and credits. Kure hopes that his thesis research will bring more awareness to their stories and help them find resolutions.