USC journalism students learned about what it takes to break into their future careers in media.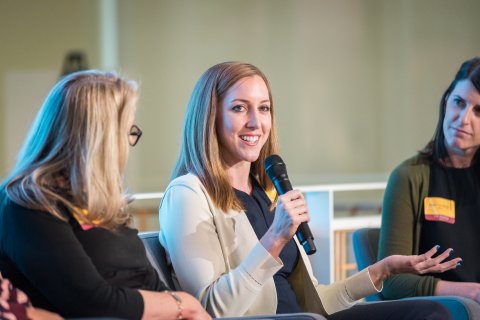 In addition to the evolving job skills required from today's journalists and creative content producers, one skill remains paramount for students looking to enter a career in media: passion.
"Passion. People that I hire, I want to see passion in them. That's what makes them stand out," industry panelist and Managing Editor/West Coast Lead for AOL Torrey Anderson Schoepe said to a crowd of University of Southern California journalism students Tuesday at Wallis Annenberg Hall.
The informative discussion was part of the USC Annenberg School for Communication and Journalism and WorkingNation's forum on the Future of Work in Media.
The panel, representing the nation's top media companies and USC faculty, focused on the changes brought on by technology transforming the future workforce for graduates.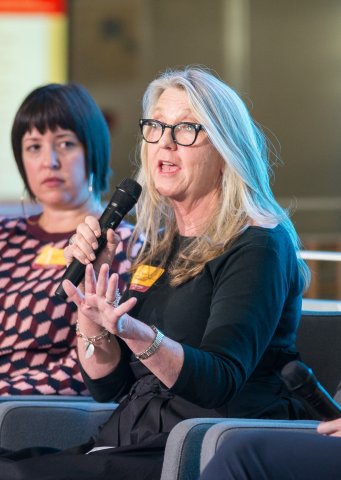 The panel also included Netflix recruiter Talia Williams; Megan Tannenbaum, manager of ad operations for Hulu; USC Annenberg Interim Director Gordon Stables; USC Annenberg Director of Career Development Suzanne Alcantara; and Thelma Vickroy, Chair of Cinema, Television and Arts, Mike Curb College of Arts, Media and Education at California State University, Northridge.
They addressed the need for students to work on soft skills, like passion and interpersonal communication, while gaining their education. Employers, they said, want well-rounded and team-oriented job candidates with relevant career experience which separates them from other applicants.
As legacy media continues its shift to online distribution and as new mediums arrive — in the form of content portals, augmented reality and virtual reality — media corporations are demanding more diverse skill sets from graduates. Students must develop their passion for their craft across a multitude of platforms as well as the technical know-how to master them.
Staying on top of the latest technological trends requires a foundational education with state-of-the-art tools, which forum host USC Annenberg is providing to its students. To better connect them to their future employers, the school's Annenberg Works program was developed to ensure students have career guidance aligned with the needs of the media industry.
USC Annenberg Dean Willow Bay said the work her school is doing to educate students across diverse media platforms makes them ideal candidates for employers.
"If you understand your own generation and how they interface with media, then you have a lot to offer," Bay said.
One USC graduate, Eli Goodstein, was empowered by Annenberg Works to pursue his passion for news production and gain the real-world skills training necessary to enter his new career in television. His journey is documented in the latest WorkingNation short film "The New Path to News," which premiered at the forum.
Following an introduction to the film by director and WorkingNation Executive Producer Melissa Panzer, Goodstein delivered his advice to the prospective graduates via Skype on how he was able to get hired soon after graduation.
"To get a job, identify something you have developed as a passion point," Goodstein said.
By working hard while in school, networking effectively and using the career resources available, Goodstein said students will find success in a difficult job search market. Refining these skills at USC Annenberg helped him land his first job at WTVR CBS 6 in Richmond, Vir. as the morning newscast producer.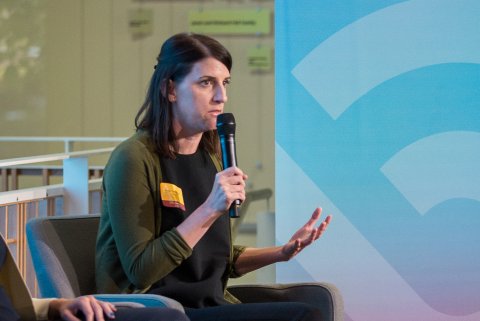 Panzer documented Goodstein and USC Annenberg's story because she felt that USC Annenberg is at the forefront of a cooperative and industry-driven educational model that is spreading across the country, she said in an interview with ATVN reporter Trevor Sochocki.
Panzer echoed this sentiment during her introduction and said that her filmmaking for the Do Something Awesome series has opened her eyes on how workforce development is handled differently from region to region. Ensuring their students get good jobs is not a priority for many schools, she said.
"It's really important that the end goal for students is a job. And for a lot of universities, that's not their end goal," Panzer said.
Panzer summed up her thoughts on what students need to break into a media career by connecting the common thread mentioned throughout the event.
"As much as you can have on a piece of paper, show passion," Panzer said, "That's the most important thing you can have."