Thomas Williams first gets his audience riled up with a chant.
"Give me one clap. Give me two claps. Give me three claps. Whoo!"
The former linebacker, who helped the USC Trojans win two national championships and three Rose Bowls, then recounts how an injury in his sophomore year led him to doubt whether he would be among the 1 percent of college athletes who go pro. Redshirted as a junior, Williams decided when senior year rolled around that he just wanted to "have fun."
He recalls how Head Coach Pete Carroll agreed, but advised, "I want you to remember this: Give it everything you've got."
Williams pushed back. "What if I've given it everything and the NFL doesn't want me?" he said. "It's wasting my time and my passion."
Carroll's rebuttal: "If you give everything you got and the NFL doesn't want you, then they don't deserve you."
Ultimately, Williams listened, and things started to click on the field.
"I was playing free. I was playing fast," he told the current and former players who joined him at the inaugural NFL Speakers Bureau in March.
The three-day event, organized by USC Annenberg and NFL Player Engagement, guided athletes on how to connect as a community, speak in front of a crowd, and build and leverage their personal brands. USC Annenberg faculty led sessions on topics such as building trust and credibility, advancing social issues and embracing the unique storytelling opportunities provided by Instagram, Snapchat, Twitter and livestream platforms.
Williams goes on to share that he didn't give up. He graduated in 2008 and was drafted by the Jacksonville Jaguars. He played for several teams before a neck injury ended his professional football career in 2011.
He is now a motivational speaker and author, so establishing himself as a brand has been critical.
"It's one thing to have your status determined by your athletic ability: how fast you can run, how hard you can punch, how well you can catch a ball, how far you can hit a ball," said Ben Carrington, an associate professor of sociology and journalism, who led one of the bureau's sessions. "So when you start to transition away from that, you have to make sure you still have something to say."
Carrington recognizes the power generated when current and former athletes like Williams tell their own stories. With the rise of social media and athlete-driven content platforms, he sees an unprecedented opportunity for players to speak directly to their audiences. Yet as players learn how to tell and maximize their own stories, they have also disrupted the traditional sports media industry — for better or worse.
The rise of athlete-driven new media
For professional athletes, crafting a personal narrative is more important than ever. "It's now permanent and it is now a necessity," said Erit Yellen, a USC Annenberg instructor who teaches a course on public relations strategies. "You're going to start to see athletes not just into running their own media, but starting to understand the power and influence of controlling overall sports content."
Yellen would know: A little more than 15 years ago, she founded one of the first public relations firms targeted specifically to athletes. Using what she calls the actors' representation model — or a model that includes separate roles for agents, managers, publicists and lawyers — Yellen helped transform several athletes from professional players into full-fledged celebrity brands.
But a lot has changed in the decade-plus since then. "We were reliant on working with journalists to tell us what was going on," Yellen said. "There was no option for athletes to tell their own stories, so we had to be very picky about which journalists we wanted to work with."
Now, athletes can choose to self-publish news on social media sites like Twitter, Instagram or Facebook or to collaborate with websites like The Players' Tribune, which allows athletes to control their own narratives. The online platforms, Yellen believes, have been a game-changer for sports stars.
"Athletes are really starting to play around with how much they can control and change their own personal brands with their own content they're putting out there," she said.
Brendan Meyer, vice president of digital marketing at the sports talent agency Wasserman, said social channels have opened up new ways for his clients to show fans what they're interested in — and sometimes, those interests have nothing to do with sports.
Case in point: Russell Westbrook, an NBA player with the Oklahoma City Thunder, has harnessed millions of followers on Twitter, Instagram and Facebook, where he showcases his personality with karaoke sessions in his car, his philanthropic work and his love for fashion.
"He's in Fashion Week in Paris, he's meeting with designers and sharing the whole experience with his followers. He's able to show that he's not only somebody that wears the clothes, but he's involved in the scene," said Meyer, who graduated with a bachelor's in communication in 2007. "Building credibility and authenticity opens up the opportunity for him to launch his own clothing company and write a book about fashion."
With 1.2 million Instagram followers, the Pittsburgh Steelers wide receiver and former USC Trojans football player JuJu Smith-Schuster is building a strong personal brand outside of football. Last March, Smith-Schuster made a name for himself in the gaming world when he teamed with pro gamer Tyler "Ninja" Bevins to play Fortnite against rappers Drake and Travis Scott. The live-streamed competition got nearly one million views on the streaming service Twitch.
"If you take a look at JuJu's Instagram or any of his social feeds, he's always posting his brand through these different channels," said Anthony Borquez, who received his master's in communication management in 2008 and is on the USC Annenberg Board of Councilors. "He has a unique audience, because he has both gamers and sports fans following him."
"He's providing another level of engagement for Pittsburgh Steelers fans," Borquez added. "Maybe not a lot of other Steelers are doing it, but I would think that the Steelers are pretty excited JuJu's out there, in the off season, having Steelers fans still connected, getting them really excited for the upcoming season."
The history and evolution of athlete brands
Athletes using the power of media to shape their own narratives and leverage their celebrity is nothing new.
"That's been the case in the very early days of sports, that certain athletes became heroes, and then with the development of mass media, they also became celebrities," Carrington said. "There were countless examples throughout history of athletes being exceptional in what they did. They turned themselves into stars."
The late heavyweight boxer Muhammad Ali might be the most famous example.
"He was very clear in his use of catchphrases and in his use of the spectacle of press conferences and the media to promote not just the fight, but himself," Carrington said.
Ali, whose name change from Cassius Clay reflected his high-profile conversion to Islam, was also a political and social activist who pulled no punches when it came to speaking his mind. It didn't always help his career. In April 1967, during the Vietnam War, Ali famously refused to be drafted into the military. He cited religious reasons, but he also pointed to political ones, suggesting he didn't want to fight for a country with a history of violence and discrimination against African-Americans. Ali suffered for it: He was stripped of his crown, convicted of violating Selective Service laws and banned from boxing.
"I think during that time there was definitely a large influence of athletes impacting social issues through media," Yellen said. "And then, unfortunately, because they did not have the economic power that athletes do now, there was a punishing and a lashing out."
It's the reason why some athletes have historically chosen not to use their platforms for social activism. Yellen cites Michael Jordan and Magic Johnson as influential basketball players who could have spoken out on issues such as mass incarceration and policing of black communities in the 1980s and '90s, for example, but instead remained silent. They had no shortage of endorsement deals.
"If you see that your predecessors were financially punished, it's best to keep your mouth shut because there's a lot to be said about economic power," Yellen said. "Athletes are now financially stable enough to take a risk. The fans are seeing the vulnerability and the transparency of athletes and their impact."
That's not to say that there still aren't financial consequences to speaking out — or in some cases, kneeling down. In 2016, then-San Francisco 49ers quarterback Colin Kaepernick courted controversy, garnering fierce criticism from the likes of President Donald Trump, for taking a knee during the National Anthem. The gesture was intended to protest police shootings of unarmed African-Americans in the United States. The following year, Kaepernick left the 49ers, reportedly receiving a third of his original $126 million contract. Today, he's still unemployed by the NFL.
"They were very cognizant that if they spoke out on certain issues, they were vulnerable — vulnerable for their jobs. Most NFL players don't have guaranteed contracts," Carrington recalled of the NFL players who attended his Speakers' Bureau workshop in March. "If they become a problem in the eyes of the owners, then suddenly they don't have a job. There are huge pressures, commercial pressures, financial pressures, contract pressures on athletes — and NFL players in particular — not to speak out."
How athletes are leveraging new platforms
Still, when athletes do choose to speak out on any number of issues today, they have far more ways to do so than Ali once did. In fact, some high-profile athletes have even launched their own media companies to get their messages across. Former Major League Baseball shortstop Derek Jeter founded the news website The Players' Tribune, basketball star and L.A. Laker LeBron James created the video platform Uninterrupted and Golden State Warriors small forward Kevin Durant formed the production company Thirty-Five Media, to name just a few.
"Athletes are now in a position to produce stories about athletes, starring athletes and developed by athletes, and to distribute these largely via their social channels," said Meyer. "Fans have opted to receive this content and its reach often matches or exceeds that of major sports publishers."
But some caution that athlete-owned websites shouldn't be conflated with outlets that publish sports journalism.
"They control the narrative. They control the examples. They control who they talk to, who gives them quotes," Shelley Smith, a longtime sports reporter and ESPN SportsCenter correspondent (who is also a USC Annenberg adjunct professor), said of sites like The Players' Tribune. "If they want to do a real, vetted, factual and good story, then they come to us."
Carrington, too, is skeptical about the degree to which these new media companies can empower athletes. He and Smith advise that even if athletes' names are attached to the content, it may not have been written by them. And of course, that content can still be re-edited and taken out of context by other news outlets.
But Carrington also sees the benefits these platforms provide.
"Athletes can take more control over how they're represented and what they get to say and how they get to say it," he said. "They can often speak directly to fans and broader audiences in a way that previously would have been much more heavily controlled and shaped by commercial media distributors."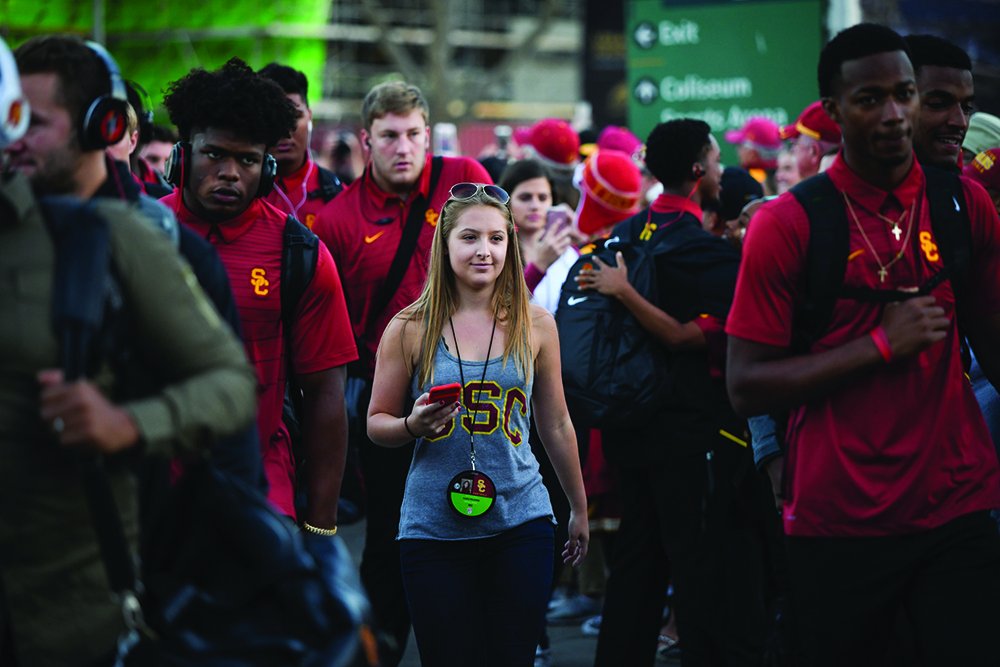 The future of sports journalism at USC Annenberg
Another upside to new platforms, according to Carrington, is the opportunities they offer for more female athletes and journalists in the sports media landscape.
"Right now, it's basically men talking about men's sports to other men," he said. "News coverage has completely squeezed out women's sports beyond Serena Williams, the U.S. women's soccer team every four years and gymnastics during the summer Olympics."
Carrington refers to a study done by Michael Messner, professor of sociology at USC Dornsife College of Letters, Arts and Sciences, and Cheryl Cooky, associate professor at Purdue University, in which they determined that 98 percent of sports coverage revolves around men's sports. Not only is there a lack of women's coverage, according to Carrington, but the little that is produced is of a much poorer production quality.
However, Carrington believes podcasts such as "Burn It All Down," featuring five women and their takes on the sports world from a feminist perspective, are starting to chip away at male-dominated sports coverage.
"I think we should actually celebrate the fragmentation of the colossal, often deeply misogynistic, culture of men's sports media because it opens up a space for more female voices and more female athletes," he said.
Training the next generation of sports media producers and sports journalists amidst the industry's reshaping is why Carrington said he joined USC Annenberg in 2017.
"We really want to situate USC Annenberg as a place to do critical sports journalism and critical sports media," he said. "If we can do that, in many ways we will be helping those industries survive by having a more reflective and critical take on the strengths and weaknesses, the beauty and the ugliness of sports."
Jeff Fellenzer also believes that USC Annenberg and Los Angeles will serve as the epicenter for advancing the field.
"I think we're seeing the landscape changing," said Fellenzer, a two-time alumnus of USC Annenberg and an associate professor of professional practice. "The pulse of sports is all along this downtown Figueroa corridor. It's a time when you can make an impact."
With his own career having been based in media, business and entrepreneurship, Fellenzer said he aims to share his knowledge, experience and enthusiasm with his students.
Alexa Palermo '18, who took two of Fellenzer's classes, credits him in part for sparking her interest in the sports industry. She entered USC Annenberg as an aspiring entertainment reporter, but after taking his courses and working on the sports production team through Annenberg Television News (ATVN), her interests shifted.
At USC SportSCene, Palermo was mentored by senior, mostly female, students who took her under their wing. These relationships led to an internship with USC Athletics. She spent a year and a half running their social media, interviewing athletes and creating Instagram stories. A few months after graduation, Palermo was hired at Fox Sports.
"At USC Annenberg, I learned how to manage, how to hold myself in a certain way and ask the right questions," Palermo said. "Ultimately, you have to remember that even your favorite athletes are people like you."