On March 29, Congressman Joe Kennedy III was at USC Annenberg in conversation with Bob Shrum, director of the USC Dornsife Center for the Political Future.
During his talk to a packed room of students and faculty in the USC Annenberg forum, Kennedy discussed his career journey, issues relevant to American politics, the Democratic Party's prospects for the 2020 presidential election, and advice for the new generation.
"I would urge you all to find something that forces you to look at the world differently and forces you out of your comfort zone, because those experiences are by far the most impactful," Kennedy said.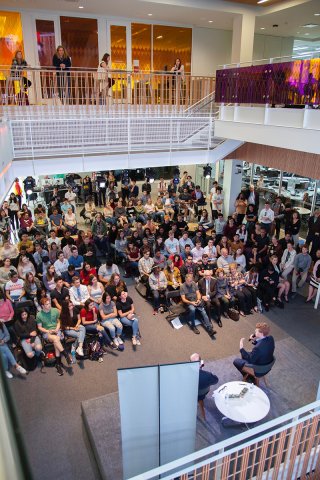 Photo by: Olivia Mowry
Kennedy talked about the need for Democrats to reach out to all voters and emphasized key issues important to all Americans. In particular, he addressed the need for Democrats to address the expanding wealth inequality gap and climate change.
Before the Q&A, Kennedy polled the students on which issues they believe are most relevant.
"I do this whenever I am on a college campus to get a sense of where people are," Kennedy said.
Students named about 20 issues, but when asked to whittle it down to just a few, they overwhelmingly chose climate change, gender equality, immigration, and gun laws.
Five students then had the chance to ask questions. One asked Kennedy what tips or advice would he would give to millennials or new voters to decide which candidate to support in the election.
He suggested they follow the candidates, read their speeches and see how they respond when they are "poked" about their purported weaknesses.
"The 2020 presidential election is an extraordinary opportunity for your generation," Kennedy said. "You all, without question, will decide the trajectory of this country. You have the opportunity to sway the future of the most powerful country on the planet for the next generation. That's a pretty cool thing. So take that responsibility, run with it, get involved with a race, and understand this opportunity for what it is, because there are a whole lot of folks who would be yearning for this opportunity if they could."
---
The talk was put on by USC Annenberg Center on Communication, Leadership and Policy (CCLP), USC Dornsife Center for the Political Future, USC Political Student Assembly and USC Undergraduate Student Government.
For additional photos from event, check out the Flickr album.