As any graduate student will tell you, coursework and projects are instrumental to learning and growing in your chosen profession. In some cases, these assignments can even become part of the portfolio that lands you a coveted job offer.
That's exactly what happened to Jackson Martinez, who is pursuing his online master of communication management degree from USC Annenberg — and who will soon be starting in a new position at CB2, the home furnishings company that he's long dreamed of joining.
"It's crazy how things started falling into place," he said. "I'm super excited to start [at CB2]."
Martinez, who grew up in a Wisconsin town between Milwaukee and Green Bay, attended University of Wisconsin-La Crosse for his undergraduate studies, during which he pursued a bachelor's degree in communications with an emphasis in digital media and a minor in digital media and design and professional technical writing.
Following his graduation in 2020, Martinez moved to Chicago and landed a social media and marketing coordinator role at beauty company PPI Beauty, eventually making his way up to digital marketing content coordinator.
"I oversaw all digital marketing content. I did email marketing, sampling programs, customer service … basically everything under the moon in this role," Martinez said.
While obtaining a master's degree wasn't in Martinez's immediate plans, he did have aspirations to become a Trojan.
"When I was a sophomore … we were learning about these studies done [at USC Annenberg] on diversity and inclusivity, just really great research. That fascinated me off the bat … [and] inspired me. It made me feel that if I went anywhere, it had to be USC," he explained.
Later that year, Martinez applied and was accepted to the online MCM program. "A master's in communication management gives you the option to get a wide breadth of experiences," he said. "This program takes the theory and expands on it and applies it to real-world situations."
Martinez has also been impressed by the program's diverse, multigenerational cohort. "You hop into a class, and there can be someone who works at a small startup, and then there's someone who works at the NFL, a large conglomerate, doing the same kind of work," he said. "It's great to hear from different walks of life and different levels and experiences in the industry."
Although Martinez admits it's "not necessarily easy" to complete a graduate program and work full-time, he said he didn't want to press pause on his career goals to go back to school. The online MCM has given him the flexibility to balance both pursuits.
"It's hard at times, but it's teaching me a lot about time management and how to balance work and life," he said. "It's the power of being able to do two things at once, and it pays off well."
Not only has Martinez been able to advance his career while juggling school, but his coursework has also helped him land his new role.
For his midterm project in his "Online Marketing Communication Development and Analysis" class, Martinez was asked to analyze a marketing campaign and center it around digital delivery. Using CB2 as an example, Martinez designed an entire app that would allow shoppers to create membership profiles and earn points, giving the company deeper insights to better understand its consumers. Martinez then crafted an email marketing campaign to drive app downloads.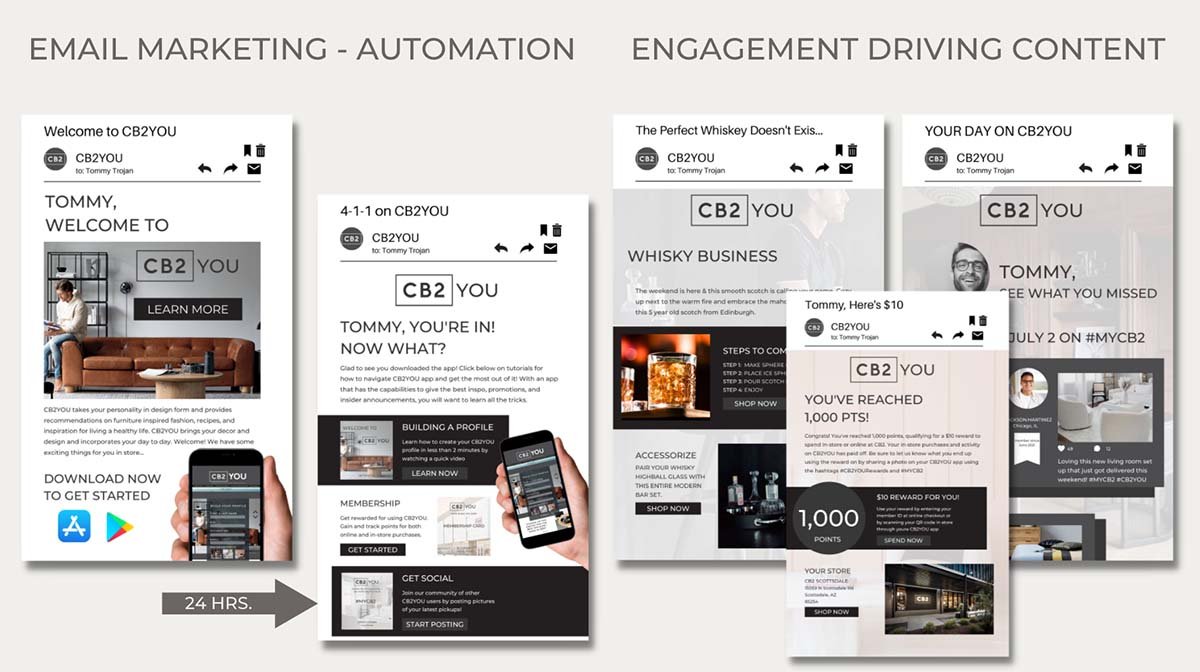 Photo courtesy of Jackson Martinez
In the process of finishing his project, Martinez came across a job posting at CB2 for a marketing coordinator role in customer relationship management.
Martinez reached out to an employee on LinkedIn, highlighting his passion for CB2 and the project he had completed at USC. The very next day, a recruiter responded to him, and after a flurry of interviews, he was offered a marketing position at the company's headquarters in Chicago.
Martinez, who described the past few weeks as a "whirlwind," is excited about his future at CB2, and he credits USC for helping him get through the door at his dream company.
"I was definitely doing things in my previous role that absolutely prepared me for it, but this project also gave me the ability to show how enthusiastic I was for the brand," he said. "It gave them a visual representation of my resume. I was able to show what I could do for the brand as well as the potential I have to grow there," he said.
While Martinez still has two more semesters to complete and a new position to settle into, he said he one day aspires to become a chief marketing officer or senior vice president of marketing or brand marketing.
"What I'm looking for beyond all this is learning more and making new connections, just becoming someone who has different touchpoints in this industry I love so much," he said. "Right now, I'm where I want to be and need to be to build my career. I'm excited to be where I am and know it'll catapult me to where I want to go."