It was September of 2020, the first time the Los Angeles Dodgers and Houston Astros of Major League Baseball played each other since it was revealed that the Astros stole signs from the Dodgers during the 2017 World Series. While most sports observers were focused on what was happening on the field, for Courtney M. Cox and Perry B. Johnson, the real story was being played out through the Dodger Stadium sound system.
As the players hit the field in front of an empty stadium, the Dodgers' official DJ, DJ Severe, and long-time Dodger organist Dieter Ruehle featured a collaborative playlist that pointedly rocked everything from Lizzo's "Truth Hurts" and Billie Eilish's "Bad Guy" to James Brown's "Payback" and Ice Cube's "Check Yo Self."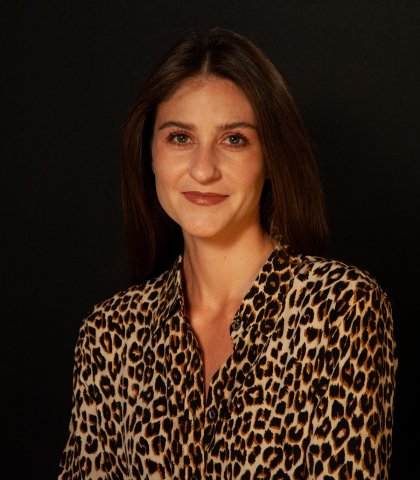 "Had it not been for the COVID-19 pandemic, Dodger Stadium would have been electric, energized with a full-capacity crowd showing up and showing out in support of the Dodgers in the wake of this very-public scandal," said Johnson, who earned her
PhD in communication
in 2021. "But DJ Severe and Ruehle didn't let the empty stadium take away from the sonic opportunity this moment presented, instead coming together with a highly curated musical playlist that addressed this controversy and rivalry head-on. As DJ Severe shared, they didn't go for obvious songs about cheating, rather, they took this opportunity to highlight songs that cleverly trolled the Astros without being predictable or overt."
This insight from the Dodgers' DJ is just one of many behind-the-scenes moments highlighted in season two of Sounding Off, a podcast produced and co-hosted by Johnson and Cox as part of their multiplatform initiative The Sound of Victory, an interdisciplinary research project that also features public events. A fellow Trojan, Cox graduated with her PhD in communication in 2019, and is now an assistant professor in the Department of Indigenous, Race, and Ethnic Studies at the University of Oregon.
Sounding Off explores the historic relationship between music, sound, and sport — a shared passion between the two women that they discovered during their time in the doctoral program and have continued to cultivate and expand. While the podcast launched in the summer of 2020, the larger Sound of Victory collaboration began in 2016, with their first public presentation in 2017 at the International Communication Association (ICA) conference in San Diego. There, they shared a multiplatform research project that explored America's long and complicated history of playing the country's national anthem at sporting events. They've since presented work across the country, from New Orleans to Washington, D.C.
"This specific project, what we called 'O Say Can You See?: Patriotism, Performance and Sport,' began prior to Colin Kaepernick taking a knee during the performance of 'The Star-Spangled Banner' at NFL games," said Johnson, who just started a postdoctoral fellowship at the newly-formed Annenberg Center for Collaborative Communication at the University of Pennsylvania. "We were — and remain — interested in this specific music-meets-sports moment as an entry point to examine larger questions of belonging, identity and citizenship in America."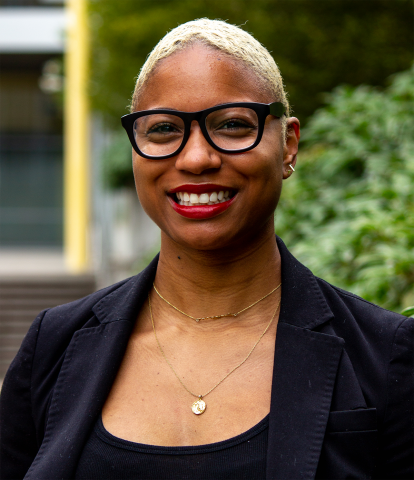 Cox added, "We wanted to know how music and sport occupy these types of spaces simultaneously. We also think about what the Super Bowl halftime show is telling us about what America represents to the world. What it means to have this branding with Pepsi, and what is Pepsi doing in the midst of these spaces? What does this tell us about this larger kind of ecosystem of music and sporting industries working in tandem for the most visible kind of representation?"
In addition to studying how sporting events and music intersect, The Sound of Victory also looks at the relationship between music videos and sports. From Michael Jackson's "Jam," starring Michael Jordan, to hip-hop artist Drake, whose music video for "Laugh Now Cry Later" features cameos from Odell Beckham Jr., Kevin Durant, Marshawn Lynch and LeBron James, to fellow USC Annenberg grad Saweetie's basketball-infused video for her hit single "Tap In."
These kinds of thought explorations are what put the two on the path to creating the podcast along with an accompanying website and social media profiles that together serve as the public-facing outputs of the larger initiative. But as far as their backgrounds, both came to this juncture organically.
Cox grew up outside of Dallas, took piano lessons starting at age 5 and attempted figure skating and track, among other sports, but "peaked athletically" in middle school. Her combined love for both music and sports stuck. She worked on music-based radio and TV shows at the campus station throughout college at the University of Texas at Austin as a broadcast journalism major. Her first job after graduation was at ESPN, working in event production in college football. "That's kind of my trajectory of how I came to be this person that studies music and sport," she said.
Johnson grew up playing tennis in Ojai, California, a small town between Los Angeles and Santa Barbara. Her childhood was spent in a TV-less home, surrounded by music. Her parents are amateur musicians, and she sang in various vocal groups throughout high school. She did admit to finding ways to tap into the zeitgeist of television at a friend's house. "We would always get together to watch Laker games — I'm a forever fan," she said, "and we'd tune in regularly to TRL [Total Request Live] in the era when MTV was still largely rooted in music and music videos."
Since mid-2020, the two have interviewed more than a dozen figures actively working at the intersection of music and sports, from in-arena DJs like the Lakers' DJ Roueche and the Dallas Mavericks' Poizon Ivy the DJ to WNBA star Sydney Colson, rapper Yaw Geez, and authors and cultural critics like Hanif Abdurraqib and Walter Thompson-Hernández.
"Music provides us with a really important and culturally rich entry point for thinking critically about sport and sporting spaces, and there are so many more moments and intersections that we are excited to look at as we continue to build out The Sound of Victory," Johnson said.
Cox talks about how everything needed to line up for the two of them to start thinking through these big ideas. "There's this cool build — first we had to have lived these lives and then we had to bring together all the things we learned at Annenberg," she said. "So, for me, this podcast brings everything full circle. It kind of shows that, okay, all those things had to happen, so we could be right here. So The Sound of Victory could be born."