On the last day of class this spring, a small group of students is lost in conversation at the USC Peace Garden. Part of the COMM 499: Climate Stories course that meets every Wednesday, they read, watch, listen to, and prototype new, playful ways to tell climate stories.
Aspiring climate photojournalist and documentarian Michael Chow is a communication major and recalls his transformation during the semester.
"I came into the class feeling a bit stuck on how to tell stories about climate without engaging in doomsaying, while still highlighting the urgency of the issue," Chow said. "The class made me realize that the climate issue is a microcosm of how we live as humans — how we talk about it and how we address it is indicative of the values we want to uphold. How we behave in this crisis demonstrates our values in how we want to treat our environment and our fellow human beings."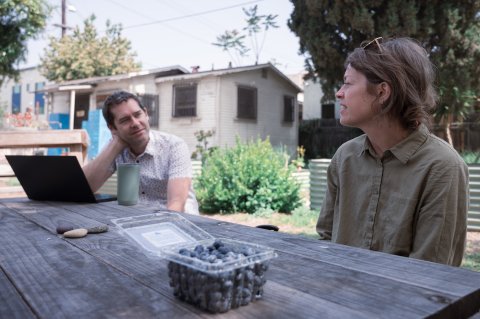 Associate Professor of Communication and Journalism Mike Ananny and Research Professor of Communication Colin Maclay teamed up to create the course in 2022 to help students recognize, examine and tell climate stories that mobilize audiences to enact change. They were awarded a grant from USC's Sustainability Across the Curriculum Initiative, created and led by the USC President's Working Group on Sustainability and Office of Academic Programs, to support the course's development.
"Our goal is to help students learn how to be expressive storytellers who are exposed to and become experts with different story forms," Ananny said. "By the end of the semester, they'll know how to engage their creativity, see the world differently and understand that the climate crisis is complex and change can happen."
Maclay emphasizes this skill set is essential for the 21st century.
"Climate change, environmental justice and sustainability — and the diverse range of issues they touch — are literally existential and will connect with just about everything we do for decades to come," Maclay said. "This course is important because we need to develop ways to understand, act, grapple with related emotions, and much more."
From first-person memoirs, zines and speculative fiction screenplays to performance art installations, poetry and interactive technologies, over the course of the Spring semester Ananny and Maclay took students on a tour of different ways to see and narrate issues surrounding the climate crisis. They looked at the emotions fueling climate anxiety and action, how scientists and journalists see the crisis and opportunities for change, how online platforms shape climate conversations, and what it might take to create a fossil fuel free Los Angeles.
Ananny and Maclay designed each assignment as a building block to help the students craft their original final projects, ranging from news stories, op-eds, podcast episodes, photo essays, short films, or any medium of storytelling that best conveys their message. That final assignment also includes a 20-minute presentation followed by a Q&A session in which students are expected to demonstrate their mastery of a climate story frame and form. Students have covered topics such as community activism, creative expression, popular culture, investigative journalism and performance art.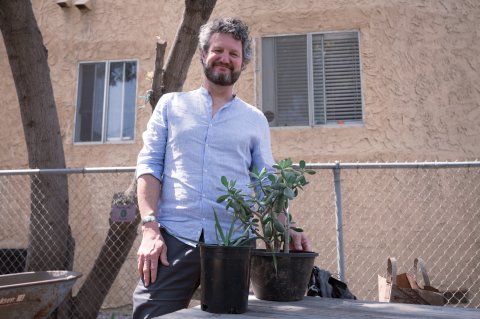 For his final project, Chow created an experimental documentary on climate anxiety through the voices of youth.
"At first, I found it difficult to develop an arc for my documentary, then both professors suggested I review how I approach my interviews such as asking more open-ended questions and suggesting I put various interviews in conversation with each other," he said. "This taught me how to inspire hope through my conversations and my final project was a success."
Throughout the semester, students also have the opportunity to hear from a wide range of experts, including a leading earth scientist at the Jet Propulsion Laboratory, LAist's first climate emergency reporter, and the author of "A Field Guide to Climate Anxiety."
The upper-division course is open to all USC students regardless of their field of study. Environmental studies major Montana Denton, who graduated in 2022, recalls being nervous about enrolling at USC Annenberg during the final semester of her senior year.
"At the beginning of the pandemic, I pitched a column on environmental and climate issues for the Daily Trojan called 'Triple Bottom Line,'" Denton said. "I didn't have any journalism experience whatsoever, but writing my column was the perfect excuse to learn more about whatever climate event I happened to be curious about that week. The Climate Stories course was the perfect culmination of my environmental studies curriculum and my newfound interest in journalism."
Denton spent the Spring 2022 semester focusing on coastal erosion in her hometown of San Diego. She investigated how public and private infrastructure is threatened by the increasing intensity of storms and sea-level rise. Her final project was a long-form investigative piece on the scientific, political, and economic aspects of life on the coastline of Southern California.
"I spent over three months honing and developing my project," Denton said. "Not only did I gain in-depth knowledge about an issue that's pertinent to coastal communities around the world, I also learned how to interview sources, how to structure a story and the power of pursuing my own curiosity!"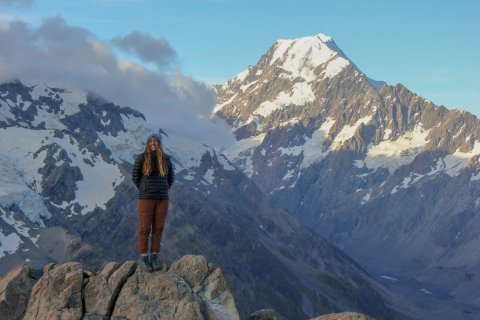 After pitching her findings to various environmental media outlets, her project was published by the San Diego Surfrider Foundation and Coastal News Today. Denton later served as a communications intern for USC Sea Grant and was invited to interview the first U.S. Special Presidential Envoy for Climate Secretary John Kerry, along with USC Annenberg Dean Willow Bay.
Denton and the dozens of students who have completed the Climate Stories course walk away knowing how to discover and engage with environmental topics even when they are not labeled as such. Together, they integrate their understanding, find connecting themes and adopt new perspectives to become stronger storytellers.
"With such a large, complex and important topic suite, we want this course to be a collaborative learning opportunity and a meaningful way for students from diverse disciplines, lived experiences and career stages to connect," Maclay said. "As we confront the daunting climate news and question our ability to make a difference, students and faculty alike have found that working the problem together is therapeutic and empowering."
USC Annenberg will offer the climate stories course again in Spring 2024.