Having grown up in South Central Los Angeles, Dr. Mary Hill-Wagner considers herself straight "outta" Compton. Viewed as one of L.A.'s roughest neighborhoods, Hill-Wagner was inspired by how USC alumnus John Singleton captured South Central in his 1991 film, Boyz n the Hood. But she always wondered: "Where were the women who grew up there? Where's our book? Where's our movie?"
The veteran journalist turned author offers her answer with her first book,
Girlz 'n the Hood: A Memoir of Mama in South Central Los Angeles
.
Inspired by the story of her late mother, Sarah Gordon, Hill-Wagner's debut novel gives an unflinching account of a fierce matriarch who holds together a family of 11.
"I want to promote the women and the girls in the hood, the true heroines, who say, 'I know that the world has a particular viewpoint of you because you are a Black child, but you are my child,'" Hill-Wagner said. "People like my mother who step into the breach and say, 'These children are valuable.' … Women are the ones who hold up the place."
In Girlz 'n the Hood, Hill-Wagner illustrates how Gordon, who migrated from the Jim Crow South to a segregated Los Angeles in the late forties, protected her children at any cost — even hiding a pistol in her bra. "She was a force of nature," Hill-Wagner said. "Mama don't take no mess." The survivalist tale depicts how the extraordinary love of a mother can empower an entire family, even one faced with racism and economic disenfranchisement.
"My mother taught me that you have a choice of the things in life," she said. "Just because the world says, 'You can't live here. You can't work here. You can't go to school here.' My mother would say, 'Yes you can.' That's how I was able to go to USC and grad school and have a career."
After graduating as valedictorian of Compton High in 1982, Hill-Wagner was accepted to USC first as an English major before being accepted into USC Annenberg's bachelor's in print journalism program.
"You couldn't choose journalism. Journalism had to choose you," she said. "But as soon as I could, I became a journalism major because I knew that was my goal."
To that end, she reported for the Daily Trojan for four semesters. The most important skillset she learned as a student reporter was research.
"Research a thing, don't just go by the seat of the pants," she quipped. "I learned how to do that at USC's libraries. We didn't have fancy schmancy Google. When I was coming up, you had to go to the card catalog and read books, newspapers, talk to people."
After graduating from USC in 1986, Hill-Wagner launched a career in newspapers, working as a reporter for 15 years and climbing the circulation ladder. She reported for the Las Vegas Sun, the Des Moines Register and the Chicago Tribune, "the big time," she said. Having a distinct and diverse perspective, she covered various beats, even one of her own on inner-city poverty.
"When I came out of USC and worked for Simi Valley Enterprise, they told me they had never had a Black reporter there. I worked at a few places in my career where I was the only one."
After leaving the business, Hill-Wagner taught at various universities, including her alma mater as an assistant research professor in 2012. During her year-long tenure at USC, she launched an anniversary forum for the 1992 L.A. Uprising.
"I call it the L.A. Uprising specifically, not the L.A. riots," she said. "I wanted to look at how the media covered it. Was it a riot? Was it rebellion or unrest?"
Students, faculty and local media attended the event, igniting a revelatory discussion about the university's lack of a relationship with its surrounding community.
So, on the heels of a successful teaching and reporting career, what made Hill-Wagner take the leap into writing books?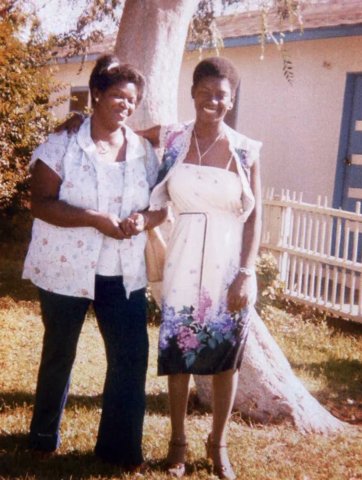 Courtesy of Dr. Mary Hill-Wagner
"I saw that the business was changing," she said. "The part of the business that I love was dying. Newspapers were closing."
But Hill-Wagner still felt that itch to write. It was her husband who helped her discover a new passion.
"He said, 'What do you really want to do?' I said, 'I want to write a book.' Then he said, 'You should do that,'" Hill-Wagner remembered. "He was very supportive of me."
It took Hill-Wagner 18 months to write Girlz 'n the Hood; an experience she describes as "eye opening."
During the process, she was encouraged to self-publish, but decided to chase her dream of becoming traditionally publishing instead.
"I'm a very stubborn person," she said. "I was going to wait until I had a hundred rejections before I self-published." Hill-Wagner clocked in at about 60 rejection letters before she finally considered it. But then, as fate would have it, she received three offers of agent representation in the same week.
"It was amazing. Like winning the lottery!" she said.
After picking the right agent, a year-long pitching process began. When Regal House came calling to publish Girlz 'n the Hood, Hill-Wagner was "overwhelmed. Overcome. Delighted. All the adjectives."
Currently, she is in the middle of a busy promotions schedule — and doing it all without a publicist.
"I'm doing interviews, radio, podcasts, book signings," she said. Hill-Wagner will be signing copies of Girlz 'n the Hood on Sunday, April 24 at 1 p.m. in the USC Bookstore during the Los Angeles Times Festival of Books on USC's University Park campus.
The book, which is available on Amazon in print and audio, is already garnering glowing reviews — even one from acclaimed poet and activist, Nikki Giovanni. "There are many stories which comprise the history of Black Americans," writes Giovanni. "Girlz 'n the Hood is a wonderful, warm memoir that helps us put together a critical piece of L.A."
Hill-Wagner has soaring dreams for Girlz 'n the Hood. "I want my book to be reviewed by the New York Times," she said. "But my goal in general is to tell an interesting story about the heroes I know."
By honoring the incredible tale of her heroic mother, Hill-Wagner has done just that.
---
Visit Dr. Mary Hill-Wagner's website. Listen to The Bookshop Podcast about Girlz 'n the Hood.