From the time he was 12 years old, Donald Suxho knew he was not only going to play volleyball, but he was going to be one of the greatest players in the world — a big dream for a young man growing up in communist Albania in the 1980s and '90s. Suxho recalls standing in line for bread and cheese in his poverty-stricken hometown of Korçë as a child. "If you didn't get your food by 7 a.m., you didn't eat for the day," he said.
Suxho looks back on those early depravations as one of the keys to his success in sports. "There were no heaters or air conditioning," he said. "And, in the winter, the gyms we used to train in — imagine — were minus-20 degrees. That kind of environment, those kinds of trainings, were a blessing in disguise because they really made me a good athlete. A tough athlete."
The communication alumnus started playing volleyball when his father, the coach of their city team, recruited him at 12 years old, when he had "grown tall." Closing in on his eventual height of 6 feet, 5 inches, he endured 5:30 a.m. wake-up calls for runs through the hills that circled their town, building up stamina. A few years later, he joined the Albanian men's professional league.
A highlight of his youth — and one that he would come full circle later in life — was a trip to Greece to try out for a volleyball team there. It was 1994, Suxho was 15, but this was no ordinary trip. "We had no money, no cars and no visas," he said. "Back then the relations between our countries were not good. So, me and a bunch of friends, we walked over the mountains for 20 hours, getting chased by Greek soldiers. We luckily made it safely to the other side." They spent two days trying out for the volleyball teams, but didn't get chosen, he said, due to poor relations between the countries.
Then communism fell in Albania. His grandmother, who they later learned had been born in Philadelphia, petitioned the U.S. Embassy (at great risk) to grant her a visa back to the United States. A few years later in 1995, Suxho, his parents and a sibling had the opportunity to follow.
They landed in Boston and moved into a small apartment with another family. Suxho finished high school taking on jobs as a dishwasher and a donut maker at Dunkin' Donuts to help support his family. He continued playing volleyball and held tight to his dream of being a famous player.
As fortune would have it, a cousin introduced him to the coach at Harvard, who happened to be from Turkey, and who had seen Suxho play as a child when the Albanian team traveled to his country. Impressed with Suxho's abilities, the coach reached out to several colleges to see about getting him a scholarship. USC athletics came calling. After several attempts to pass the SAT, (having no real English-language background), Suxho finally succeeded and arrived on campus in Spring of 1997, choosing communication as his major.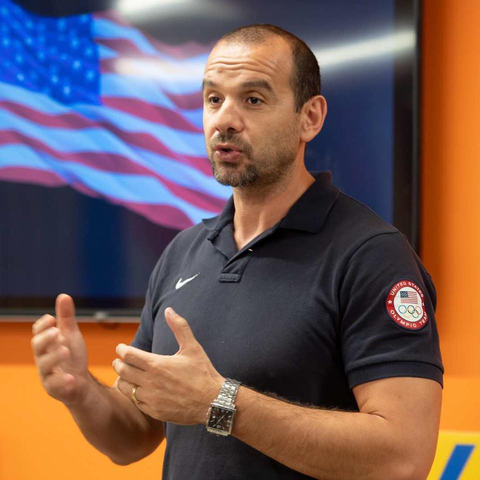 Courtesy of Donald Suxho
"Communication, learning soft skills, for me, that was the best thing," he said. "Being taught how to make presentations, how to debate and build relationships stayed with me throughout my career." He added that what he most remembered about his time at USC Annenberg was the "confidence to communicate with anyone in the world." During his USC tenure, Suxho was a two-time All-American and national Player of the Year as a senior; he graduated in 2000 with a 3.4 GPA.
After graduation, Suxho realized the full power of the Trojan Family. He was working as a valet to make money when his former USC coach suggested he try out for the U.S. Olympic Team. The coach helped Suxho procure a green card and offered a strong recommendation. The team was already aware of the volleyball phenom. He tried out and made the team as a setter, which he retained for the next 12 years.
The full circle moment came during the 2004 Olympic Games in Greece, exactly 10 years after he climbed over the mountain to try-out for one of their local teams as a child of 15.
"There's about a hundred thousand people in the stands," he said. "The whole Greek nation is on hold. We're about to lose, not even enter the quarter finals and I walk onto the court. I was a young athlete, and I was trying to get my bearings, trying to navigate, how do I make a comeback? How do we win this game? I asked for a timeout, and I quickly tell my teammates, 'You know, 10 years ago I walk here like a dog. I was mistreated. It's time for us to win right now. This is what we have to do.' It was almost magical. We won the game and I'm running, I'm jumping, I'm crying."
The team didn't move past the semifinals, but this moment, that he described as one of the "greatest turn-arounds in Olympic history," stayed with him throughout his Olympic — and professional athletic — career.
Since retiring from sports in 2015, Suxho co-founded a language institute and now lives in Orange County with his wife and three children, one who is a junior at USC Marshall School of Business. Suxho also finds time to mentor both USC Annenberg students and USC Marshall alumni who were veterans of wars.
As he reflects on his USC experience, Suxho points to the teachers at USC Annenberg, the athletic department and his advisors: "They didn't let you fail," he said. "I tell everybody that USC saved my life and changed my life forever. They gave me the tools, the opportunities, and the foundation to become not only one of the best athletes in the world, but to become successful in business by my own rights."