There's a lot you can learn about Brianna Seaberg from the video resume she uploaded to TikTok, the social media video sharing app. She is a communication major at USC Annenberg who is also minoring in cinematic arts at USC Cinema; she has procured a slew of internships; and she's the on-campus representative for TikTok itself. Seaberg describes herself as "creative, hard-working and someone who thinks outside the box."
The video — which was featured on TikTok as part of their new campaign — is just one of the ways the rising senior's passion for communication drives her to jump into all of the opportunities available to her.
Seaberg, who grew up in South Florida, went to a performing arts high school where she majored in communication, taking speech, debate and film production classes. She chose to continue her education at USC Annenberg, looking to build upon the communication "kickstart" she got during her high school years, nurture her creativity and learn skills she needs for a successful career.
We had the chance to meet with Seaberg, who shared her academic journey — along with a pitch for students to upload their video resumes to TikTok by July 31 as part of a campaign to help job seekers get their talent in front of as many potential employers as possible.
How did your relationship with TikTok get started?
In January of 2020, I was approached by TikTok to be their campus rep, which basically was brand-new at the time. They wanted me to create videos and content to promote TikTok to my peers and different clubs at USC. While I was doing that, I was also thinking, 'Well, I'm already making videos for TikTok and getting paid to do that, why don't I start to make more of my own personal videos?' Then the pandemic hit, and we all had a lot of time on our hands, so I just kept creating videos and was able to grow my account from 1,000 followers to 700,000 in the course of six months during quarantine. So, that really got my leg up in the social-media growth world.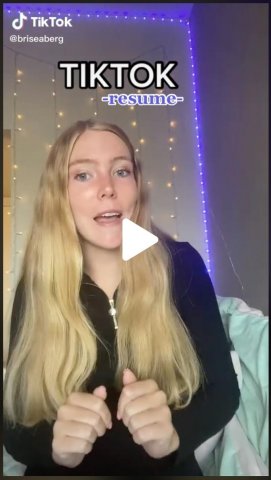 What happened next as a result of this?
A year and a half later when TikTok started TikTok resumes, they asked a few of us to create example videos. I love talking about my experiences to others and getting exposure out there about things I've done — and what I'm looking for professionally going forward. For me, it was basically an example of what to do, what kind of experiences to include in your video. I also really wanted to make sure my personality and passion for certain things showed through. It was featured on the discover page and went viral.
Tell us about those other internships.
I've interned at ViacomCBS, as a marketing intern for Entertainment Tonight. Last summer, I also interned with Fullscreen, which is now part of WarnerMedia, where I was a talent lifestyle intern for Creator Labs and helped manage some really big YouTube creators. This summer, I'm interning at HBO Max in their original social marketing department.
What else do you point to as a highlight of your USC Annenberg experience?
I would say the academic services department. I think that it is honestly one of the most valuable things about Annenberg, not only the connections to the industry, but also the career guidance and support I've received. I've worked closely with a lot of the career counselors, especially Suzanne Alcantara, assistant dean of student affairs], not only talking about my professional goals, but also my personal goals as well. They really helped me craft my resume and figure out the kind of the path I wanted to take and what my options would be for internships. I've had multiple conversations about, "Which offers should I accept or where should I go from here?" I've also definitely networked with a lot of Annenberg alumni through their networking events. Everyone I met with or asked to speak to was so willing to talk to me and help me out and send my resume along, or just tell me about their life and professional experience. That's something I've taken advantage of all four years at Annenberg.
What are you looking to do when you graduate next May?
I definitely want to go into some type of creative position, whether that's a creative producer, a creative content manager — something that is very hands-on that may overlap in different areas like social media and production. Definitely some type of cross-functional role, particularly for an entertainment company or a streaming service.
Do you feel prepared?
Yes, not only in what I learned while at Annenberg, but also in terms of networking and how to present myself, how to market and brand myself. It definitely feels less scary and daunting to me because I've been provided this toolkit from Annenberg in terms of my career, what to expect, even down to how should I negotiate a salary in the future, or how do I find my dream role, things like that. I wouldn't trade my comm degree for anything, honestly, because it's just been such a comprehensive experience. When I graduate, I'm going to be a very well-rounded individual and I think that is what is so valuable about being a student in Annenberg.