"The following is a true story about the building of an empire, and two visionary worldbuilders who made it possible."
That opening narration by USC Annenberg alumnus Matt Schrader kicks off each episode of Blockbuster, one of the year's most innovative and talked-about podcasts. The series of six half-hour episodes tells the tale of how two young, unproven filmmakers, George Lucas '66 and Steven Spielberg, revolutionized the big-budget Hollywood epic in the late '70s.
A nonfiction work based on thorough research, Blockbuster is formatted like a radio drama, with music, sound design, a narrator (Schrader), and voice actors playing the parts of Lucas, Spielberg and other real-life characters, notably composer John Williams.
"This is a really powerful story of creative experimentation and friendship," Schrader said. "It would be good on a lot of platforms, but the one that it's maybe best suited for is podcasting." He said his crew, assembled mostly of alumni from USC's School of Cinematic Arts and School of Dramatic Arts, originally considered making the series more of a documentary format, but "the story was just so much more powerful if a listener can forget that they are hearing someone's secondhand take on something."
Since its April launch, Blockbuster has generated quite a buzz in the podcasting world, garnering positive writeups in publications like Forbes, The Hollywood Reporter and Gizmodo. For Schrader, the podcast's success is rooted in the investigative reporting skills he began to develop at USC Annenberg.
Schrader graduated in 2011 with a bachelor's degree in broadcast journalism and digital studies. After a stint as an investigative producer for CBS Sacramento, he returned to Los Angeles, where he won Emmys for his investigative work at KNBC.
The project where he first combined his nonfiction storytelling with his passion for film was the 2017 film Score: A Film Music Documentary, which explores the creative process of writing music for movies. "A lot of that film is about showing the emotional component of music," he said.
John Williams, the famed composer who has scored Star Wars, Jaws, the Indiana Jones films, Harry Potter, and many other hugely successful films, figured prominently in Score. Looking at the story of how the music for Star Wars came about piqued Schrader's interest in the movie itself, in George Lucas, and in Lucas' relationship with Steven Spielberg, which began before either of them had achieved mainstream success.
"Our goal was to research, recreate and reconstruct these historical moments that happened within the context of this great story that's happening in the 1970s, and to construct it as a drama," Schrader said.
Schrader said much of the dialogue comes from the principals' written or recorded recollections of conversations. "As an investigative journalist, you always want to go to the oldest source, whatever was closest to that moment where it happened," he said. "When Martin Scorsese says, 'We were in that room last year and George said this,' usually that's a lot closer to what actually happened then what George Lucas might have mentioned casually to a reporter yesterday.
"The most important thing that we can do here was to make sure that the story was accurate," Schrader added. "Everything had to be done to the highest journalistic standards so that we could pursue this independently."
And independence was central to the premise of Blockbuster: Neither Lucas, nor Spielberg, nor anyone affiliated with them had any role in funding, producing, or approving the work. "We didn't want the temptation of somebody saying, 'Make sure that I look good in everything that you guys do,'" Schrader said. "Because then it's not journalism anymore. I'm still very committed to true stories."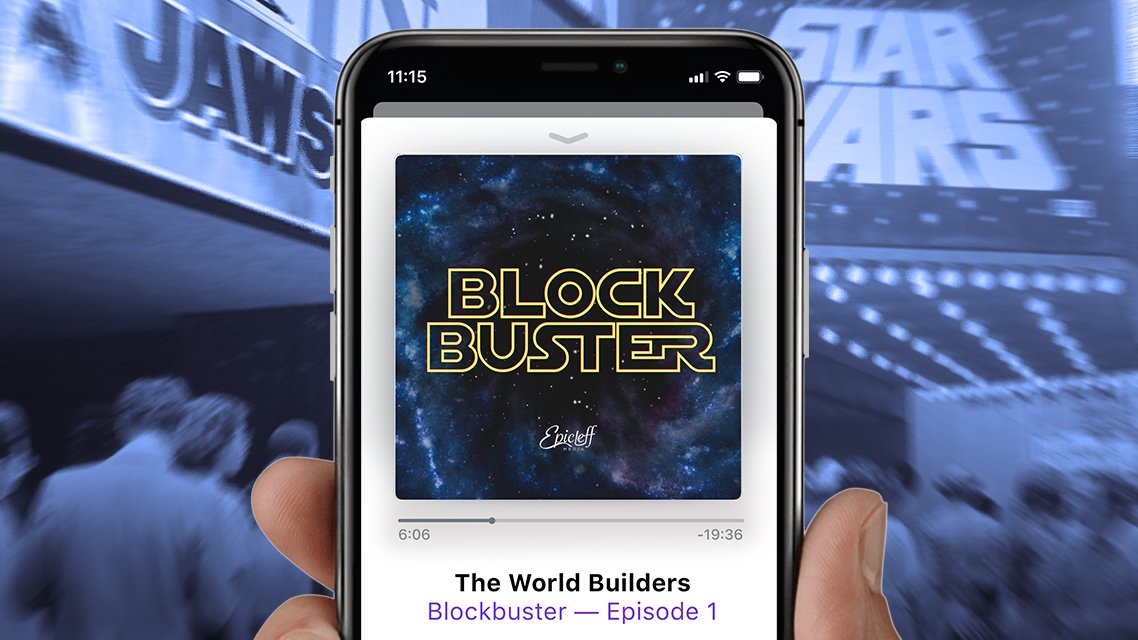 In addition to journalistic integrity, Blockbuster also boasts high production values, from the writing to the sound design to the voice acting. The creative team that brought Lucas and Spielberg's early history to life included several other Trojans: sound designer Peter Bawiec (MFA, cinematic arts, '15), producer Elena Bawiec (MFA, cinematic arts, '16), marketing supervisor Jean de Meuron (School of Cinematic Arts Summer Program, '12) and voice actor Ray Chase (BA, dramatic arts, '09).
Schrader said that the success of Blockbuster could serve as a kind of "proof of concept" for an approach that could work not only as a podcast, but also in TV or film.
"Our biggest challenge was making it feel cinematic but relatable as well," Schrader said. "We really tried to think through the most immersive ways to tell an engaging and relatable story on an emerging platform limited to audio only."
"In a way, it's kind of similar to what Spielberg and Lucas set out to do," Schrader said. "Let's just build an experience that people can get into and see if it works."