Growing up in the post-revolutionary Iran of the early 1980s, Mandana Mellano wasn't exposed to advertising, particularly Western advertising, until she and her family traveled outside their hometown of Tehran when she was six. Vacationing in Istanbul, she marveled at the "amazing world" of billboards and television spots. "I think the complexity of living in a society that is very much controlled had a lot to do with my wanting to study sociology and communication as a whole," said Mellano, who graduated in 2001 with a master's in communication management. "It created the spark."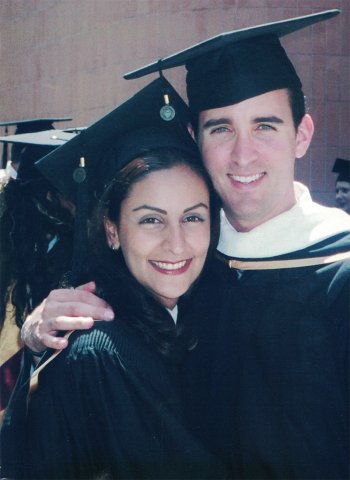 Photo courtesy of Mandana Mellano
Mellano came to the United States with her family when she was a teen, and received her undergraduate degree from the University of California, Riverside in sociology. "I've always been interested in the people aspect of the world," she said. Later, at USC Annenberg, she chose the advertising track of the communication master's degree, drawn to the program's blend of theory and practice. She recalls writing advertising briefs and developing campaigns as part of course assignments and getting a "glimpse into what real-world requirements would be."
When Mellano graduated, she not only had a new set of skills, but a housemate who would later become her husband. She met fellow Trojan Steve Mellano (MS, global media, '02) when they were choosing their courses before their respective programs began. They connected again during a party for new graduate students and started dating the following year. They married in 2007 and have two children together.
Mellano's advertising career began right after graduation, when she was hired in media strategy and planning at the Los Angeles advertising agency Dailey. In 2005, she moved over to Kastner as their digital media director where she led media efforts for some of the world's most iconic global brands such as Red Bull and Porsche. Next shop was Ogilvy & Mather in 2013 where, as partner and director, she managed media for a variety of technology clients, including Qualcomm and Cisco. She held C-level roles at Fallon and Thinknear before founding a talent recruitment company, Peony, in August 2019.
While Mellano's background wasn't in human resources, she wanted to take her strengths in advertising to create a "human-centered" approach to talent recruitment. "I'm really inspired by people, building teams, restructuring teams, assessing competencies, mentoring and understanding how roles and careers evolve," she said.
When starting the agency, her main goal was to prioritize educating advertising and marketing organizations to focus on creating cross-functional roles for future employees. "Part of my strategy was rooted in the belief that modern talent is moving more seamlessly between media, technology, and entertainment companies," she said. "Many of those organizations don't have a reliable method on sourcing and assessing talent. I think everybody's so obsessed with 'digital transformation' and finding where they can innovate, they don't realize that it starts with your people."
Mellano learned early on the advantage being able to fill a number of roles in an organization. At Dailey, even though she was hired as a junior planner, her background in digital media enabled her to "cross borders" that otherwise would have not been available. She was one of the first in her company with this competency, which allowed her to join senior meetings where she was able to lend her expertise to integrated media campaigns. "I think being able to be more strategic pushed me into a track where I wasn't as specialized anymore and allowed me to find the best fit for myself and for the agency," she said.
At Peony, Mellano is looking to connect the dots between strategy, critical thinking, and creativity. "I think it's time to do something more meaningful for this very particular and evolving field," she said. "It's an opportunity for myself and my firm to be a critical partner in helping build the future of these companies. And I think that's really exciting."