When The Force Report, a database that collects information about police use of force in New Jersey, released a major announcement in mid-November 2018, reporter Disha Raychaudhuri of NJ Advance Media was ready to crunch the numbers.
"Here are some takeaways," Raychaudhuri tweeted to her nearly 1,500 Twitter followers. "Over the 5 years [2012-2016], at least 9,302 people were injured by police. At least 4,210 of those were serious enough that the subject was hospitalized."
Raychaudhuri, who graduated with an MS in journalism in 2017, works on NJ Advance Media's data and investigations team, helping their readers make sense of big data.
For Raychaudhuri, the numbers help connect dots of truth to form a story. "There is a power in data," she said. Gathering information, analyzing and interpreting large data sets, and verifying those data sets are part of her everyday practice as a journalist. "There's a structure to it, a technique," she said.
While working on her first master's degree in English Literature at Jadavpur University, in West Bengal, India, she interned at a local newspaper, covering entertainment and culture.
"I eventually wanted to do investigative reporting, and numbers can be a solid foundation to most investigations," she said. "I figured that, no matter what kind of reporting I ended up doing, having strong data literacy could only help."
When she applied to USC Annenberg for a second master's degree, Raychaudhuri noted "data journalism" as her area of interest.
These two words caught the eye of Gabe Kahn, a professor of professional practice who teaches media and journalism courses and jointly runs the Media, Economics and Entrepreneurship program at USC Annenberg. During Raychaudhuri's application process, Kahn corresponded with her about projects he was working on, and how those could fit into her studies.
Once Raychaudhuri enrolled in the master's journalism program at USC Annenberg, she was the first person Kahn approached when he started the initial phase of what would become Crosstown LA. The website, a co-venture between USC Annenberg and the USC Viterbi School of Engineering, mines data to understand life in Los Angeles by analyzing and researching traffic, crime, and pollution in the city.
"We were trying to answer a variety of thorny questions: How do we ask questions of a traffic data set that grows by 400 million data points every day?" Kahn asked. "How do we break down incidents by location?"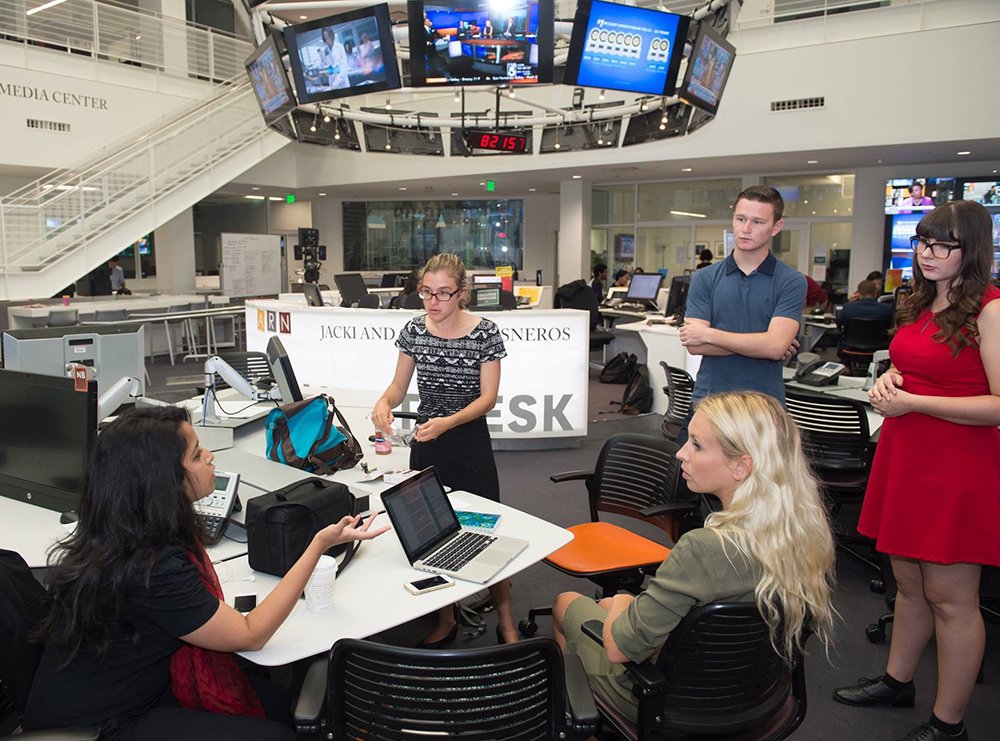 Photo by: Associate Professor Alan Mittelstaedt
Raychaudhuri worked with Kahn during her year in the master's program, designing the first Crosstown website and writing data-driven stories.
"She figured out how to refine this into a manageable set of work," Kahn said. "I think the experience gave her the confidence that she could tackle bigger projects — and she certainly has."
From data cleaning to data visualization, Raychaudhuri began picking up new techniques, building on them, and combining what she learned in the data world to her investigative work. "There wasn't just one class at Annenberg that taught me everything," she said. She also had the chance to work as a developer for USC Annenberg Media, where she produced interactive content for the website — a first for the outlet.
For her capstone project, Raychaudhuri, who has always been interested in criminal justice issues, took an in-depth look at the conditions of inmates in California jails.
After graduation, she joined NJ Advance Media. Whether she's producing some sort of legislative change or experimenting with data collection, Raychaudhuri strives to inform her audience and tell the full story. "Data gives people a better understanding of the state we live in, it sheds light on illegal activities — or it might end up being something just fun and cool that is visually appealing," she said.
---
NJ Advance Media won the IRE Freedom of Information medal for their work on The Force Report, a first for their newsroom.