Zac Coughlin always had a sweet tooth. Whether it was cake-batter truffles, salted caramel pretzels, or rainbow-sprinkled cookie pizzas, from the time he was 8 years old, Coughlin was constantly baking up mouth-watering confections. Simply, he said, "because it made other people happy."
"Growing up, I loved watching Cupcake Wars and all the baking shows… but I never saw anyone that looked like me," said Coughlin, who is biracial.
Coughlin was adopted at birth by a white family in his native Pittsburgh. But even though he didn't see his own half-white, half-African American background represented on screen, this lack of diversity didn't stop him.
"I always had this sense of energy and determination to make myself successful and not rely on anyone else," he said. The now 24-year-old entrepreneur, who earned his bachelor's degree in communication in 2021, has continued to rely on this energy as he has become one of the few Black bakers in Los Angeles.
Growing up in an adoptive family has helped fuel the passionate drive behind his success.
"I've had to prove myself in a lot of situations," he said. "Being adopted, you can feel out of place because you get a lot of questions, a lot of stares. But I've been exposed to every end of the spectrum; socially, economically, racially. And it's prepared me."
Coughlin began laying the foundation for his candied career as a young teenager by making multiple trips to the mall. He compared prices, noticing a lack of affordable, innovative desserts. He knew he wanted to create "caliber sweets" that were both delicious and attainable.
"People go to the mall to buy clothes; I went to the mall for food," he said.
One fateful holiday party when he was 13, he dipped pretzels, Oreos and strawberries in chocolate and served them to his family's guests. The enthusiastic response to his signature creation propelled him to turn his passion into a business. Zac's Sweet Shop was born.
While Coughlin's parents supported their son, it wasn't easy to get his mother on board to give him the go ahead on an actual sweet shop. "She literally thought I was crazy," he said. "At first, she said 'No.'"
To show her how serious he was, Coughlin spent $50 on business cards with stock image photos of chocolate-covered strawberries. He then created a Facebook page that included menus of his treats. After seeing how committed he was to this path, his mom finally agreed to help kickstart his endeavor, which allowed him to remain in business. Throughout his high school years, he continued to grow a clientele of family and friends.
For college, Coughlin made the leap from Pittsburgh to Los Angeles, spending a year at Pepperdine University before transferring to USC Annenberg to study communication. He said he recognized that being a concise and effective communicator would be critical to his business' success.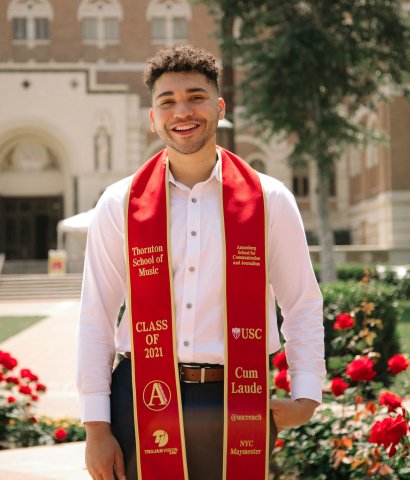 Photo courtesy of Zac Coughlin
Coughlin was ready to expand his sweet shop. He initially planned to open a storefront in downtown Los Angeles, but that didn't work out, so he landed on a direct-to-consumer e-commerce model. With his two-man team — a baker and himself — he was able to sell his desserts nationwide through his website, relying primarily on word-of-mouth.
Six months into his launch, 2020 hit. With the pandemic sweeping the globe, Coughlin was losing money and was forced to fund the shop with his savings. But in May 2020, after the killing of George Floyd reignited the Black Lives Matter movement, Coughlin found a way to tap into his own African American culture in a way he had never done before.
"Being raised by white parents, I never fully experienced my culture in a lot of ways," he said. "2020 was a really big time for me in self-discovery and growth."
The awakening was also humbling as Coughlin recognized he had "dealt with more racism" than he realized when he was growing up. He acknowledged he was finally able to process and express those bottled-up feelings — especially of being the only one in the room. "The layers of who I am are reflected in the layers of sweets I create," he said. "If I'm the only person that looks like me in the room, that adds value. I've grown to appreciate that while also advocating for more people who look like me."
As with many Black-owned businesses, Coughlin said his shop received an unexpected boon from the BLM movement. "Literally days before the first week of June [2020], I had eight orders go out. A week later, I had almost 200," he said. "Friends of mine — some from USC — came in to help crank out these orders till 3 in the morning. I got emotional and overwhelmed because it was all happening so fast. I started asking myself a lot of questions, like 'Why are people helping me?' And 'What can I do as a business owner?'"
Through several enlightening conversations with his peers, Coughlin discovered that people genuinely wanted to make a difference. Investing in Black businesses was a clear path to do so — whether buying a sweet or promoting his shop on social media.
To put the cherry on top, Coughlin came into the orbit of a major entrepreneur, Beyoncé, when he found his sweet shop added to her list of Black-owned businesses. Coughlin was fulfilling routine orders the night he learned about this honor.
"I was at a stage where I was lucky to get one order every few days, so I was caught off-guard," he said. He tried not to "freak out too much," then checked his website analytics — there were more than 300 visitors from Beyonce.com.
"I just about lost it," he said. Having been a fan of the singer since childhood, Coughlin said that this moment was, "life-changing." At that time, there were only 20 Black-owned businesses in the country under the Food and Beverage category on her list. "I got chills," he added.
Becoming "Beyoncé-approved" gave Coughlin more momentum, legitimacy and exposure to an even larger Black audience. Humbled by the support, Coughlin remains deeply appreciative of the strong community he created during difficult times. He sums up 2020 in one word: transformative.
Today, Coughlin is busy brand-building, fulfilling orders, and, of course, inventing new delectable delights. He's still (mostly) a one-man team, but now enjoys growth through various media platforms — including collaborations with music and film studios, such as Disney, Paramount and Lionsgate, who hire him to cater press junkets for their premieres.
"I think studying at Annenberg has been the best thing for my sweet shop," he said. "It made me a better writer, communicator, thinker and marketer. The writing and communication classes were amazing. I was able to do exactly what I want to do with my degree: take the classes that challenge me. It made the creative side of the business so much better."
As to how he is using this skillset now, Coughlin said he writes most of the copy and marketing emails. "I'm pitching to and working with big brands. I have to be on point. I have to be professional. I have to sell the product."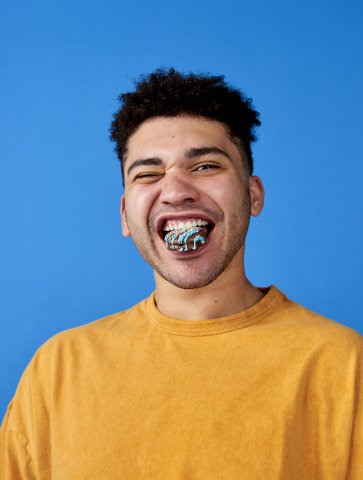 Photo courtesy of Zac Coughlin
Coughlin adds that USC Annenberg has also challenged him to stay culturally relevant. "I wanted to build a business that talks about what is important in the world in a creative and authentic way," he said. "And I think this school creates those types of students."
Coughlin plans to keep growing Zac's Sweet Shop through philanthropy, specifically focusing on adoption organizations. He gives back through his Nostalgia for Everyone boxes. "In every box, I include four of my newest sweets, and 4% of all proceeds are going to four different organizations and charities that I resonate with," he said.
Those organizations include the Trevor Project, The Color of Music Collective, Adopt Together, and the Black Lives Matter movement.
The icing on the cake? The massive support he has received from the Black community, as well as USC Annenberg, toward his business venture. This inspires him to continue to champion diversity, so that he is not "the only one in the room."
For a person who represents so many diverse intersections, Coughlin has certainly found his sweet spot in the world. He sums up his extraordinary entrepreneurial success in one word:
"It's priceless."