Kimberly Osborne's career has spanned 25 years and has taken her around the world. She's worked for the Department of Transportation in D.C., in crisis and disaster management in Texas, as the chief strategic communication advisor to the Afghan National Security Forces in Afghanistan and most recently in Myanmar as a Fulbright specialist. The one constant: her desire to make an impact.
Osborne, who earned a master's degree in communication management in 1995, has always been drawn to the intersection between leadership, service and creative storytelling.
"The storytellers, whether it's the news media, our church leaders or our parents, have to rely on information from others to inform us," she said. "How we then use that information, based on our own lenses and our own social constructions to make decisions about how to live our lives, is fascinating to me."
She began learning how to turn story into action here at USC Annenberg.
"At Annenberg, I learned the formula to communication is a combination of art and science," Osborne said.
Her favorite classes, she recalls, were with Sheila Murphy, professor of communication, where she realized the power of public relations and how it could translate across industries.
While in school, she had the opportunity to intern at various public relations firms; just two years out of college, she was the lead PR contact for Macintosh Utilities products at Symantec anti-virus software company.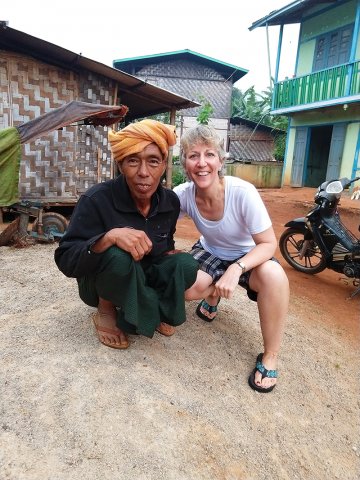 Photo by: Si Thu Soe
For 10 years, Osborne would continue to advise senior executives for Fortune 500 companies in strategic public relations and organizational management. While working at Manning Selvage and Lee in Detroit, one of her biggest clients, General Motors, got involved in a multimillion-dollar, 54-day work stoppage. "It was all-hands-on-deck," she said. "This became a pivotal moment in my career where I gained a tremendous amount of experience in crisis management."
Osborne learned the significance of public opinion and how it could be used to inform public relations strategies. "As a good strategist, you need to be connected to the pulse of your stakeholders so you can shape the messages that will guide their behaviors and attitudes," she said.
After working in the corporate sector, she decided to venture into academia. She took a position as a national media coordinator at the University of Georgia. There, she went on and earned a Ph.D. in adult education. After studying and working in organizational change and development, Osborne wanted to "marry" that with her communication background. She ended up being one of the first students at the university to study media literacy.
All of these experiences ended up coalescing in an opportunity to go to Afghanistan. There, she served as the chief strategic communications advisor for the U.S. Department of Defense and the Afghan National Security Forces. She was tasked to "fix" the communication system in the Afghan army. Osborne had never worked overseas in a combat environment and knew nothing about the Afghan military — but was up for the challenge.
She described a moment where she had to convince an Afghan general to inform the public about a mechanical failure that caused a helicopter crash, killing six coalition members. With Afghanistan's upcoming democratic presidential election, Osborne said transparency was key. "I told him, 'The key message we want resonating with people is that you can be trusted — and then, you, as a leader, should encourage people to get out and vote,'" she said.
Osborne sat down with the general every day, and step-by-step, shared her suggestions. Eventually, he and other officials started adopting her ideas.
This past October, Osborne was back overseas, spending six weeks in Myanmar as a Fulbright Specialist, where she was assigned to teach basic disaster management, public speaking and leadership for the Ministry of Social Welfare, Relief and Resettlement. In the end, the important part of this experience was training members of the ministry to engage with the wider world and the international community.
"As a communicator, I think it's our job to remind ourselves that our world isn't necessarily this tiny little bubble that we think we live in," Osborne said. "That's been the attraction to doing all the international work I've done.
"When people are vulnerable, it's a great time when you can say 'There's another way,'" she added. "Sometimes those are the moments when people are open to an alternative narrative."