USC has sent more athletes to the Olympic Games than any other U.S. university, and USC Annenberg is part of that proud tradition. This year, 13 USC Annenberg current students and alumni are among the 66 Trojans competing in Tokyo. Of course, USC Annenberg alumni have another Olympic tradition: reporting on the games as journalists.
Two graduates, Brad Luck and Fernando Hurtado, are working on the same team with NBC, the network broadcasting the games this year. Luck, who earned a bachelor's degree in broadcast journalism in 2002, is the director of integrated media for NBC Connecticut. Hurtado, who graduated in 2016 with a bachelor's in broadcast and digital journalism, is a digital video manager at NBCUniversal, producing video for both the NBC-owned TV stations and NBCLX, NBC's Gen Z/millennial news network. Both are working to provide content from the Games to the 11 NBC-owned local stations around the country.
We caught up with both Luck and Hurtado in Tokyo before the opening ceremonies and spoke with them about their journeys from USC Annenberg to the Olympics.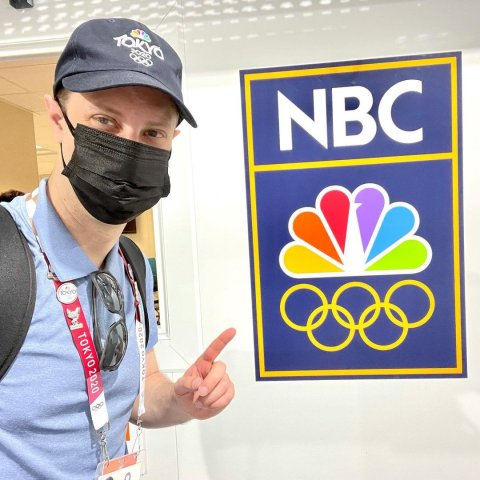 How did your time at USC Annenberg set you up for the success you've had in you careers?
Brad Luck: Part of what is great about Annenberg is the actual education — what I learned in classes and what I learned through extracurricular opportunities like Annenberg TV News [ATVN] or Impact. The other piece is the networking — it was directly because of my contacts at USC Annenberg that I was able to get an internship at KTLA early on in my time at USC. And then, pretty much right out of school, I got a full-time job at KTLA, where I spent about 10 years as a producer. I then moved on to a San Diego station as an executive producer for the morning news before moving across the country to join NBC Connecticut. About five years ago, I became the director of integrated media there, where I oversee both our digital department and our lifestyle programs.
Fernando Hurtado: I was really involved in ATVN, which unlocked a world of possibilities that I hadn't thought of before coming to school. I hadn't considered working in content other than on-air, but at that time, Wallis Annenberg Hall had just opened, and the amazing media center really created a new way of thinking for all of us journalists. There was this big emphasis on convergence — doing not just TV but also audio, print, web and social media. That's what gave birth to the JEDI unit — Journalism for Digital Innovation. That's where I really fell in love with producing digital video content. So, after graduation, I went to work for Sinclair Broadcast Group's Circa, which was a digital video news outlet for millennials. From there, I learned about an opening at NBC on their digital innovation team, and once I joined, it really reminded me of the JEDI unit at Annenberg! I've been on the team for the past two years, doing breaking news and video for all 11 NBC-owned TV stations, as well as more long-form video storytelling for NBCLX.
How did your current roles lead to your working the Olympic Games?
Luck: I love planning, and I'd done a lot of it for some major events on the East Coast, including a Papal visit. So, in 2015, I raised my hand and said, "If there's ever an opportunity to help with a larger project that involves high-level logistics, please keep me in mind." Maybe a month later, my boss at the time pulled me aside and said, "How would you like to go to Rio de Janeiro to work on the Olympics?" And I said, "Obviously, that would be amazing!" I was responsible for overseeing the team of journalists from our owned-stations division that traveled to the Games. I'm grateful and fortunate that they've continued to ask me to come back in the same role, helping our journalists get everything that they need at the Olympics, from access to athletes, access to events, travel and accommodations and transportation, making sure their live shots go on the air.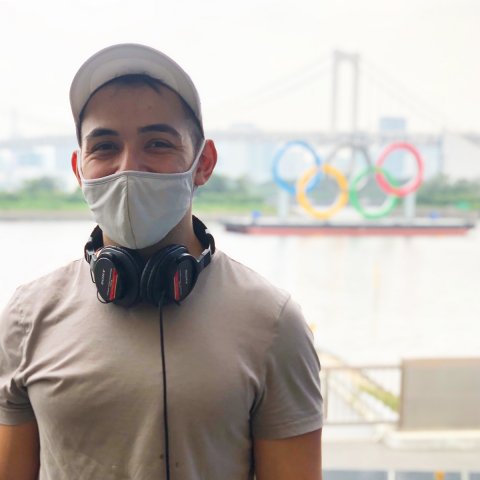 Hurtado:
I knew that NBC broadcast the Olympics, but I never in a million years thought I would have anything to do with Olympics coverage. I had a similar experience to Brad: One day, my boss is like, "How would you feel about going to Tokyo?" And I said, "I would feel very good!" So, I'm in charge of digital video from Tokyo for all the NBC stations' online platforms, and for NBCLX as well. We do a lot of cultural-lifestyle stories — I just did one yesterday on convenience stores in Tokyo, because they're very much a cornerstone of society here. When the Olympics actually get started, we'll be doing more of the athlete interviews that showcase their personality a little more.
What does a successful Games look like for your team?
Hurtado: I think especially this year, where there are no spectators, I think really bringing the sounds of what the Tokyo Olympics are, what it's like to be an athlete, but also what it's like to be in Tokyo. More specifically for NBCLX, I think we really are trying to differentiate our coverage for the next generation of news consumers, providing a little more nuance, a little bit more in-depth coverage beyond the medal counts.
Luck: For us, it's really all about bringing the stories of our hometown athletes back to our local audiences in the States. It's about telling the story of those athletes from our markets and all of the hard work they've done to get to these Games. It's such an amazing and rewarding opportunity for us as journalists to be able tell the story of this global event and really make it all about our local athletes. It's a very special experience bringing it home.