Pre-pandemic, Ashley Alvarado stood in front of a large crowd at the Armstrong Theatre in Torrance to welcome the audience to Unheard LA, a live event series she co-created and co-produced. The idea was to give Angelenos who have a story to tell, a place to tell it. On this particular night in October 2019, a dozen people took the stage to either talk about their lives, share a perspective about life or sing a song. Alvarado says this kind of "engaged journalism" creates opportunities to "close the gap between communities and the journalists who aim to serve them."
Now the director of community engagement at Southern California Public Radio (KPCC +LAist), Alvarado, who double majored in print journalism and Spanish and graduated in 2005, pointed to Unheard LA as an example of one of the more innovative things she's had a chance to do in her career. "It is something that absolutely feeds my soul," she said. "We have attracted thousands of new-to-us audiences that don't look like the traditional public media audience."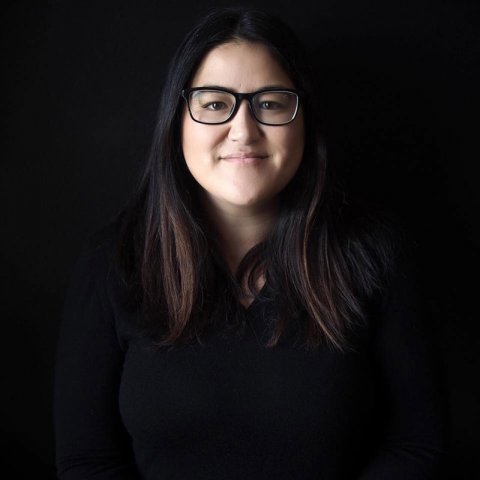 Photo courtesy of Ashley Alvarado
Alvarado's passion for journalism started in middle school in Eugene, Oregon, while she was flipping through a Spanish-language publication and became outraged at how poorly it was written. As a kid who would "come home from school and watch the four o'clock news," Alvarado felt that people deserved trustworthy information to make informed decisions.
She credits her acceptance by USC to a bold application letter, in which she made sure the admissions office knew that she was "going to make a difference," she said. While at USC Annenberg, she took advantage of internships, worked in the Annenberg Television News (ATVN) lab, and used her academic courses as "vision boards."
A few courses in particular Alvarado said helped her career trajectory were taught by then-adjunct instructors, including a magazine editing course taught by Stephen Randall and a copyediting course taught by Ann Herold. At the time, Herold was the managing editor at the Los Angeles Times' Sunday magazine. "The magazine I created for Randall's class was called Latino Living," Alvarado said. "Then, in February of my last year at USC, Ann, who had seen the magazine I did, recommended me as the research editor at Tu Ciudad, which was a sister publication to Los Angeles Magazine. Tu Ciudad was, in a way, similar to the magazine I designed in class."
She was hired and then after graduation, continued freelancing for them, along with other publications. In 2010, another USC connection working at California Watch, then part of the Center for Investigative Reporting, hired her as an engagement manager. "Ninety percent of the opportunities I've had have been tied to my experiences at Annenberg," she said. "This one completely changed the trajectory of my career."
In this position, Alvarado said, she was able to focus on the kinds of questions that had long guided her work: "Who is most affected by an issue and what do they need from us to be their own best advocate? Is the story serving the audience? Is it something that people can do something with?"
Now at KPCC since 2012, Alvarado has been instrumental in encouraging and supporting this type of community-based journalism. In addition to the Unheard LA series, Alvarado oversaw the team that launched a participatory photo project in 2019, in which they worked with 12 parents across Southern California who took photos of their daily lives and then told those stories.
The plan was to share these photo projects in Spring 2020, but the group changed course after the stay-at-home orders were issued. Instead, they decided to use the relationships already formed with the parents to take a look at parenting before and during the pandemic. "One of my favorite expressions coming out of all this is: We're not all the same boat, but we are in the same storm," she said.
In late 2019, the Online News Association (ONA) honored Southern California Public Radio with the Gather Award for Engaged Journalism, Overall Excellence. "I'm probably one of the only people who cried at the Online Journalism Awards," she admitted.
Alvarado is proud of the work she and her colleagues have been able to do thus far. To help grow the practice of engaged journalism, they started a Medium page to share best practices and created a playbook to allow other to replicate their success. "I wanted to convey that this is possible," she said. "We need these voices."