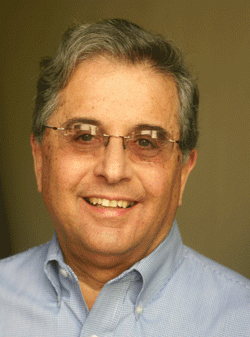 USC Annenberg Professor Emeritus Félix Gutiérrez was honored Tuesday, June 24 with a scroll presented by the Los Angeles County Board of Supervisors.
The Board periodically selects notable people to honor with a specially written proclamation that recognizes their exemplary work. Upon hearing of Gutiérrez's retirement this past May, Supervisors Gloria Molina and Zev Yaroslavsky arranged the scroll presentation to recognize his 40 years of "dedicated university teaching and administration and exemplary scholarship in the field of journalism."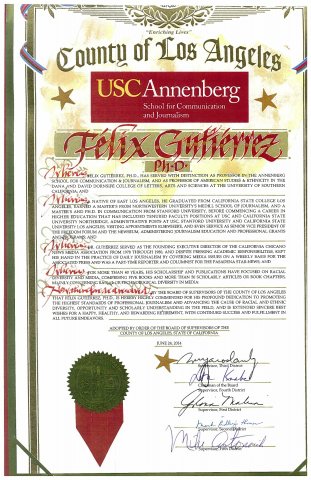 Gutiérrez was a professor of communication and journalism at USC Annenberg, as well as a professor of American Studies & Ethnicity at the USC Dana and David Dornsife College of Letters, Arts and Sciences. Throughout his long career as a scholar, teacher and journalist, he was also a strong advocate for diversity in the news media.
Though he said the scroll came as a surprise, Gutiérrez added that it "provided a chance to be thankful for the opportunities for [him] to play a very small role in a very large movement to help news media become more diverse and inclusive in who they hire and what they cover."
Additionally, he said that his time as a professor at USC has allowed him to "teach and encourage women and men of all colors and cultures to make progress through education."
The scroll (above) was read aloud and presented to Gutiérrez at the Board meeting June 24 at 9:30 a.m.