Callie Schweitzer's Twitter bio reads, "internet person" and "media and technology nerd" — descriptors that couldn't be more authentic. After all, the USC Annenberg alumna's feed has been named one of Time's 140 Best Twitter Feeds in the World, and she has twice made the Forbes 30 under 30 list.
Since graduating in 2011 with a bachelor's degree in print and digital journalism, Schweitzer, 29, has been at the epicenter of the digital storytelling revolution. But after working in executive roles for numerous top media companies and helping them build and evolve their online identities, she was ready for a new challenge.
Determined to help media companies cut through the clutter of excess information crowding the digital space, Schweitzer founded CSCH, a creative strategy firm, earlier this year. She focuses her work on what she calls the 3R's of brand building — reach, relevance and revenue.
"We're living in an era of information overload. We're inundated with push notifications and breaking news alerts, and it's a real challenge to break through the noise," Schweitzer said. "I am committed to working with brands that believe in quality and making sure they are the ones that we hear."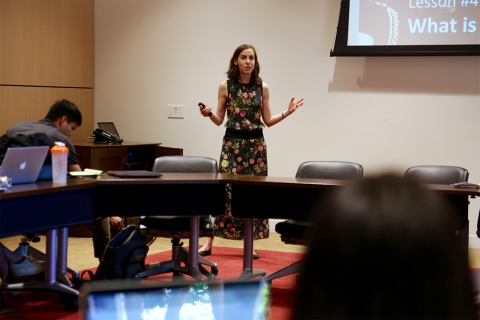 Since graduation, Schweitzer has been striving to "move the needle" to ensure journalism business models are sustainable. She knows there are many challenges facing the industry — and she's dedicated to being part of the solution.
"I started in journalism as a reporter, but I quickly saw that the journalism industry of the future was much more entrepreneurial," she said. "It wasn't enough to only report the news anymore, you needed to know how people got the news, how the news was paid for, and how the latest technology could be used as a vehicle for better storytelling."
One of her early jobs was at Talking Points Memo, a political news website, where she was promoted to deputy publisher within the first year. She moved from there to Vox Media, where she was the first director of marketing and communications. From there she went to TIME, overseeing audience growth, and then moved to Time Inc., where she worked across the company on revenue and audience growth initiatives as the Editorial Director of Audience Strategy. She also founded Motto, Time's platform aimed at millennial women.
Her most recent position before starting her own company was at Arianna Huffington's health and well-being company Thrive Global. There she served as the chief content officer, overseeing editorial and corporate content and advertising sales.
Before her professional success — and large social media following — Schweitzer, who grew up in Westchester County, New York, knew she wanted to be a storyteller. As a freshman, she applied to be an editor of the student newspaper. She didn't get the job, but didn't let that stop her. She said "yes" to every assignment, something she advises students do to gain as much experience as possible. She ended up creating her own niche, interviewing alumni from her high school who went on to become award-winning actors and directors.
When it came time to apply for college, she knew USC was the one. One of the strengths of the program, for Schweitzer, was how professors, including Robert Scheer and Mary Murphy, would bring guest speakers into class.
"This is the perfect example of why students should go to USC Annenberg," she said. "Annenberg has the power to bring in an incredible mix of real-world practitioners alongside tenured academics and professors. There is such a rich source of information and diversity of voices coming through the doors. I really cherished that."
Schweitzer said it makes total sense that she's an entrepreneur now. In every role as manager, whether it was overseeing 250 people at Neon Tommy, while still a student, or as the chief content officer at Thrive, she has always been focused on getting things done in a new, "scrappy," and untraditional way. "My experiences at Annenberg, especially with Neon Tommy, is what made me see the opportunity to do that," she said.
As an alum, Schweitzer wants to make sure she's available for USC Annenberg students to lean on as a resource, as a mentor and as an advisor. "The school was my launching pad to success," she said. "This kind of journalism education is more crucial than ever, especially in a world where fake news can spread instantly. It's going to be important that we have trained journalists and communication specialists who understand the ethics and principles of journalism."
Schweitzer's work has appeared in The New York Times, Huffington Post, PEOPLE and TIME. She has profiled Oscar nominee David O. Russell, Pulitzer Prize-winning photographer John Filo, Facebook marketing VP Carolyn Everson, Humans of New York creator Brandon Stanton, and Reddit co-founder Alexis Ohanian. She is on the advisory board of The Poynter Institute, GenHERation and Womaze, and on the mentor board of Shiffon Co. and the Startup Girl Foundation.