Two-time alumnus — journalism and communication management — Ben Malcolmson returns to campus with a new book about his unique Trojan football experience.
In the world of sports writing, the "journalist tries out for the team, fails spectacularly, and then writes about it" story is a familiar one. But Ben Malcolmson's tale of trying out for the Trojans football team in 2006 had a twist.
A senior journalism major at USC Annenberg at the time, he had already covered sports for the Daily Trojan, including writing a "day-in-the-life" profile of then-coach Pete Carroll. That spring day, he only intended to write a first-person article about going through walk-on tryouts. He had no intention or expectation of making the team — after all, he hadn't played organized football since fifth grade.
"I was putting the finishing touches on the story when I got a phone call saying I made the team," Malcolmson recalled. "I figured it had to be a prank. But I went in and talked to coach Carroll, and he said, 'You can catch the ball, you can run fast, we want you on the team.' And so there, in that moment, I went very quickly from a student newspaper reporter to a student athlete."
Malcolmson's stint on the football team turned out to be less of a twist ending and more of a twist beginning. That experience led to a career in the National Football League — not as a player, but as a special assistant to Carroll, who now coaches the Seattle Seahawks. Malcolmson details his journey in his new book, Walk On: From Pee-Wee Dropout to the NFL Sidelines — My Unlikely Story of Football, Purpose, and Following an Amazing God. He returned to USC on Aug. 31 for a book-signing event.
"The title of the book has kind of a twofold meaning," Malcolmson explained. "It's about being a walk-on our football team, but then it's also an encouragement for everyone to keep walking on, keep taking those steps in this journey of seeking our purpose in life."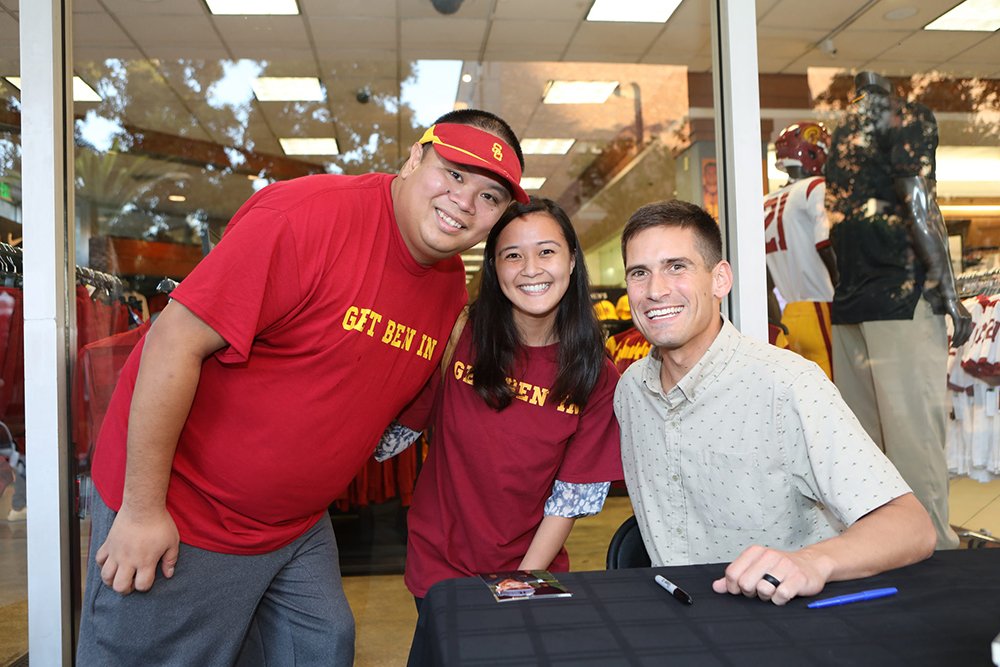 Photo by: Scot Obler
Malcolmson's journey began in earnest after he followed his love of sports, transferring from USC Dornsife College of Letters, Arts and Sciences into USC Annenberg a sophomore. "Annenberg teaches you how to work on a deadline and to communicate clearly in speech and writing," he said. "I really appreciated the breadth and depth of the classes."
As it turned out, his success as a wide receiver kept him at USC Annenberg longer than expected. "I enrolled in the master's program for communication management just so I could remain in school and be a student athlete," he said, chuckling at the idea.
But just as he was getting used to the demands of having an actual college football career, it nearly ended before it started. Going straight from tryouts to practices in the spring of 2006, he sustained a serious shoulder injury that required surgery and a difficult rehab over the summer — when he also began working on his communication management master's degree.
In the book, Malcolmson shares how his process of working back from his injury — and indeed, the entire experience with the team — was closely connected with his Christian faith. "I felt like I was there for a divine purpose — it was miraculous that I was even on the team," he said. "I was really excited to press into that, to pursue that purpose, and to really embark on that journey of figuring out why I was there. My faith played an instrumental part in all of that and fueled me through all the ups and all the downs."
While even healthy walk-ons almost never get to play in actual games. Trojans fans, who had been following Malcolmson's progress through his articles, hoped that he might be the exception.
"There was a student campaign called 'Get Ben In' — a bunch of students wanted to see me get in the game," he recalled. "The last home game of the year against Notre Dame, we went up by 20 points. The coaches put me in with the whole student section chanting. It was a perfect ending to the whole season."
After that season, when Malcolmson was wrapping up his master's degree in the summer of 2007 and started looking for a job, Carroll offered him a position writing for USCTrojans.com. During his three years there, Malcolmson said, he and Carroll "developed a really great chemistry and a great friendship."
Then in 2010, Carroll took the job as head coach of the Seahawks, bringing Malcolmson with him as a special assistant, a position he still holds. His duties include media relations, social media and writing for both internal and external communication — roles rooted in his USC Annenberg training.
"Everything I learned at Annenberg and the Daily Trojan plays out on a day-to-day basis in my work," he said. "When you know how to tell good stories that stick with people and have an impact on them, there's something really powerful about that."