"Plan for 24 hours unplugged. No electronics. No radio, TV or phones. Pretend you are Adam and Eve, basically." My initial reaction was 'basically, WHAT?!' I read through this first of a four-part assignment with its enigmatic umbrella title, "Slow Journalism," thinking a slow journalist, now that's a first.
"Slow Journalism" would be a litmus test of our flexibility as journalists — an abstinence from technology in preparation for writing a short non-fiction essay about art.
The instructor also strongly suggested we read Geoff Dyer's collection of essays, White Sands: Experiences from the Outside World, focusing on two chapters, "Pilgrimage" and "The Ballad of Jimmy Garrison."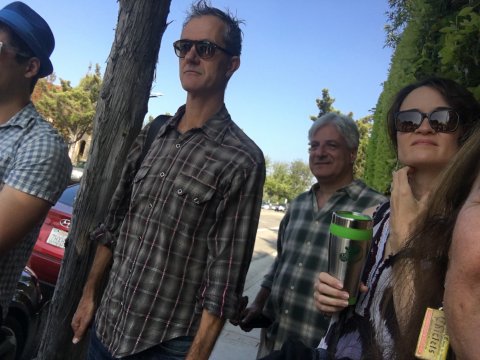 I read the book cover to cover because I liked all the stories. Dyer expertly wove in and out of the personal, taking the reader along on his adventures to where artists once resided and created their masterpieces. Gauguin in Tahiti, Robert Smithson's Spiral Jetty, Simon Rodia's Watts Towers — were a few of his subjects, each chapter a different story, a different arts pilgrimage. What interested me most is that his pilgrimages failed to live up to his expectations. Such bald discontentment I found refreshing.
The next part of the assignment was to show up at 10 a.m. on the sidewalk in front of 1063 26th Street, Santa Monica — the white clapboard house where celebrated German playwright Bertolt Brecht resided in exile for five years in the early 1940's.
We were going on a pilgrimage. The class of 11 arts journalism master's students, led by none other than Geoff Dyer a writer-in-residence at USC Dornsife College of Letters, Arts and Sciences. Moreover, he was bringing along his USC colleague, esteemed former book editor and critic for the L.A. Times, David L. Ulin.
To this miraculous lineup, Sasha Anawalt, our instructor and chief architect behind this Master of Specialized Journalism — The Arts program, had invited two other much-buzzed-about artistic personages: Yuval Sharon, 2107 MacArthur Fellow, artistic director and founder of The Industry. Sharon's cutting-edge opera company creates immersive experiences, bringing opera outside the confines of an opera house to people on city streets and public places. Also, part of the team was Alex Ross, music critic for The New Yorker, Richard Wagner expert and lover of L.A.'s exile past. Ross is also a MacArthur Fellow.
Ten minutes into our riveting discussion, a car pulls into the driveway behind Brecht's house. Rina Welles rolls down the car window, asks who we are and spontaneously invites us into her home, leading the way with her son, Alec. Filing in line, we made our pilgrimage toward Brecht's office, swarm his tiny work space, then squiggle through his bedroom onto the front porch where he once looked out on Santa Monica.
My thoughts wandered as I looked around. Was Sharon picking up on Brecht's energy? Who among us felt the creative spirit in the house? What was Dyer thinking? Did each of us come up with our individual meaning to this pilgrimage?
To complete the "Slow Journalism" assignment, Anawalt asked us to make our own personal art pilgrimage.
"Take an intentional walk through an L.A. neighborhood," she requested. "A place that means something to you or that you suspect will. It should trigger ruminations about an artist and the work of his or her art that truly, bone-deeply affects you."
She added that we were to write a 750-word essay during the technological 24-hour purge that reflects Dyer's graceful toggling between intellectual and personal, and our own experiences.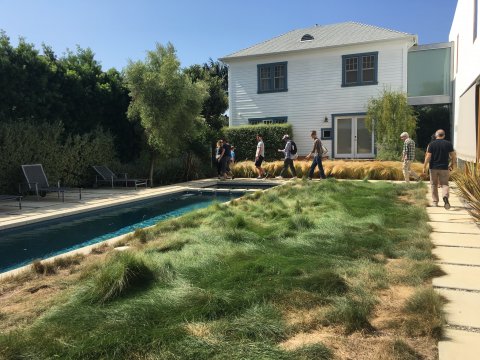 I had decided to go for a walk down Sunset Boulevard and let chance present the artist, the muse, guiding me on this pilgrimage. Here is an excerpt from the essay: 'Just before taking off for my walk, as I am putting on sunscreen, I notice a tiny brown sample bottle on my dresser — the label reads: Youth Activating Concentrate. I look at the bottle speculating its claim to youth. Maybe in a parallel universe, one created by Woody Allen, this could be a possibility of a film script; somehow a woman in her late 60's finds a bottle in her Greenwich Village apartment and discovers that upon applying a drop of the ointment, she is transformed into a younger version of herself. Oscar Wilde's The Picture of Dorian Gray flashes by as I dab on drops of the youth activating oil on my face. Two minutes go by. Nothing happens. I head out to face the world in my semi-aged skin. I am on my way to explore Sunset Boulevard, a block away from where I live in Silver Lake. … The rejuvenating serum has worked its magic setting back the time. As I take my seat at the counter I stare at the door waiting for Woody Allen to walk in ranting about how 'Santa Claus would have a sunstroke in Los Angeles.'
Finishing the assignment, I was left with a sense of achievement mixed with vague uncertainty. A sensation I was well prepared for, post-Dyer. I could see how his so-called pilgrimages transform into strange experiences, best described in his own words: "What starts out as one thing can become something else even if nothing in it changes." It sure can. Slow Journalism completed.