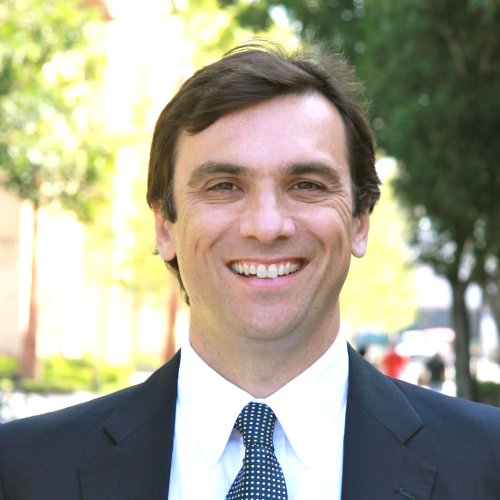 Paolo
Sigismondi
Clinical Associate Professor of Communication
Program
Communication (BA)
Communication Management (MCG)
Office
ASC 227E
More

Paolo
Words to live by
"ita facile confiteor permulta esse in Utopiensium republica, quae in nostris ciuitatibus optarim uerius quam sperarim" Sir T. More, Utopia
Expertise
Economics and Entrepreneurship
Entertainment
Globalization
IDEA
Media Management
New Media
Center Affiliation
Media, Economics & Entrepreneurship
Paolo Sigismondi's primary research and teaching interests focus on the phenomena of globalization forged by new technologies and economic forces such as multinational corporations, especially media, advertising and entertainment conglomerates and their impact on society.
---
He graduated summa cum laude in Economics from LUISS University in Rome, Italy. At the University of Southern California, he earned an MBA from the Marshall School of Business, a graduate certificate in Business of Entertainment from the School of Cinematic Arts, and an M.A. and a Ph.D. from the Annenberg School for Communication and Journalism. He has more than a decade of work experience in the global media and entertainment industry. He held executive positions in two of Europe's largest media holding companies, Mediaset and Telemontecarlo networks, and in the United States he worked at the world headquarters of Warner Bros. Entertainment, in its International Television Distribution division.
---
Professor Sigismondi's research has been presented at international conferences and published in the International Journal of Communication; Journal of Children and Media; Journal of Italian Cinema & Media Studies; International Journal of Technology, Knowledge, and Society; CPD Perspectives on Public Diplomacy; Global Media Journal; The Translator; Chinese Journal of Communication, and Communication Theory among others. He is the author of the book "The Digital Glocalization of Entertainment: New Paradigms in the 21st Century Global Mediascape", published by Springer Science + Business Media (2011), in their series The Economics of Information, Communication and Entertainment. The book analyzes the dynamics of global media and entertainment, specifically analyzing the implications of the global rise of non-scripted entertainment (as reality TV programs) and the impact and consequences of the Information and Communication Technology (ICT) revolution on the content, delivery platforms, and overall business models of the media and entertainment landscape. An Italian edition of the book, translated by the author, has been published by FrancoAngeli Publishing as "La Glocalizzazione Digitale dell'Audiovisivo: Nuovi Paradigmi nel Panorama Mondiale" (2014) in their Communication Series.
---
He is the editor of the book World Entertainment Media: Global, Regional and Local Perspectives published by Routledge (2019). The volume sheds light on the complexity of the global entertainment media landscape analyzing the global, regional and local players – and their modus operandi – in twenty different international media markets. It features analyses and case studies from leading international communication and media scholars, who explore the causes and effects of globalization upon this ever-evolving industry.
Course Titles
CMGT 558 The International Entertainment Marketplace
CMGT 556 Global Marketing Communication (Online and on campus)
CMGT 549 Case Studies in Digital Entertainment
COMM 431 Global Strategy for the Communications Industry
COMM 430 Global Entertainment
COMM 209 Communication and Media Economics
COMM 208 Media Economics: Perspectives on Communication Industries
COMM 207 Economic Thinking for Communication and Journalism
COMM 204 Public Speaking