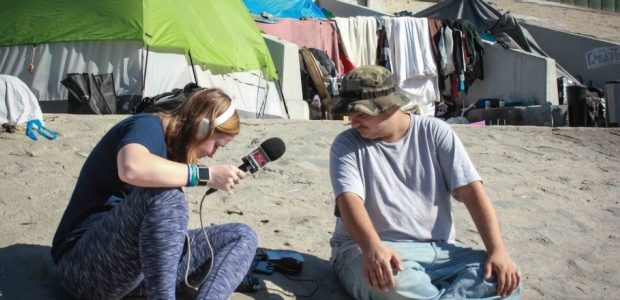 Premiere: 'Homeless Realities'
Saturday, February 16, 2019 -

2 p.m.

–

4 p.m.
Central Library, Mark Taper Auditorium 630 W. 5th Street, Los Angeles, CA 90071
Homeless Realities is a series of immersive experiences telling stories from the housing unstable in Los Angeles.
Robert Hernandez, professor at the USC Annenberg School for Communication and Journalism, conducted a workshop with patrons of the Los Angeles Public Library who are experiencing homelessness. They took up a 360 camera for the first time to document their lives and tell their stories through their own lenses, tackling the issues most important to them. From what it means to fall in love while unsheltered, to living in your car and being constantly on the move, these short films invite you to hear their perspectives and stories.
The storytellers attended a multi-day training over two weeks conducted by Robert and his students and hosted in one of the Library's meeting rooms. They produced their own stories using 360, photogrammetry, augmented reality and other technologies.
More details here.
The stories they recorded will be demonstrated, and Robert will moderate a panel discussion on empowering people, storytelling and meaningful community engagement.
Mixed reality experiences will be demonstrated using AR headsets.