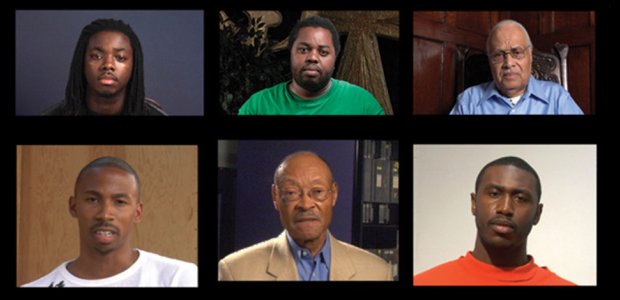 R.A.P. Lessons: Bridging Race, Arts, and Placemaking opening reception and discussion
Wednesday, January 16, 2019
6 p.m.

–

9 p.m.
Wallis Annenberg Hall (ANN), Forum
---
Join us for the opening night of R.A.P. Lessons: Bridging Race, Arts, and Placemaking, a six-week video exhibition throughout Wallis Annenberg Hall, with performative and curricular interventions between schools and with community partners. Artists Chris Johnson and Hank Willis Thomas will explore the links between art, pedagogy, and social change with Annenberg Associate Professor Taj Frazier. The opening will be live streamed on Facebook.
The exhibition is inspired by Question Bridge: Black Males, an innovative transmedia project that uses video to facilitate a conversation among Black men from diverse backgrounds. Question Bridge started in 1996 when artist Chris Johnson facilitated questions from one segment of the Black community, those who lived in the "hood," to another segment, "well-off" Black people living outside of the "hood" through videotaped interviews. The project evolved In 2007 with the involvement of artists Hank Willis Thomas, Bayeté Ross Smith, and Kamal Sinclair to focus on Black males specifically. Question Bridge: Black Males has been internationally exhibited and a high school curriculum is being piloted in multiple school districts across the country.
Program:
6 to 7 p.m: Reception
7 to 9 p.m.: Panel Discussion​
Admission is free. Reservations required.
RSVP