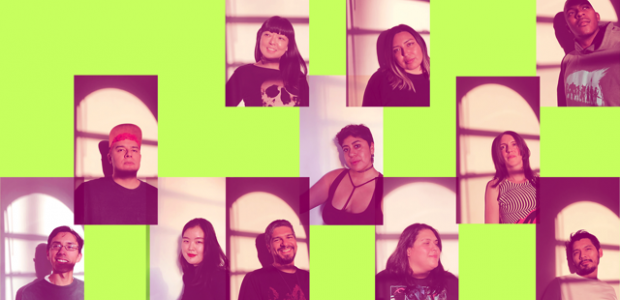 Food and civic media talk: Color coded LA
Tuesday, March 10, 2020
1 p.m.

–

3 p.m.
USC Annenberg School for Communication and Journalism (ASC), 207
---
Join the Annenberg Innovation lab for a public chat featuring Color Coded LA. Lunch will be provided.
Color Coded is a Tongva Land/Los Angeles-rooted collective holding space for BIPOC to co-teach, co-create and co-own technologies. Their work centers historically-excluded people and supports and amplify groups and individuals who are uplifting and sustaining communities of color — at home and beyond. They advance sustainable, community-centric projects to stay life long learners, protect families, defend hoods, decolonize and indigenize, liberate themselves, grow collective wealth and thrive.
Speakers:
Emily Martinez is a queer Latinx, 1st generation Cuban immigrant/refugee, raised by Miami, now living in Los Angeles. She is new media artist, digital strategist, developer, educator, activist and serial collaborator who believes in the tactical misuse of technology. Her most recent works take on the sharing economy, digital labor struggles, algorithmic bias, surveillance capitalism, crypto colonialism, tech bros and tech culture at large. Long-term projects/departures/returns explore trauma, queerness and in/visibility.
When Emily is not making art, she works and volunteers with Color Coded, a POC tech and pedagogy collective in Los Angeles that centers historically-excluded people in the co-teaching, co-creation and co-ownership of new technologies.

Chris Cuellar is a co-founder and tech mentor for Color Coded. Chris has nearly a decade of professional web development and software engineering experience and, starting in 2015, Chris helped develop free educational programming in tech for Color Coded. In 2017, Chris helped kickstart & develop the worker-owned cooperative business model for LABS, a digital strategy cooperative incubated out of Color Coded. Chris also has a decade of community organizing experience, primarily fighting for housing rights in Los Angeles and co-founded the Los Angeles Tenants Union in the summer of 2015.
The Civic Media Fellowship at Annenberg Innovation Lab (AnnLab) aims to strengthen and expand the field of civic media — the use of today's technologies to create and harness media that connects with communities, inspires action, builds civic capacity and helps sustain social change effort — by pushing the boundaries of what it can be.
As part of the Civic Media field-building activities this spring, AnnLab is holding public chats featuring practitioners — artists, creators, storytellers, organizers and others working at the intersections of media, technology and culture — presenting and sharing their civic media work to inspire and build community with other practitioners. These public chats provide a platform to share and reflect on civic media practice, highlight the work being done and the way folks are working and encourage conversation amongst a growing network.
Please join us for the other events in this series:
RSVP