"For any show on television to hit 100 episodes is amazing. For our student-produced documentary series, Impact, it's an incredible milestone," said Dan Birman, documentary filmmaker and professor of professional practice.
On Thursday, Nov. 30, Impact will premiere its 100th episode of the award-winning newsmagazine at a special screening in Wallis Annenberg Hall. The retrospective highlights segments covering everything from environmental issues and women truckers to animal sanctuaries and local comedians. The show was founded in the '90s, but reimagined when Birman joined the USC Annenberg faculty in 2001.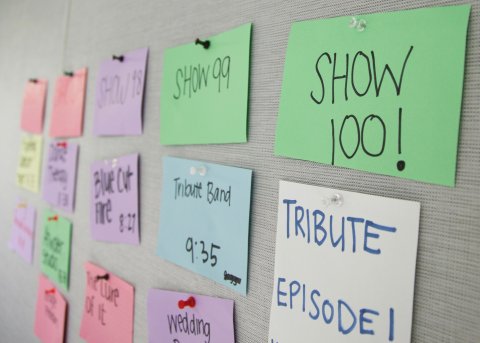 "It went from being a studio-based show to a field-produced show, which brought students out of the classroom and into the world that we live in," Birman said.
Students have the opportunity to produce their own in-depth stories through undergraduate and graduate documentary production classes taught by Birman and adjunct faculty member Megan Chao (M.A., Broadcast Journalism, '08).
"We take them through the entire process, from pitching and in-depth research, to advanced field production and editing," Chao said. "Our students graduate from the program with a robust skill set to achieve any kind of storytelling they hope to pursue."
"We've been anticipating Impact's 100th episode for a quite a while now and it is a huge honor to be part of the team that gets to produce it," said journalism major Kate Greenberg '19.
Greenberg is one of Impact's student supervising producers, alongside Colin Dale '20, who is also majoring in journalism. The two students manage the senior producing team, who are all hands-on with curating, producing and editing content. The dozens of long-form stories to come out of the documentary classes each semester are crafted into half-hour episodes for viewers.
"When the editing process for Show 100 began and I started digging through the Impact archives, I realized how fortunate I am to work on a show with such a rich history," Dale said.
That history is embodied in the hundreds of students who have produced for Impact over the years. Following the screening, there will be a panel discussion with two of Impact's alumni. Talleah Bridges (M.A., Broadcast Journalism, '02) was one of Impact's first senior producers, who went on to become an independent documentary producer. Some of her credits include The Nineties, Black America Since MLK, and Women Behind Bars. Chetna Joshi (M.A., Broadcast Journalism, '05) who now works as a producer for Dateline NBC.
The Impact team believes that documentaries are playing a larger role in journalism due to their rise in popularity, both in producing and consuming content.
"Now that there's more entertainment value, people are becoming more interested in studying documentary filmmaking," Greenberg said. "I believe long-form storytelling has never been more essential. I'm looking forward to an evening where we can have an open discussion about where this medium is heading."
Please check out their sizzle reel.