Annenberg International Programs launched its first alternative spring break program in Thailand this past March. Thanks to a donation from a generous USC Annenberg parent, a total of fourteen students were given the opportunity to travel to two of the country's most iconic cities: Bangkok and Chiang Mai. Steven Villescas, a master's student in the communication management program, offers a first-person account of the trip. You'll find other student experiences here.
---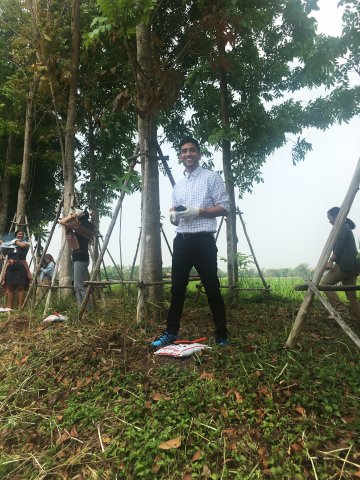 Photo courtesy of: Cynthia Martinez
The number of 'firsts' that come with being a first-generation college student are endless. I was the first in my family to go to college and the first to work towards a master's degree in communication management. I was also the first to leave the continent. While I have had the opportunity to travel around the country as a competitive public speaker, I had never left the states. So, when I arrived at Bangkok International Airport in Thailand with thirteen USC Annenberg students I met for the first time a few weeks before, my mind was both frozen and racing. The 'sneak-peak' into the culture I got from my seven-minute stroll through the airport cued me into the wonders of the vibrant colors, people and world that lie just beyond its walls.
My first "introduction to Thai culture" meeting occurred a few weeks prior, after I got an email informing me that I was chosen to represent USC Annenberg for their pilot Alternative Spring Break program. Our group met with Cynthia Martinez, interim assistant dean of student affairs and executive director, advisement and academic services, and Kathryn Kelly, assistant director of international programs. They let us know that we were selected from a pool of both graduate and undergraduate students because of how we communicated an ability to "think beyond themselves" in our applications for this program; a very humbling accolade. In the months leading up to departure, meetings were packed with information such as etiquette when visiting temples, safety tips, key words and phrases in Thai, and of course, the best places to get mango sticky rice.
Over our nine days in Thailand, I bonded with fellow "Annenbergians" in the best ways possible. Each day, we pooled our collective communication brainpower to consult with different non-profit, private, and federal organizations to learn about their goals and craft messages to help them better connect with communities in the eastern Asian region.
I was sitting in an executive meeting room at the headquarters of The Gulf Group — a Thai energy company (think SoCal Edison, except they sell energy to the Thailand government, who then powers Thailand) — about possible campaign strategies to improve their relations with farmers. That's when the thought first hit. Me, a kid from South East Los Angeles, has just become a global communicator.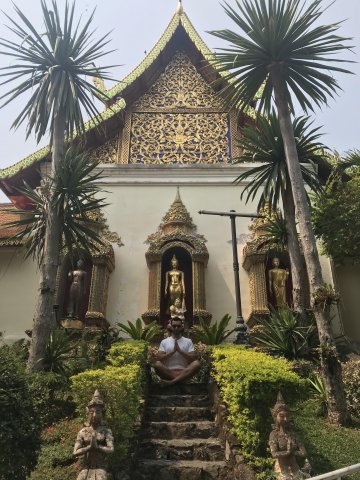 Photo courtesy of: Cynthia Martinez
The phrase, "global communicator" lingered in my mind for the next few days. To be quite honest, I had always thought the title was a form of self-inflated importance for professionals looking for a quick way to pad their résumé. Ironically, I learned what
it could
mean to be a global communicator while sitting in the back of a van. Our group was on its way back to the hotel after a consultation when the thought first hit me: I left the country, and it changed my life. The people, culture and world living within the borders of the land of a thousand smiles brought out in me someone who feels like his ideas, opinions, and perspective on how to make the world a better place — matters. My thirteen fellow Annenberg cohorts, who started as strangers, grew to fill the space between colleague and best friend by way of our interactions, vulnerabilities and common interests. I also realized that Thailand is a place whose beauty lies in the details of its architecture, just as much as it does in the skyline views from rooftop lounges in Bangkok and the lush greenery from a mountaintop in Chiang Mai, all places we had a chance to visit.
Toward the end of our trip, on our way back from a meeting with UNESCO (The United Nations Educational, Scientific and Cultural Organization), where we learned about the latest youth-driven social change campaign to be rolled out across Europe, I made eye contact with a Thai woman leaving a train station platform. Another epiphany hit me like thunder: She too likely had a list of momentous events in her life that helped shape her. I then looked at the cluster of people surrounding her on foot, then the people on the road — and even in my own van — when it dawned on me that everyone on Earth has a list of events and stories that have shaped their lives.
That is when I found that global communication isn't a résumé booster, it is a responsibility. The beauty of global communication lies in the opportunity it presents to communicators who can pinpoint the people's stories — from all corners of the globe — to thread narratives that eliminate ambiguity and bring us closer together.
Leaving the country for the first time reminded me of Jim Lovell, the astronaut who covered the planet Earth with his thumb from Apollo 8 in outer space. He recalled feeling small and insignificant because everyone he had ever known was now under his thumb.
A friend of mine prompted me to view my newly purchased passport as a portal to cover the world. While I can't yet cover Earth with my thumb from outer space, the passport in my hand allows me to travel it, listen to people, and discover the stories we all share as humans. I believe the opportunity to be a part of this Thailand program will act as the perfect bridge to connect my passion for advocacy, which I have devoted four years of my academic career to, with the field of professional communication advocacy, which I seek to pursue by the time I have completed my graduate studies.
---
Read additional blog entries from students who went to Thailand here.