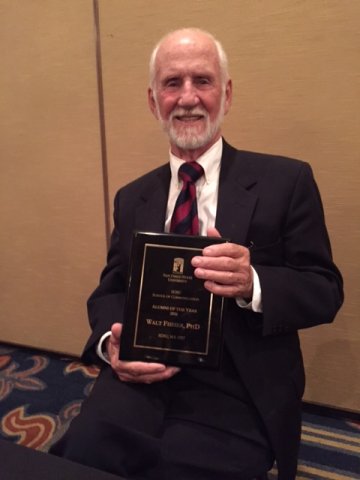 Former USC Annenberg School of Communication Director and Emeritus Professor Walter Fisher received the Outstanding Alumni Award from the San Diego State University School of Communication. The award was presented to Fisher at the Western States Communication Association Convention in San Diego.
Fisher is a former President of the Western States Communication Association and has previously been recognized with their Outstanding Service Award and Outstanding Scholar Award.
A few days before receiving the Outstanding Alumni Award, Fisher was honored at USC Annenberg with the 12th Annual Walt Fisher Lecture. Held during a yearly visit organized for newly admitted Communication doctoral students, the Walt Fisher Lecture brings back an Annenberg alum to present a lecture to students, faculty, and guests.
This year, Shawn Powers (Ph.D 2009) presented a lecture entitled "Civic Approaches to Religious Conflict and Violence." Powers is an Assistant Professor of Communication at Georgia State University, an associate director at the Center for International Media and Education, and serves on the Board of Advisors for the U.S. Advisory Commission on Public Diplomacy.