This summer, four Annenberg doctoral students are in Washington, D.C., participating in the COMPASS Summer Fellowship Program, which is designed to provide Ph.D. students in Communications and Media Studies with hands-on experience in the development and implementation of communication policy. COMPASS fellows intern for two months in D.C. at government offices or agencies, think tanks, political party or advocacy organizations, or other communication-related public or private sector institutions. Professor Mark Lloyd coordinates the program for Annenberg.
This week we check in with second year student Hyun Tae (Calvin) Kim, who is interning with Sister Cities International as it celebrates the 60th anniversary of its founding.
What's your academic concentration? Your areas of interest?
My academic concentration is in the Political Economy of Global Communication, with a particular leaning towards public diplomacy, coupled also with a longstanding interest in comparisons of media coverage of contentious public policy issues (e.g., immigration and national identity).
Where are you interning this summer?
I'm spending the summer at Sister Cities International (SCI), a non-profit organization that functions as a network of citizen diplomats between communities in the U.S. and those in other countries. It was launched as a major Presidential initiative by President Dwight D. Eisenhower in 1956, and its mission is premised on the importance of forming and sustaining citizen- and community-led relationships around the world. Much of its work focuses on creating, sustaining, and expanding networks with respect to arts and culture, economic development, health and sanitation assistance, and youth exchanges.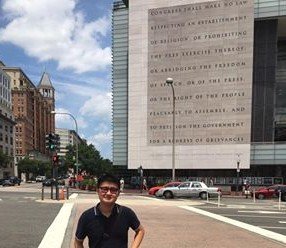 What are your responsibilities there?
I'm working on identifying areas in which SCI can better evaluate the outcome of its initiatives and partnerships, particularly with respect to youth involvement. SCI's youth projects occur in both offline (e.g., exchanges, forums) and online (e.g., regular virtual exchange through Skype) forms, and as part of my work here I have been reviewing measurement and evaluation of similar initiatives undertaken by other organizations.
So far, I have been able to identify several measurable outcome variables (e.g., intercultural competence, intercultural and inter-city network connections on social media, etc.), and am suggesting a long-term, longitudinal study to measure these variables across a large sample of youth who have participated in SCI programs. On a similar note, I am also in favor of an approach that reflects the norms and practices of participatory evaluation, specifically the desirability of involving these youth participants in participatory video (PV) co-creations that document, in a bottom-up perspective, their frames and understandings of community partnerships.
This year is the 60th anniversary of SCI's founding; as I'm writing this the 60th Anniversary Conference is taking place here in D.C. As is rightly expected of one carrying out participatory research (more on this later), I am helping out with the logistics and heavy lifting (literally!) of conference planning and execution as well.
What does a normal day at your internship look like?
I look at interviews, written reports, and other information that document the work carried out by SCI. In line with this, I also reach out to academics, professionals, and volunteers who have shown passion for, and expertise in, public and citizen diplomacy. Such outreach has fortunately yielded many delightful and fruitful conversations and informational interviews over the course of the summer.
This was also an opportunity for me to carry out a review of relevant literature in the field of communication. It was a delight for me, as a scholar, to be able to place SCI's work in the context of specific communication theories and approaches, such as Communication for Development and Social Change (C4D), Communication for Peace (C4P), and networked, collaborative visions of the theory and practice of public diplomacy. Embedding these communication theories and approaches into more practical versions of everyday conversations with practitioners in the field hasn't always been easy--yet the process of doing so brought me considerable joy and satisfaction.
Have you had a chance to see and do other things in D.C.?
I've been networking with young professionals here in D.C., particularly in areas of global development and social entrepreneurship. I've also been attending forum policy events at think tanks such as The Brookings Institute.
I have fallen in love with the artsy, hipster bookstores and cafes in the city, and I've acquired a particular fondness for the riverfront areas, particularly near Georgetown and Navy Yard. Spending summer evenings on leisurely walks by the Potomac River = utterly, utterly priceless! And there's also something really enchanting about the sunsets in the city.
How do you think your experience in the COMPASS program this summer will impact the work you're doing in the doctoral program?
COMPASS has impacted me in two ways so far: first, my work with SCI has been re-igniting my research interest in public diplomacy; and second, the COMPASS program has reminded me once again of the centrality of political economy to the field of communication (special shout-out of gratitute to Mark Lloyd and Victor Pickard). And working as an on-site researcher has allowed me to get a glimpse of what it's like to take part in participatory research, learning how to better immerse myself in the organizational milieu while keeping the critical (but no more than what is absolutely necessary!) distance required as a researcher.
As a secondary effect of taking part in the COMPASS program and working in D.C., I've become more aware of the presence and work of other individuals and organizations (e.g., IGOs and INGOs) in the areas of public diplomacy and global development. I hope to come back again to this wonderful city!
Any advice for other doctoral students who might be interested in participating in COMPASS in the future?
Make sure that the contours of your participation in COMPASS with the host organization are as well-defined as possible when you apply, and when you define your responsibilities between your acceptance and the start of your fellowship in the summer. Depending on changing organizational needs, your research areas and projects might change, and that's okay! Nevertheless, having clear ideas going in does not hurt.