1959. The Cold War. In Cuba, Castro came to power. In Moscow, then-Vice President Nixon debated Soviet Premier Khrushchev in the "Kitchen Debate."
And that same year in China, African-American activist and writer W.E.B. DuBois met with Chairman Mao.
Six years later, African-American civil rights leader Robert F. Williams would move to China after leaving the U.S. as a political exile, wanted by J. Edgar Hoover's FBI. Throughout the sixties, African-American activist Vicki Garvin taught English in China.
In a time when America was locked in an ideological battle that threatened to boil over into real world aggressions, why did African-American intellectual activists look to the east for inspiration and solidarity in their struggle at home?
The East is Black
In a recent book and in two new projects, Professor Taj Frazier examines the complicated relationships between African-Americans and China, including the ways they've changed and grown over the last century.
"I think during both periods (the early Cold War and current day), China and the U.S. have looked at one another with fascination, intrigue, suspicion, skepticism, ambition, envy," said Frazier.
In The East Is Black: Cold War China in the Black Radical Imagination (Duke University Press, 2014), Frazier addresses Cold War China as a touchstone for African-Americans who were fighting for civil rights in the United States at the time.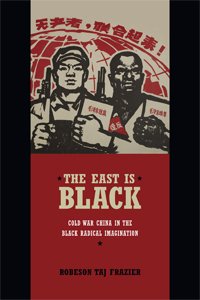 Frazier calls the book his "attempt to think through Black American cultural and political history via China's foreign relations and domestic strategies, and inversely Chinese political history via Black American intellectual thought, cultural production, and foreign travels."
China, Frazier noted, is a country with an incredibly long history, which "empowers many Chinese people with a durable outlook and approach to life and temporality." In China, "struggle is understood as protracted and ongoing."
For activists like DuBois and Williams, that sense of "durability" was valuable in the struggle they faced at home.
From Mao to Yao
In his current work, Frazier trains his eye on China and the country's present day relationship with Black populations, with the cultural areas of sports, fashion, and entertainment proving to be fertile ground for creativity.
In From Mao to Yao: Culture, Media, and Black Life in China, Frazier considers a world that is increasingly borderless due to technology. Both media and migration have had an effect on cross-cultural interactions in China.
"This new project [From Mao to Yao] has me exploring several topics/themes that are pretty exciting," Frazier said. "The growing prominence of basketball both as a form of play/leisure and as a global corporate industry; the correlative global growth of sneaker culture and the sports-retail industries; the rise of several Black celebrities in Chinese television, music, entertainment; the increase in Africans migrating to China in search of work opportunities; and lastly Chinese media and the state's different ways of portraying all of these populations."
While it may seem that the cultural current between the U.S. and China has only gone in one direction at a time, with American radicals of sixty years ago looking to the east and modern-day China looking to the west, Frazier sees the flow of information and inspiration between the two countries as something that has been and continues to be mutual.
"I think we have to think less and less of the cultures of these societies as disconnected/separate, and rather as entangled/intertwined and constituted-in-relation," Frazier said.
In another work-in-progress, tentatively titled Coast to Coast: The Business of Basketball and Blackness Abroad, Frazier looks specifically at African-American players in overseas professional basketball leagues.
Here, Frazier focuses on the "performances of race and blackness across international borders," highlighting the complexities and realities of globalization.
Beginnings
Frazier's interest in China was sparked at an early age. Encouraged by his mother, he began studying Mandarin in high school and was able to live in Beijing as an exchange student during his teenage years. This formed a foundation for his future studies.
"Once in college my interest in Black political movements, Black popular culture, and the history of the African Diaspora led me to question if there were any intersections," said Frazier.
Frazier's own experience mimics that of the larger experience of cross-cultural exchange.
"My early study of Mandarin and travels to China were the product of my mother's intuition and foresight; she was the person who encouraged me to jump into the rabbit hole and descend into a linguistic, intellectual and cultural territory that initially felt alien and distant, but which in time offered me important lessons about the world and about myself."
The World Is Yours
Frazier's commitment to cross-disciplinary work is obvious from a cursory glance at his bio.
In addition to teaching, writing, and researching, Frazier was on the Scholarship Steering Committee for Question Bridge, is on the editorial board for the Journal of Race and Policy, and has recently been named the Director of IDEA – The Institute for Diversity and Empowerment at Annenberg.
Now he's serving as a co-producer for The World is Yours, a feature-length documentary on hip hop and the Internet.
The film's director, Marguerite de Bourgoing, is a graduate of the Digital Social Media program at Annenberg. Frazier was initially a consulting producer on the film, but eventually took on a larger role, lending his expertise on the topic to the filmmakers.
"This project tells a very important story about the innovative ways that Hip Hop artists and young adults and youth are utilizing digital social media and online platforms as means for creative expression, community building, and struggles for social justice."