On the eve of the twenty-fifth anniversary of the 1992 civil unrest in Los Angeles, a group of professors at USC have created a collaborative project to examine the relationship between race, the arts, and how they collide to create and influence urban spaces in cities like LA.
RAP (Race, Arts, & Placemaking) is supported by a USC Provost Research Collaboration Fund grant and will allow the USC community to address these issues through events, a new class, and symposia, the first of which will be held in April of this year.
While the RAP project builds on work already being done by the principal investigators, they also saw the timing as fortuitous and decided to tie the launch of RAP to the anniversary of a critical event that has influenced the creation of today's Los Angeles. After an event like the civil unrest of 1992, how do you rebuild? Who makes those decisions? And what empowers citizens to placemake on their own—to form grassroots groups and design their own neighborhoods?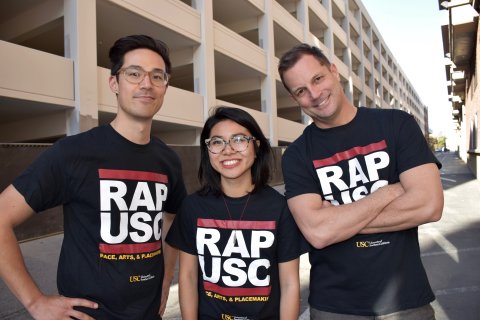 USC SLAB
Annenberg Professors Francois Bar and Taj Frazier are collaborating on RAP as co-PIs with Annette Kim, a Professor at the Price School of Public Policy and Director of the Spatial Analysis Lab (SLAB) at Price; Holly Willis, School of Cinematic Arts Professor and Chair of the Media Arts + Practice division; and Victor Jones, a Professor at the School of Architecture.
The seed for RAP was a Visions & Voices series in the fall of 2015 that was organized by Kim and Willis and included work from Bar.
"Urban Visions: Art as Social Practice" was the first collaboration between Price and Cinema, bringing together what might on the surface seem like unrelated disciplines. But Kim's work on public policy and planning emphasizes the human lives within urban landscapes and cinema is a powerful medium to express those stories.
"In a moment in which we see the devastating implications of limited perspectives, I feel more inspired than ever to reckon with our disciplinary and other biases," said Willis. "The RAP project is founded on this idea."
As director of the Media Arts + Practice (MAP) division of the School of Cinematic Arts, Willis oversees students who work in digital arts and design, web, films, installations and other forms of visual media. In a world where we're able to carry cinema around in our pockets, the art that Willis and her students and colleagues at SCA make has more relevance than ever for the study of places.
"Cinema has historically been connected to urban space and place," she said, "from the early city symphonies at the birth of cinema, to locative media projects now that distribute stories across the city."
Annenberg, which recently added an Associate Dean for Diversity, Inclusion & Strategic Initiatives, and is home to groups like IDEA (Institute for Diversity and Empowerment at Annenberg), the Metamorphosis Project, and the Annenberg Innovation Lab, has a long history of looking at communication through the lenses of race and place.
Frazier, who is the Director of IDEA, sees RAP as a natural extension of the work being done by Annenberg faculty and students, both in subject and in the emphasis on interdepartmental collaboration and connections outside of USC, starting with the University Park neighborhood.
"Advancing our understanding and participation in collaborative efforts organized around democratizing placemaking, storytelling, and cultivating more extensive pathways and investments in civic duty, equity advancement, and social justice" are just some of the benefits Frazier sees coming from the RAP project.
Though students—many of whom were not alive at the time—may be aware of the civil unrest of 1992, Frazier expects RAP to give them more context, "especially in terms of how it pertains to structural and cultural changes in Los Angeles."
He looks forward to helping students as well as the larger community to make connections between "factors and conditions that produced the unrest and uprising" and the ways things have and haven't changed in the intervening twenty-five years.
USC and the University Park neighborhood offer a unique environment to tackle questions of race, art, and placemaking. Over the past decade, the area around USC has seen an intense amount of growth and development, much of it driven by the University. From the new University Village to restaurants and apartments popping up on Figueroa to the ubiquitous yellow-and-red-jacketed security ambassadors on every corner, USC is visible everywhere.
When it comes to RAP, Bar sees USC's location in the heart of LA as a key feature of the project. The campus and its environs provide the team with a microcosm to study—both the good and the bad.
"The University's interactions with its surrounding neighborhood are multifaceted—sometimes collaborative, sometimes antagonistic, always protracted," Bar noted.
Bar, who has worked on LA-based projects ranging from Healthy South LA (featured in the 2015 Visions & Voices series, it mapped bike routes, grocery stores, and farmers markets, giving visual representation to the healthy resources available to residents in South LA) to last year's Pershing Square Renew competition, has witnessed obstacles that community members can face when trying to "make" their own neighborhoods.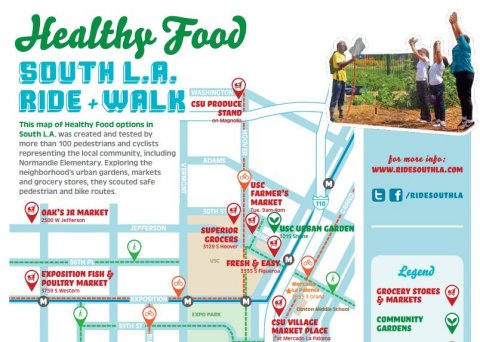 ridesouthla.com
In his ongoing work with the Annenberg Innovation Lab, Bar collaborates with Kaos Network, a community arts organization in Leimert Park.
"One of our collaborative placemaking projects led to the creation of the Leimert Park Village Plaza, one of the first in LA to reclaim a street as a pedestrian plaza as part of LADOT's People Street project," he said.
The issue there was turning terrific ideas into submissions.
"There was a wealth of creative ideas among the many community partners involved, but the application required complex technical documents, a daunting task for grassroots organizations," according to Bar.
With the resources of USC behind them, Bar and his colleagues were able to assist with submissions.
In this way, a large organization like USC that might traditionally be expected to be a "top down" placemaker is able to harness its collective energy and resources to provide support and collaboration with community groups.
A new course developed in conjunction with RAP is being offered for the first time in Spring 2017. PPD 499: Race, Arts, and Placemaking, enables undergraduate and graduate students to "fill the knowledge gap of the nexus of the three disciplines and create original oral histories about the role that the arts have played in rebuilding LA and empowering communities," said Kim, who teaches the class.
PPD 499 will weave in guest speakers, field visits, and opportunities for students to collaborate with RAP and contribute to the April 2017 symposium.
As fits a class about space and place, Kim and her students will be leaving the classroom to visit spots around the city like the Underground Museum, located a few miles west of USC, and A + P (Art + Practice), a community art center in Leimert Park.
Along with his other duties, RAP's program manager, Price doctoral student Matt Miller, will focus on creating an online home for RAP. He plans to add PPD 499 students' oral histories to a blog and to curate a list of events happening around the city, providing both a resource for action and an archive.
"Overall, my primary interest is making sure that stories of people of color positively shaping places through culture find their way into our growing network," Miller said.
RAP's first public event is being held on Monday, January 30, 2017. Roberto Bedoya, poet and Cultural Affairs Manager for the City of Oakland, will present "Creative Placemaking, Creative Placekeeping and the Poetic Will of the City" in RGL 101 at 12:15 p.m. To attend, RSVP by emailing jenc@price.usc.edu.
The project's first symposium, "FORWARD LA: Race, Arts, and Inclusive Placemaking after the 1992 Civil Unrest," will be held on Thursday, April 27 and Friday, April 28, 2017 at the Radisson Hotel on Figueroa. More details to come soon at the RAP website. It is co-organized by SLAB: Price's Spatial Analysis Lab, USC Sol Price Center for Social Innovation, and PERE: the USC Dornsife Program for Environmental and Regional Equity.