This summer, supported by the Annenberg School of Communication and the USC Graduate School, third year doctoral student Marina Litvinsky attended the Community Engaged Research Institute (CERI). Held annually by UC Santa Cruz's Everett Program, the Center for Collaborative Research for an Equitable California (CCREC), the Center for Labor Studies, and the Blum Center, CERI aims to provide a resource for researchers who work closely with their communities.
Litvinsky describes community engaged research as a true partnership.
"Community engaged research is an approach that involves working with a community partner on a research project that involves them in a meaningful way, with the goal of strengthening their well-being, promoting social change, and possibly action, as well as adding to the body of knowledge," she said.
A community engaged researcher works with a community partner while developing a study, rather than the research being solely driven by the researcher.
"While in other types of research," said Litvinsky, "only the researcher specifies the research questions, design, and conducts the study, community engaged research is co-constructed with the community partner, utilizing their unique knowledge and insights throughout the research process."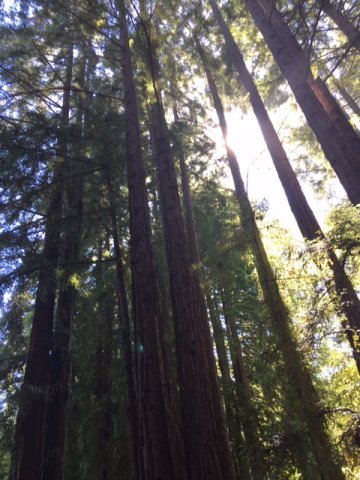 Courtesy of Marina Litvinsky
Held in Santa Cruz over four days in late June, CERI brought together graduate students, other researchers, and members of the community to develop their skills for community engaged research.
Because community engaged research deals directly and closely with community members and may tackle sensitive subjects, CERI provided space and opportunity for researchers to collaborate and gain insight from one another. Through workshops, case studies, seminars, visits to local agencies like the Day Worker Center of Santa Cruz County, as well as opportunities to share experiences, the Institute is designed to provide experience in a variety of areas.
"Case studies included examples of issues encountered while doing community engaged research, everything from ethics to conflicts of interest, and brainstorming around ways to behave in those situations," said Litvinsky.
Closer to home, Litvinsky is interested in the effects of neighborhood change and gentrification in Los Angeles.
"I have been involved in some study and activism in Venice, CA, where the hyper-gentrification has caused physical and cultural displacement and evictions, as well as a great deal of conflict," she said. "I want to find ways to assist community members to bridge some of their divides, resist overdevelopment, and promote equitable neighborhood change."
Litvinsky is also a team member of the Metamorphosis Project, which is led by Professor Sandra Ball-Rokeach at Annenberg. Meta's research locations are the many diverse neighborhoods of Los Angeles; their research topics range from civic engagement to globalization and the environment. Meta is interested in who lives where, how they got there, and how they engage with their neighborhoods and their neighbors.
Currently, Meta is working in Northeast Los Angeles. The project, according to Litvinsky, "investigates the paths new residents take into the neighborhood, as well as their levels of knowledge and understanding of the community and its issues."
Litvinsky first became interested in community work through the non-profit world.
"I became interested in community work around equitable social change and, after taking the course 'Research, Practice and Social Change,' where I was paired up with a community-based organization on a research project, I saw that there was a place for community work in academia, as well as the need for it to be further legitimized," she said.
On top of strengthening her research skills, CERI left Litvinsky energized.
"More than anything," she said, "CERI has further motivated and inspired me to continue to do community engaged research by connecting me with a group of people with similar convictions about using research to contribute to well-being and equitable social change."