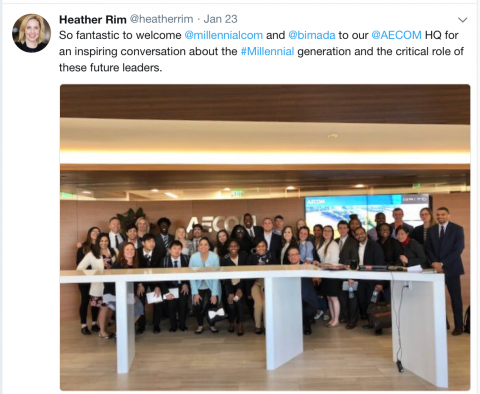 Heather Rim builds great teams to do amazing things.
But we might never know it if she wasn't such a pro in sharing her professional journey in social media.
Heather is chief marketing and communications officer at AECOM, a global infrastructure firm based in Los Angeles. The $18.2-billion company has appeared on Fortune's list of Most Admired Companies for the last four years.
Heather's path began to cross with mine a few years ago through professional associations like the Forum-Group for senior-level communicators.
And we're both proud alums of the master's program in communication management at the USC Annenberg School for Communication and Journalism.
Heather is a natural for my series of profiles on how professionals are using social media to build and boost their careers.
We talked recently at AECOM's Century City headquarters, with views of the many projects the firm helped to create. Here's what she shared...
How do you think about personal branding in social media?
Your brand is one. You have one reputation to build and protect. When you're on social, you can't compartmentalize. While I'm a fan of using a mix of platforms to tell your story, it's important to remember that it all ladders up to the brand that is you.
I also think that for communicators and marketers, your personal brand trumps your resume. We're expected to maximize social to build brands for our employers and clients, and it's important that we demonstrate our ability to do that by how we show up online.
What's your personal brand?
I lead teams to disrupt the status-quo and build transformational brands.
At my core, I'm a builder. Every job throughout my career has involved reimagining what's possible and building a powerhouse team to make that happen.
I lead an incredible global communications and marketing organization at AECOM that includes corporate brand and reputation management, public and media relations, thought leadership, employee communications and engagement initiatives, crisis and issues management, social media and digital communications, CSR and strategic marketing.
To give back to the profession, I serve on the Board of Advisors of the USC Annenberg Center for Public Relations. We explore the future of PR in the annual Relevance Report. I believe the digital age has transformed time from past, present and future into a single flowing now.
Why did you first get started in social media?
When my daughter was born 10 years ago and my son after that, I joined Facebook because I wanted to keep our family connected as our kids were growing up. For me, Facebook is personal. It's for my family and friends.
As I've made career moves over the years, it's been fun to see how former bosses soon switch from LinkedIn connections to Facebook friends.
Tell me about your themes in social media.
Each platform has a theme for me. Facebook is largely family life. Instagram is for my favorite pastimes and personal interests. LinkedIn is for professional activity.
I'm most active on Twitter, where I am a brand ambassador for AECOM and advocate to end homelessness in Los Angeles through my work as Board President of the Downtown Women's Center.
What made you ramp up on Instagram this year?
The tipping point for me was a discussion at AECOM with the National Millennial Community. This is a superstar millennial group led by Bill Imada.
As chairman of the IW Group, Bill enables organizations to connect effectively with multicultural and cross-generational consumers, business owners and entrepreneurs. He's a fellow board member at the USC Center for Public Relations.
We had a focus group with a handful of company leaders and a few dozen millennials. In talking with these students about social media, it was clear that they were less interested in what they might read about me on LinkedIn — a site they viewed as a perfectly curated resume — and more interested in "who I really am."
They asked why I wasn't on Instagram, and my response at the time was, "It's too personal." And then a lightbulb went off. Personal is what matters to them.
Soon after, I reluctantly took the leap and jumped into Instagram.
I initially struggled with what to post, and then decided I would create a virtual scrapbook of the experiences that bring me joy (outside of my family and career). Everything from the adventures I'm blessed to take, to the excitement of a fabulous pair of shoes or a delicious glass of wine.