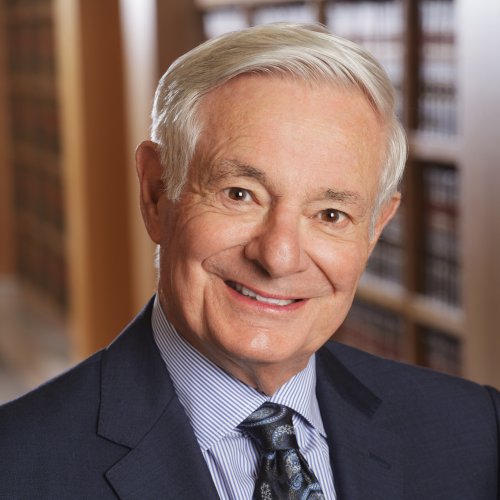 Bruce Ramer
Partner, Gang Tyre, Ramer & Brown & Passman; Board of Councilors, USC Annenberg
Bruce Ramer is a partner with Gang, Tyre, Ramer, Brown and Passman.
Ramer is a member of the Board of Trustees of the University of Southern California, a member of the Board of Councilors of the USC Gould School of Law and the USC Shoah Foundation Institute for Visual History an Education and a member of the Board of Governors of the Center for the Digital Future at USC Annenberg. He is chair of the USC Institute on Entertainment Law and Business.
Ramer's board memberships also include the Corporation for Public Broadcasting and served as chair of the CPB Board from 2010-2012; now vice-chair; founding chairman and member of the Board of Trustees of the Geffen Playhouse; board member of the Southern California Committee for the Olympic Games, Los Angeles Sports Council, the American Archive of Public Broadcasting Executive Advisory Council, the Foundation for the National Archives as well as an inaugural member and chair of the Peabody Advisory Board; member of the Council on Foreign Relations and the Pacific Council on International Policy.
Ramer has received numerous honors, among them the American Jewish Committee Community Service Award and the Learned Hand Award, The Beverly Hills Bar Association Entertainment Lawyer of the Year Award, the Commanders Cross of The Order of Merit of The Federal Republic of Germany; the Medal of Honor of The Konrad Adenauer Foundation, the Survivors of the Shoah Visual History Foundation Ambassador for Humanity Award and the Ellis Island Medal of Honor.
He was named one of the 100 most powerful lawyers in California by California Business Lawyer and one of the top 100 lawyers in California by the Daily Journal.
Ramer is a graduate of Princeton University and received his law degree from Harvard.
He is married to Madeline and has four children: Gregg, Marc, Neal and Alexandra and seven grandchildren: Jacob, Mayah, Ezra, Rafaela, Eli, Simon, and Ava.