For the first time in its history, the USC Annenberg School for Communication and Journalism has won the prestigious PRO-AM Student Award, as part of the Online News Association's Online Journalism Awards.
The student project was one of 119 nominees — across 37 categories — recognized for its innovative approach to reporting, impactful storytelling and grasp of technology. The ceremony was held in Washington, D.C., in October.
The win was for Turning Tides: The Story of the Salton Sea, a doc-series in collaboration with the Desert Sun and USA Today Network, that led viewers through an emotive and educational virtual reality (VR) experience. Using 360 videos and drones, students captured the devastating decline of the Salton Sea — and what could be California's largest environmental disaster.
The 17 JOVRNALISM students in the class competed internationally with students from Vancouver, Canada to Bogota, Colombia, who had collaborated with BBC News, The Guardian, the Toronto Star and others.
"We're incredibly honored to be selected among universities around the world to receive this recognition," said Robert Hernandez, associate professor of professional practice. "In the world of online journalism, this is the digital Pulitzer."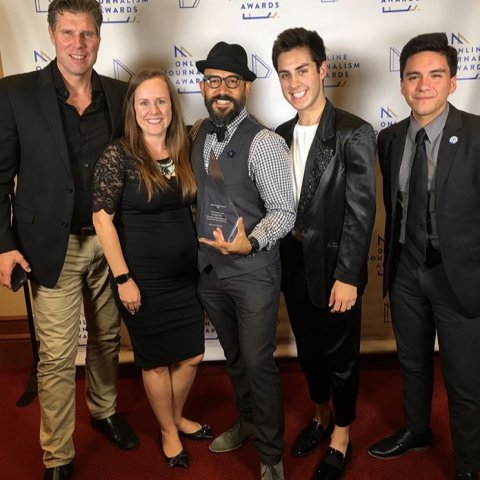 Drew Schwendiman, a senior broadcast and digital journalism major, believes the project had a profound purpose. "It's an honor that we received an award, but I'm hoping that our story can inspire change," he said. "It was a humbling reminder that when you have a vision for a story but don't know how to produce it, you'll end up doing everything it takes to see it through. And that's exactly what happened with the Salton Sea."
The partnership with the Desert Sun, USA Today Network, helped solidify the story. As collaborators, the Desert Sun reporting team helped the student-led project through the editorial process while ensuring the Salton Sea community was accurately portrayed.
Junior journalism major Jordan Winters said the reporting made her heart sing. "It was also by far the most rewarding and technically challenging projects I have ever done," she said. "There were a lot of long nights in Palm Springs, in the editing booths at USC, and in the radio booths in San Francisco."
Although she's one of the youngest students in the class, Winters said both her peers and professor trusted her to contribute to all aspects of production. "There was a lot of learning on the ground with cameras and it was exhilarating to problem solve. We also learned a lot about everybody's strengths and weaknesses," she said.
Giovanni Moujaes, a 2017 graduate of broadcast and digital journalism, said he grew to appreciate the power and reach of VR journalism through his work at USC.
"With the advent of inexpensive head-mounted displays — and greater software compatibility — 360 video and virtual reality are well on their way to becoming integral parts of modern news production," he said. "The course proved that some stories are indeed better told through 360 and provide a greater level of empathy and understanding than a conventional 2D video."
"The goal has always been about immersive storytelling," said Hernandez. "Combining heavy research, with reporting and production, as well as advanced technology, to tell a complete narrative. The intense coursework is nothing short of a 15-week hackathon that helps the students better develop their production and writing skills, as well as their technological capabilities."
Students who contributed to the award-winning project include: Zara Abrams, Amber Bragdon, JudyCai, Helen Carefoot, Taylor Du Pont, Gabriela Fernandez, Magali Gauthier, Luis Hernandez, Jutta Tellervo Hoegmander, Sara Krevoy, Noorhan Maamoon, Giovanni Moujaes, Cameron Quon, Andrew Schwendiman, Marie Targonski-O'Brien, Kacey Weiniger and Jordan Winters.
Along with pushing creative limits, Hernandez has built partnerships and immersive pieces with The New York Times, National Public Radio, the Republic and more. He recently received an Online News Association Challenge Fund grant for his class with partners such as KCRW, Southern California's flagship NPR affiliate.