Every year USC Annenberg becomes home to not only the incoming freshman class, but also to students who declare double majors or minors in communication, journalism, or public relations. The variety of resources available at USC Annenberg can help each student with their academic and professional development.
Here are several stories featuring USC Annenberg's fresh faces. Their academic paths and aspirations are unique, but every student has gained invaluable learning opportunities over the course of the past semester.
---
Name: Isabelle Richar
Year: Freshman
Major: B.A. Communication '20
Favorite Class: ASCJ 200: Navigating Media Through the Digital Age
For Isabelle Richar, her interest in a Communication degree began with the heavy involvement in her high school's yearbook. Richar enjoyed the written and visual aspects of creating a yearbook, so studying journalism or a related field such as communication weighed heavily when she began exploring options for college.
Richar is only taking one class during her first semester at Annenberg, but ASCJ 200: Navigating Media Through the Digital Age, co-taught by communication professor Alison Trope and journalism professor Judy Muller, has quickly become her favorite.
"The class is so relevant to what's going on in the real world right now and we discuss stuff that is happening in politics and present-day society," Richar said. "I've never had a class in high school that even came close to this."
The course explores the relationship between media consumers and contributors by observing how the media landscape influences the way messages are delivered, and to what extent the media upholds reporting ethics and best practices. For Richar, her favorite part of the class is learning how to approach the news in an academic way and being more critical about the media.
---
Name: Jamie Kwong
Year: Junior
Major: B.A. International Relations '18; Master of Public Diplomacy Candidate
Favorite Class: PUBD 504: Global Issues and Public Diplomacy
Jamie Kwong found herself in a unique position this semester when she was accepted into the progressive degree program for Master of Public Diplomacy as a junior. The program allows Kwong to take graduate level classes while still completing her undergraduate coursework. This makes it possible for Kwong to graduate with a Master's degree in four years.
"What I'm hoping to gain from the program is balancing my theory-heavy International Relations major with the more practical, professional and focused nature of the master's program," Kwong said. "I'm hoping to find a great marriage between the two, and I think that having these two different experiences will be eye-opening."
According to Kwong, taking more than 16 units over the course of multiple semesters, and attending classes during the summer made her eligible for the program a year earlier than most other students.
From the time she set foot on campus, Kwong jumped on every opportunity to take control of her education. She proactively sought more information about the benefits of the progressive degree program, such as small class sizes and exposure to the latest public diplomacy issues. Now that she's been admitted into the program, Kwong is eager to take advantage of Annenberg's resources as well. She carefully reads emails from the Annenberg career center regarding internships and job opportunities, and hopes to take advantage of recruiting events in the near future.
This semester Kwong is most excited about PUBD 504: Global Issues and Public Diplomacy, taught by Professor Nick Cull. According to Kwong, this class is known to be the most challenging course in the program, but she sees it as a valuable starting point for the rest of her studies.
"All the second years and graduates in the program say this is the class that they turn to the most in their work, so I'm excited to get my feet wet," Kwong said.
The class is designed to expose students to globalization, healthcare, and environmental issues. At the end of the course students are asked to craft impactful public diplomacy strategies that will educate audiences about the issues.
"It's been fun and helpful, and challenging and hard," Kwong said. "But I'm really loving it."
---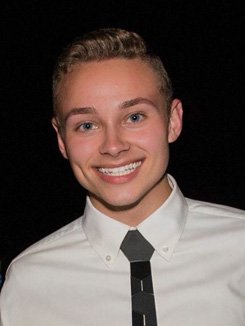 Name: Roy Pankey
Year: Freshman
Major: B.A. Journalism / Broadcast Journalism '20
Favorite Class: JOUR 201: Culture of Journalism: Past, Present and Future
The first homework assignment in JOUR 201: Culture of Journalism: Past, Present and Future, professor Robert Suro's introductory journalism class, caught Roy Pankey by surprise. Students were asked to pick a stranger in class and interview them at their dorm rooms. Pankey describes a moment of nervous laughter that permeated throughout the class. At the time Pankey wasn't aware that the assignment would be an invaluable learning opportunity.
"That first assignment taught me that you can actually learn so much more about a person if you're in their space," Pankey said. "The space sometimes tells you much more than what the person can tell you."
For Pankey, the assignment served as a lesson in immersive journalism and helped him overcome his initial discomfort with approaching strangers in unfamiliar settings. The class also taught him about best practices in the field and how past cases have influenced the media landscape today.
Pankey is eager to take advantage of the resources available at Annenberg. He is looking into the study abroad programs in Hong Kong and Rome. He is also thinking of applying to the Global Fellows Internship Program, which gives undergraduates the chance to intern overseas. Pankey has attended several of Annenberg's special programming events, such as Lunch With Leaders, and next semester he is looking to get more involved in The Julie Chen/Leslie Moonves and CBS Media Center.
"USC was my top choice school, and I'm so excited to be here," Pankey said. "I can't wait to take advantage of more clubs and events and more enriching experiences."