Graduate students in Professor Phil Seib's JOUR 542 foreign reporting class have spent the past semester collaborating with The Pacific Council on International Policy (PCIP), a nonpartisan foreign affairs organization whose aim is to effect change on issues at home and abroad.
The course, which started Fall of 2018, was designed by Seib, professor of journalism, public diplomacy and international relations, and Jerry Green, president of PCIP, to give students the opportunity to meet with experts and leaders in the field of international affairs. Students not only had the opportunity to attend events off campus, but also wrote stories that were published on PCIP's media platforms.
"Annenberg's mission to teach aspiring journalists includes a commitment to make them intellectual citizens of the world," Seib said. "This kind of partnership is integral to making that happen.
As part of their published work, students researched and wrote about a range of topics, including humanitarian emergencies, gender issues, and the role of journalism in a globalized society.
Alexandria Chan '19, a student in the MS in journalism program who usually writes about food, art and culture, said she has "gained experience and knowledge in new areas. My stories require a lot of research, and I am really surprised with what I've been able to do — I have gotten out of my comfort zone."
James Cutchin '19, also an MS journalism graduate student, said he was already interested in international affairs, specifically China; this class was the perfect fit for his area of study.
One of Cutchin's stories turned into a deeper exploration of how current trends in the global economy are affecting Africa. "It started out as a simple coverage piece, but became a larger story," he said. "This topic coincidentally relates to my post-graduation plans of reporting on Chinese activity in Africa. So, it was really compelling to see how it evolved."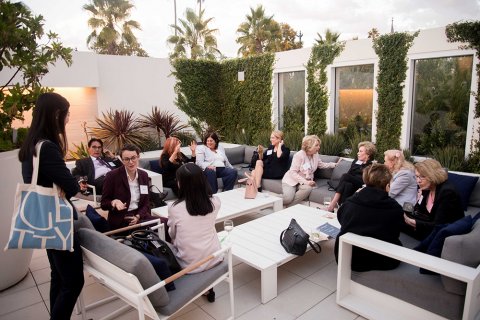 Photo by: Kyle Espeleta
Eight students published stories through PCIP.
"The fight to honor 'Comfort Women' intensifies"
Mikayla Bean (M.S., journalism, '19) reveals how Japanese-American and Korean-American communities are responding to San Francisco's "Comfort Women" memorial.
"The fate of populism at PolicyWest"
Bean introduces the idea of populism and describes how four experts at the Pacific Council annual members' conference debated populism's rise and fall.
"A new year of peace for Ethiopia and Eritrea"
Lulit Tadesse (M.S., journalism, '19) focuses on the relationship between Ethiopia and Eritrea. The countries recently opened their borders to each other after a conflict that lasted 20 years.
"Space as a field for global cooperation at PolicyWest"
Tadesse discusses space regulation, commercialization and cooperation with experts in the industry.
"How China is building its soft power"
James Cutchin based his report on a talk given by Stanley Rosen, a USC Dornsife professor in political science, on China's efforts to expand its soft power influence.
"What does this flag mean?"
What does the flag of the Republic of China represent for different Chinese communities? Cutchin talks about the flag's history.
"The 'new scramble for Africa' at PolicyWest"
Cutchin and Meijun Li (M.S., journalism, '19) write about the newfound investments in Africa, a continent that has become one of the fastest growing economies.
"Chinese actress Bingbing's alleged tax evasion sparks crisis"
Li focuses on how China's highest-paid actress, Fan Bingbing, was accused of tax evasion. How does this speak to the Chinese government's strong determination to fight against tax evasion?
"How did we get here?"
Li also writes about the recent talk with Dr. Hilary Appel on Russia, Crimea and the West.
"Mexico City's water crisis on the eve of 'Day Zero'"
Katrin Tschirgi, (Ph.D., literature and creative writing,) As part of a teleconference on international policy with the Pacific Council, Tschirgi reports on Mexico City's mounting water crisis.
"The future of the Guantanamo Bay trials at PolicyWest"
Tschirgi looks at the Guantánamo Bay Detention Camp scandals and the long-standing controversies surrounding the facility discussed at the Pacific Council's PolicyWest conference.
"The future of U.S.-Mexico relations"
Alexandra Chan (M.S., journalism, '19) covers The Pacific Council's PolicyWest conference where panelists focused on the most current challenges, both economic and political, facing the relationship between U.S. and Mexico.
"U.S.-China naval tensions in the South China Sea"
Dongyao Nie (M.S., journalism, '19) writes about the complicated U.S. — China relationship over the South China Sea — and the underlying disputes over the troubled waters.