Julia Adams knew she wanted to be in sports broadcasting from the first time she noticed a woman on the field interviewing players after a college football game. "I looked at my dad and was like, 'That's their job?" she recalled. "'I want to do that when I grow up.'"
Nick Alfano remembers waking up at 6 a.m. as a kid to catch the earliest live edition of SportsCenter on ESPN. While he realized at an early age that his chances for actually playing professional sports were slim, "I at least wanted to be reporting on sports," he said.
Both seniors studying broadcast and digital journalism set to graduate in 2019, the pair are well on their way to fulfilling their childhood aspirations. In addition to their achievements both in and out of the classroom during their time at USC Annenberg, Adams and Alfano have both earned the 2018 Chick Hearn Memorial Scholarship.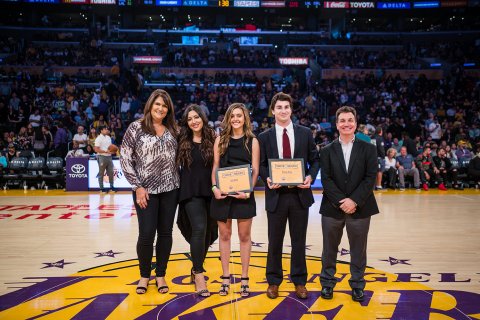 Photo by: Matthew Lin
At halftime of the Nov. 25 NBA game between the Los Angeles Lakers and the Orlando Magic at Staples Center in downtown Los Angeles, Adams and Alfano received their scholarships in an on-court ceremony, joined by members of the Hearn family and
Gordon Stables
, director of the School of Journalism.
The endowed scholarship was established in 2003 in honor of legendary Los Angeles sportscaster Francis Dale "Chick" Hearn, who broadcast more than 3,000 Lakers basketball games over 40 years until his death in 2002.
A native Angeleno, Adams said she was thrilled to receive this honor in the name of such an L.A. icon. "I grew up as a Laker fan, so I'm in shock," she said. "This is such an incredible opportunity for me, and I'm so thankful for it."
"The scholarship has just been a blessing," added Alfano, who grew up in Connecticut. "Today has been wonderful, and I'm so happy that I get to share this with my family, who flew out for it."
Prior to the ceremony, Adams and Alfano were interviewed by renowned Spectrum broadcasters Stu Lantz and Bill MacDonald. The students also chatted with the ESPN Radio crew of former Lakers star Mychal Thompson and Travis Rodgers.
"Julia and I were laughing because as journalism majors, normally we're the ones doing the interviewing," Alfano said.
Adams, currently the sports director of Annenberg TV News and the executive producer of Sports SCene, said she hopes to continue as a sportscaster, covering either college football or the NBA. Alfano, who has interned with the Brooklyn Nets and the NBA, said he'd like to work for a pro league, team or television network.