While Eliana Johnson understands firsthand that the job of a journalist is serious business, the editor-in-chief of the Washington Free Beacon also believes it isn't necessary to take ourselves too seriously.
"We're having fun, but we're also doing important work," she said. "Anybody who comes to our newsroom will know that we have very exacting standards, but we are also having a good time."
Prior to joining the Beacon, Johnson served as a White House correspondent at POLITICO and as a political analyst with CNN. She has also spent time at Fox News and the Council on Foreign Relations. Johnson has been a regular presence on cable television and has appeared on NBC's Meet the Press, CBS's Face the Nation, ABC's This Week and the PBS News Hour.
During a one-hour conversation at USC Annenberg moderated by Christina Bellantoni, professor of professional practice and director of USC Annenberg's Media Center, Johnson spoke about the biases and foibles of political media coverage, along with working in print and television, in the mainstream and on the right.
The Feb. 6 discussion was part of the expert-in-residence speaker series established by USC alumna, parent, and online political pioneer R. Rebecca "Becki" Donatelli and designed to inspire students to enter the field of political media. The program brings experts to campus who focus on political communication and analysis.
"I fell into journalism by accident, but I always knew that I was really interested in politics and writing," Johnson reflected. "I was like, I'm gonna be Donald Rumsfeld's speechwriter someday, but life had a different plan for me. My advice to students is to be flexible and remember that you are tough and resilient and can handle the hardships that are thrown your way."
Here are some key takeaways, in Johnson's own words, from the discussion.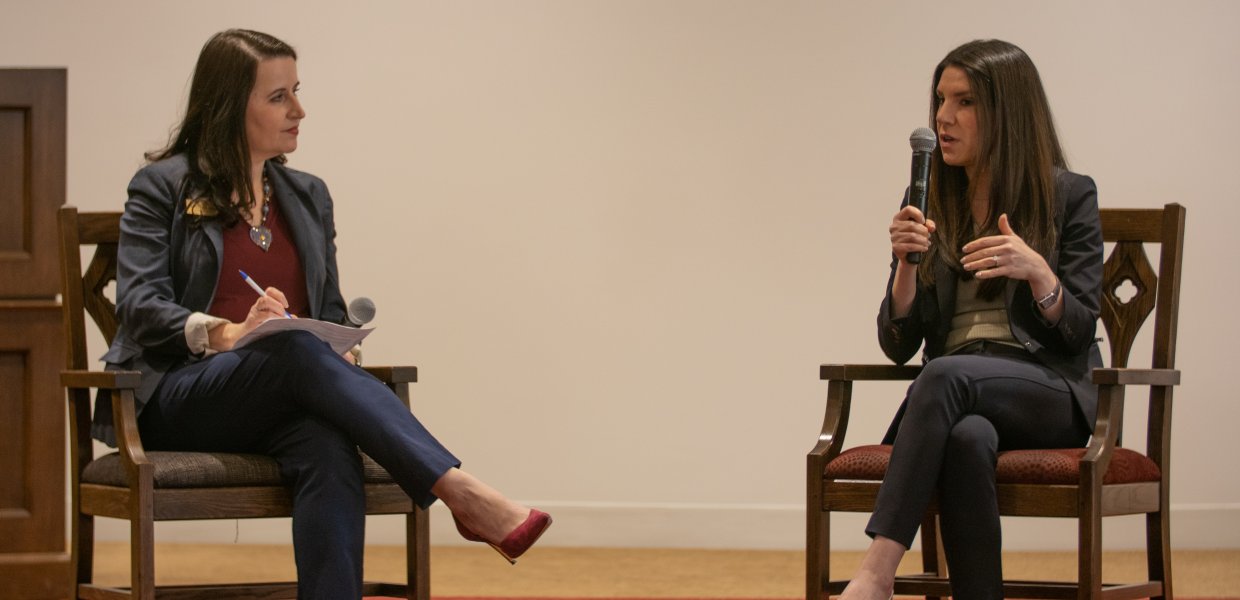 On transparency and breaking the story
As the editor-in-chief of the Washington Free Beacon, I make sure we are open and transparent about our point of view and our biases. The mainstream media leaves a ton of white space on the table. It's crazy to me that a place like the Beacon, with a staff of 25 people, is breaking major national stories. Other outlets have all these resources and they're not devoting them to these big stories that are roiling the country. I sense that they're going through the motions and there isn't the same investigative passion or a sense of ambition to break the story. Our job is to inform the audience, not to protect them. One of the points that I want young reporters to understand is you guys aren't robots. You have judgment to use and if someone says something crazy, you can determine the correct way to contextualize it as part of your story.
On journalists sharing their personal perspectives on social media
From a mentorship standpoint, I would recommend that journalists think twice before broadcasting one's personal political views on Twitter and social media. It can be used to undermine the work that you're doing and the work that we are doing together…. [T]here are many times somebody's tweets are used to try to — and oftentimes successfully — used against them at a point later in their life. You don't know what you're going to want to do in life. You might think it's journalism now, but you're 35 or 40 or 45 and you decide you want to run a federal agency, or you want to go into national security and you have this whole track record of writing for people to dig into. I'm just not a fan of it. I don't think it's wise and there's a lot of risk to it. I would make a distinction though because I believe there are wonderful ways to use Twitter as a journalism tool.
On the future of conservative news coverage
From a newsroom perspective, some of the most prominent forces in the party — the Tucker Carlson's and the Trumps — are like these agents of disruption. And the question is who will the spokesman be on the other side? I'm not sure we have any who are as prominent. Reporters should be asking where the up-and-comers are, like Ron DeSantis, going to land on some of the key issues. The whole party is reorienting itself and I see everything in flux. It is definitely not Reagan's party anymore.
When it comes to covering these changes we have to keep in mind that this is a talent business and we are not presently overflowing with amazing right-wing reporters. A lot of the best and brightest go into finance or law and we need to do a better job at developing our talent pipeline and demonstrating to people that you can make a living doing this over a long period of time. As the editor-in-chief, I'm looking for hungry, smart, young people who know how to do serious hard reporting and laugh about the day's news and the absurdities of our politics.